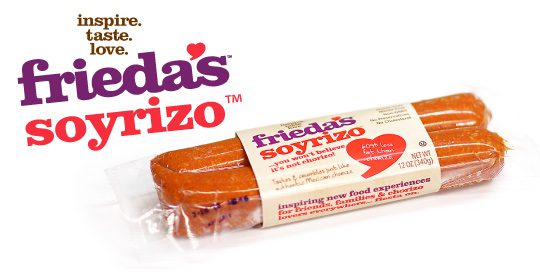 Overview
What is Soyrizo™?
This pre-cooked, soy-based meat alternative has the delicious flavoring of Mexican chorizo. The perfect blend of spices gives Soyrizo™ a truly authentic taste! The "meat" is stuffed inside a plastic casing that resembles a sausage.
Vegan, gluten-free, nitrite-free, non-GMO with no preservatives!
How to Eat
Squeeze the Soyrizo™ from the casing and place in a non-stick pan with a tiny amount of oil until warm. (The casing is plastic and not edible.) The more you heat Soyrizo™, the drier it becomes. Mix it with scrambled eggs, hash browns, or use in omelets or chili. Also makes an excellent dip when combined with queso cheese sauce.
Health Benefits
Gluten-free source of vegetarian protein with no cholesterol.
How to Store
Keep refrigerated at all times. May be frozen before opening.
When are they in season?
Where are they grown
Recipes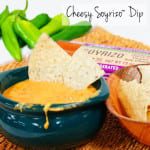 Cheesy Soyrizo™ Dip Ingredients 1 pound Velveeta 1 package Frieda's Soyrizo™, removed from casing 1 10-ounce can diced tomatoes with green chiles with juices (or 1 can diced tomatoes with juice, and diced, roasted Hatch Chiles to taste) Steps Cut … Continue reading →
Save