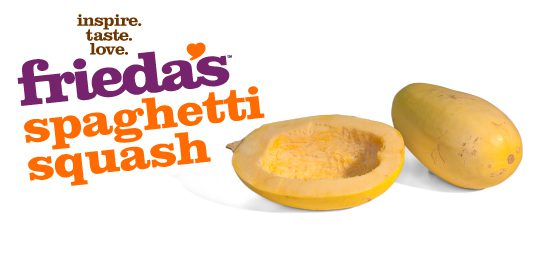 Overview
What is a Spaghetti Squash?
This football-shaped squash gets its name because, after cooking, the flesh forms spaghetti-like strands when separated with a fork. It makes a perfect, low-calorie pasta substitute.
How to Eat
Halve lengthwise and remove seeds. Place cut side down in a large pan with 2 inches of water. Cover and boil for 20 minutes. Check to make sure water does not evaporate. Squash is done when tender. Or, place cut side up in a dish with 1/2 inch water, cover loosely with plastic wrap and microwave for 7-8 minutes. Use forks to scrape flesh lengthwise to separate into strands. Top with tomato sauces, cheese, or a little butter and brown sugar.
Health Benefits
Good source of vitamin C.
How to Store
Store uncut in a cool, dry area up to 3 months. Refrigerate cut squash up to 1 week.
Recipes
Spaghetti Squash with Sauteed Vegetables Ingredients: 1 medium Frieda's Spaghetti Squash 1 cup carrot, shredded 1 cup zucchini, shredded 1 tablespoon butter or margarine 1 tablespoon basil, chopped, or 1 teaspoon dried basil, crushed 1 tablespoon fresh oregano, chopped, or … Continue reading →