You've probably all heard about the big news. CVS/pharmacy made an amazing announcement that it will stop selling cigarettes and all other tobacco products at its more than 7,600 stores nationwide by October of this year, making it the first national pharmacy chain to do so.
"Ending the sale of cigarettes and tobacco products at CVS/pharmacy is simply the right thing to do for the good of our customers and our company. The sale of tobacco products is inconsistent with our purpose—helping people on their path to better health…By removing tobacco products from our retail shelves, we will better serve our patients, clients and health care providers while positioning CVS Caremark for future growth as a health care company. Cigarettes and tobacco products have no place in a setting where health care is delivered. This is the right thing to do."
The first thing I said when I heard the news was, "Well done, CVS!" I commend the company on its decision to support its mission of "helping people on their path to better health," even though it will lose at least $2 billion in annual revenue from tobacco and tobacco-related purchases.
Soon after that announcement, some people pointed out that CVS is just putting a smart PR spin on its need to cut tobacco sales losses. While that may be true, it doesn't make the company's decision any less impactful. Or as President Obama put it: CVS is setting "a powerful example" and making "a choice that will have a profoundly positive impact on the health of our country."
What really inspires me is CVS' commitment to its mission.
Standing by your mission is something I understand well. After all, here at Frieda's, our mission is "Changing the way America eats fruits and vegetables," and we've committed to this crusade for over 50 years.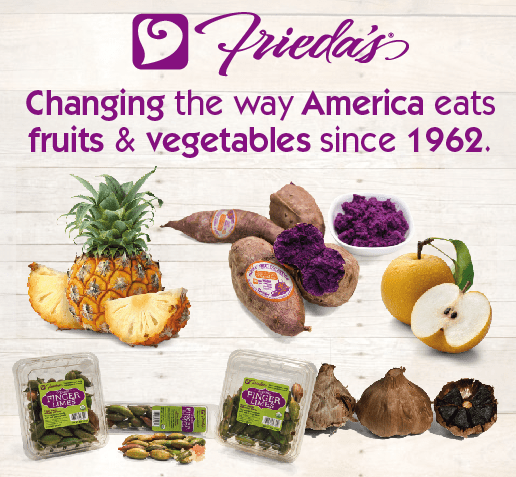 By introducing and encouraging consumers to try new produce items, we hope to increase their fruit and vegetable consumption to help them stay on the course of a healthier lifestyle.
Everything we do aims to educate our consumers and our clients alike. Our sales team is consistently out there introducing new items to the marketplace. Our website, our social media channels, and even this blog, have helped start a conversation with consumers about fresh produce.
The Supermarket Guru Phil Lempert mentioned a very interesting statistic at the Fresh Produce and Floral Council luncheon a few days ago: One in 10 Americans say that their diet is "as healthy as it could be."
Looking at that another way, nine in 10 Americans know their diets aren't. That is a lot of Americans not eating right. And that means there's still a lot more work for Frieda's to do!
What about you? What's your company's mission—or even your personal one? What are you doing to show your commitment to your mission?
If you don't have a goal for improving your health, how about taking just a few minutes out of your busy schedule to think of one and write it down. Once you've planted the seed in your brain, it will be a lot easier to make your mission your reality, just like we do here at Frieda's.
Karen