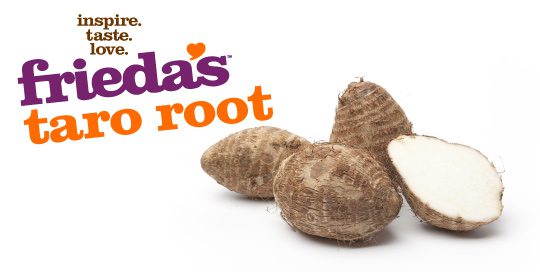 Overview
What is a Taro Root?
This brown, barrel-shaped root has white, beige, or light gray potato-like flesh, sometimes with purple flecks throughout. It is starchy with a nutty flavor. It is commonly used in Island cuisines to make poi and also in Asian/Chinese cooking.
How to Eat
Taro Root must be cooked and cannot be eaten raw! Remove skins before cooking. Use in any potato or sweet potato recipes–savory and sweet!
Health Benefits
Good source of vitamin E, supplies fiber, and rich in manganese.
How to Choose
Choose roots that are firm and plump.
How to Store
Store in a cool, dry place up to 1 week.
When are they in season?
Where are they grown?
Recipes
Hawaiian-Style Wok Fry Ingredients: 1 pound Frieda's Chow Mein Noodles, cooked according to package directions 6 Baby Carrots, cut in half lengthwise 1/2 cup sesame or peanut oil 8 ounces Taro Root, cooked, peeled, and cut in 1/2- to 1-inch … Continue reading →
Save