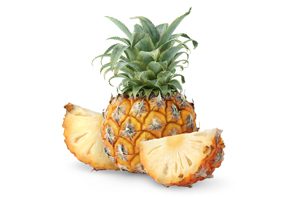 A few months ago, one of my blog followers sent me an email:
"I live in Colorado and can't seem to find your Baby Pineapples in my store anymore. Why not? I love them!"
First of all, let me explain the Baby Pineapple phenomenon.
Most of us are used to finding conventional sized pineapples in our stores. They're available throughout the year from various countries — Costa Rica, Mexico, Ecuador, Dominican Republic and many more tropical places. The demand is so great that many countries export their delicious pineapples to the USA, and each country's crop tastes and looks a little different. (Read my previous post to learn how to pick a good pineapple, no matter the color or origin.)
More than 20 years ago, Frieda's started getting calls from caterers and hotels looking for "mini pineapples." They wanted smaller pineapples to use in gift baskets, decorations and tropical fruit platters. The large pineapples were just too big.
The first Baby Pineapples we brought in were from Hawaii, but the smaller size usually meant that the fruit was immature, not flavorful, and frankly not tasty enough to eat. That was a challenge for us because we didn't want consumers to be disappointed with the taste.
Enter South African Baby Pineapples, aka the "Queen" variety. Also known as Victoria Pineapples in Australia and England.
When we first received a sample of the Zululand Queen Baby Pineapples, we were fascinated! Imagine a pineapple that is fully mature, yet only 7 to 8 inches long, including the crown. Although the crown fronds were sharp and spiky, the inside fruit was a deep golden yellow and the flavor was amazing.
We recognized right away that these Baby Pineapples were consumer friendly — perfect for households with only 1 or 2 people. You could buy a Baby Pineapple and have no waste! (Plus, we found that these baby pineapples had no core, so even less waste.)
The downside is that due to the perishable nature of pineapples, we have to fly them to the USA from South Africa. This means that one of these Babies may cost as much as a regular sized pineapple. But their intense, sweet pineapple flavor and adorable appearance makes them really popular.
Back to why Baby Pineapples can't always be found in your supermarket. Not a lot of supermarkets stock the Baby Pineapples because they don't realize there is a demand for them. So, what do you do if you want some? Find your produce manager (who you introduced yourself to after reading my blog post), and ask him or her to order them for you!
Having a Hawaiian-themed party or barbecue? Use Baby Pineapples as table decorations that your guests can take home.
Having a brunch? Halve Baby Pineapples and fill with tuna or chicken salad for an eye catching main course.
Next time you are in the mood for fresh pineapple, consider trying this petite version!
Enjoy!
Karen
CONNECT WITH FRIEDA'S
Facebook
Twitter @FriedasProduce
Frieda's YouTube Channel
Nuts About Fruit Blog