Two weeks ago, I traveled to Berlin to attend the largest produce convention in the world! Yes, believe it or not, in the middle of winter, produce growers, distributors, seed companies, and machine manufacturers from around the world gather in Berlin for Fruit Logistica.
This was my fifth time attending, and each time I get different insights.
First, let me explain the scope and scale of the show. Messe Berlin is the convention facility, and it consists of 18 contiguous buildings and halls; some are multi-level. There are exhibitors from countries on every continent (except Antarctica). The halls are organized by country, which means each hall has its own personality.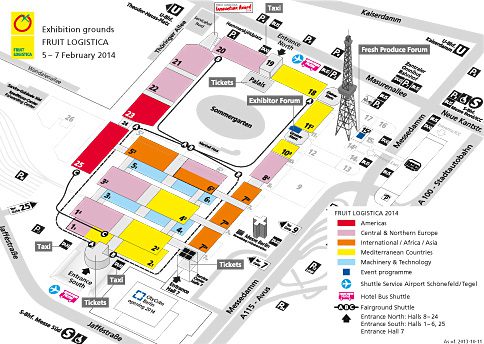 For example, the hall that featured growers from Spain was decorated with Spanish-themed architecture facades.  In addition to sampling their produce, I enjoyed espresso, slices of a Spanish version of prosciutto or Jamon Serrano, and Manchego cheese, all served by the exhibitors. In the French hall, potatoes (pommes de terre) were aplenty and oftentimes served with champagne!
One of my favorite global companies, Univeg, took up almost an entire hall. Chefs there created and offered samples of "sushi" made with fresh produce!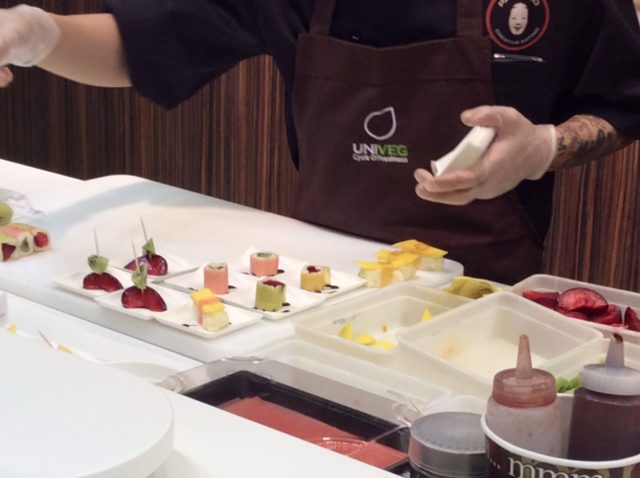 If you've ever attended a produce convention or food show in the U.S., you can immediately see the contrast in the way other countries do business. Here, it always feels like rush-rush-rush. Our shows are only one or two days long, and buyers complain that there is never enough time to see the entire show and have quality discussions with the companies that are exhibiting.
This is in contrast to this Euro-centric, relationship-oriented show. Usually, more than 50 percent of a booth space at Fruit Logistica is filled with tables and chairs. When you begin to engage in conversation, the first thing your host will say is, "Would you like to sit down and have some coffee?" From my perspective, it is quite refreshing.
One of the highlights of the show each year is the Innovation Awards. Ten products are nominated by a panel of judges. Then, all attendees are encouraged to stop by the Innovation Award Hall to vote. So it is a "People's Choice" award of sorts.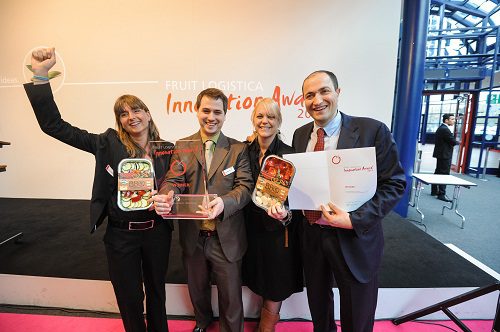 When I returned to the U.S., I learned that the BBQ Grill-Mix convenience tray won. My personal favorite was the Vegetable Crumbs. Think bread crumbs, but made with vegetables. I love their vibrant colors and the company's use of processing byproducts. You can see all the products that were in contention this year here.
As I think back on my experience walking the show this year, my big takeaways were:
It's important for a stranger walking by your booth to be able to figure out what business you're in! Many times I would go by a booth and could not figure out if they were selling produce, machinery, or services. And, at an international show, it's important to have your signage in multiple languages!
Have several ways to engage a passerby. Do you have samples? Handouts? A demonstration? Is your booth properly staffed so there are always people available to talk to potential customers? Fruit Logistica hours were from 9 a.m. to 6 p.m. each day. Some days I would arrive before a booth was staffed, and on the last day, it was hard to find anyone at some booths.
Keep your display full and continue to refresh during the day.
Family businesses are alive and well around the globe! Many times the first line out of my mouth would be, "We are a 52-year-old family business," which would prompt a big smile! So many growers and marketers around the world are family businesses too, so it immediately created a bond between us.
Flavor is big! Proud growers and seed companies sampled dozens of varieties of tomatoes, strawberries, potatoes, root vegetables, tropical fruits, citrus, and conventional vegetables. Flavor was definitely the big differentiator.
Something else I realized during my three days at Fruit Logistica is that the world is getting smaller. Even though our California citrus growers have been devastated by a freeze this year, dozens of other countries around the world (Spain, Morocco, Israel, Egypt, Australia, China, etc.) are standing by with supplies of delicious and high quality products to fill our shelves, if needed.
So, don't be surprised if that mandarin orange you purchase next week at your local grocery store is from a family farm more than 5,000 miles away!
From the world traveler,
Karen