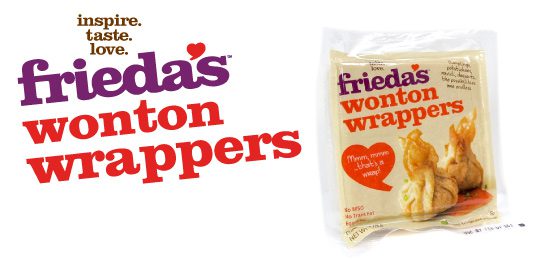 Overview
What are WonTon Wrappers?
Wonton wrappers or skins are thin sheets of raw dough traditionally used to make Asian dumplings.
Frieda's wonton wrappers contain no egg.
How to Cook
Wrap vegetables, meat or seafood mixtures then deep-fry, boil, or bake. Can also be used to make ravioli!
Watch this video
Health Benefits
Good source of iron. No MSG. No trans fat.
How to Store
Use or freeze by date on package; freeze up to 6 months.
When are they in season?
Where are they made?
Recipes
Crispy Wonton Strips A must-have topping for salads and soups! Enjoy these crispy strips as is or toss with seasonings for flavorful snacks. Ingredients 8-10 sheets Frieda's Wonton Wrappers 1 tablespoon extra virgin olive or vegetable oil, or use cooking … Continue reading →