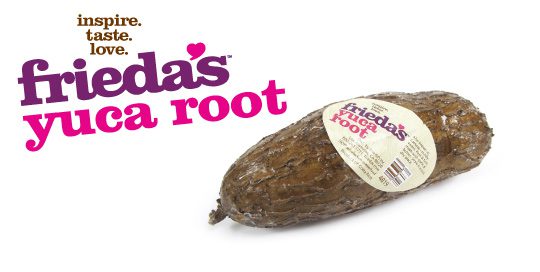 Overview
What is a Yuca Root?
Yuca, also known as cassava, is a tuber cultivated throughout Latin America and Asia. Its flesh is hard, dense and white like a coconut, and has a hard, waxy bark-like covering. Yuca has a starchy, slightly sweet flavor, and must be cooked before eating.
How to Eat
Yuca has all the culinary qualities of potatoes. Peel, then boil and mash with garlic, butter, and fresh herbs, or add to soups and stews.
Health Benefits
Excellent source of vitamin C.
How to Choose
How to Store
Store in a cool, dry place for up to 3 days. Do not refrigerate.
When are they in season?
Where are they grown?
Product of Ecuador and Costa Rica
Recipes
Costa Rican Saute Ingredients: 4 to 5 Fresh Hot Cherry Chiles, seeded and minced 1 1/2 teaspoons olive or vegetable oil 1/2 cup chopped onion 2 cloves garlic, minced 1 Chayote Squash, cubed 1 1/2 cups Yuca Root, peeled and … Continue reading →
Aztec Corn Soup with Yuca and Plantains Ingredients 2 tablespoons butter or margarine 1 cup chopped onion 1 cup sliced celery 1 cup chopped carrot 2 cloves garlic, minced 8 ounces yuca root, peeled and cut into 1-inch pieces (or … Continue reading →
Yuca Root with Lime & Cilantro Ingredients: 1 pound Frieda's Yuca Root, peeled and sliced 1 tablespoon butter or margarine 1 tablespoon lime juice 1 tablespoon fresh cilantro, chopped Crushed red pepper to taste Salt and pepper to taste Steps: … Continue reading →