So far I have received about 100 holiday cards from friends and family from every part of the country. My tradition has been to tape them on the walls at the entry to my house, and I have continued that tradition in my new house. It makes me smile to walk into the house and see the smiling faces of friends and their families. I leave them up through January which makes me feel connected to people far past the Christmas and New Year's holidays.
I have been so happy to see that just a small percentage of the cards referenced the pandemic in a less than positive light, or had everyone in the photo with masks on.
For me, 2020 turned out to be a fantastic year. As I've heard many people say, there has been a "silver lining" from the pandemic.
My silver linings included selling my residence of 17 years and moving to a new house with the love of my life at the beginning of the year.
It was so sad that my mother Frieda passed away in January, but the silver lining was that we were able to have a Celebration of Life on February 22 with more than 1,000 friends and family in attendance, just a few days before the coronavirus caused large gatherings to be limited.
Because I was forced to work from home for most of the time since March, instead of spending 90 minutes a day commuting, I was able to use that time to start running and taking hikes in the hills of San Clemente and upping my fitness level. I would never have been able to do if I was commuting to work every day.
But, definitely, the highlight of the year happened this week.
And that was the birthday of my grandson.
Shortly after my mom's memorial, my eldest daughter Alex and her husband Ben became pregnant and shared the exciting news with me in June (most couples are told to keep the news a secret until they pass the three-month mark). I'm not quite sure how Alex kept it from me, as we work together and I would see her daily via our Zoom business meetings. I did notice a kind of glow and a big smile on her face but was so preoccupied with the business challenges of COVID that frankly, I didn't give it a second thought.
When Alex was born on October 17, 1989, it was the last day of our big annual produce convention (the Produce Marketing Association). I remember when I found out I was pregnant and they told me my due date. I was so naïve about things that I asked the doctor if he could change my due date as I planned to be at a convention that day. My doctor chuckled at me and said things don't work that way.
October 17, 1989, was the day of the big San Francisco earthquake. For anyone who is a baseball fan, you will recall the earthquake that happened 30 minutes before Game 3 of the World Series was scheduled to start with the San Francisco Giants vs. the Oakland Athletics. I was in a hospital bed in Long Beach, Calif., and remember the earthquake well. I thought to myself, well this baby is going to shake up this world!
Both my parents were in the delivery room with me and my husband when Alexandra Nicole Caplan Jackson came into this world. And just a few days later, my mom, in her weekly produce "Hotsheet," decided to describe the play-by-play of Alex's birth, instead of promoting our latest produce products. It was a bit shocking to me and to many of our male customers when they received the purple newsletter in the mail the following week to read about the birth of a child. But it still brings a smile to my face when I think about the joy my mother felt to see her first grandchild born.
Now, that child is 31 years old, and as we entered the last week of the year 2020, our family anxiously awaited her turn to give birth. Although it has been 31 years since I gave birth to my first child, it seemed like just a short while ago. I was able to talk Alex through what to expect and she had a bit of that same naïveté that I did. When I awoke on Tuesday morning, there was a text from my son-in-law Ben that they had been at the hospital since 2:30 a.m. I got continual texts during the day from him keeping me updated on the contractions, the epidural, and of course when Alex was fully dilated.
I was on pins and needles all day, and frankly found myself quite distracted during my normal course of Zoom meetings and calls during the day. So, my partner Jack convinced me to go for a beach run in the afternoon to help distract me. Just as we were leaving the house, I received the most amazing news via text:
My grandson, Eli Fredaric Berkley was born at 2:53 p.m. weighing 6 pounds, 12 ounces, and was 20.5 inches long. Tears of joy streamed down my cheeks. At first, I thought that Ben had made a typo with the spelling of the middle name. Then he explained to me, in the Jewish tradition of taking the same first letter of a deceased family member and using it in the baby's name, Eli's middle name "Fredaric" was after my mother, Frieda.
One of my mother's favorite sayings was "Technology is just amazing these days!" And during my beach walk, when I saw a FaceTime call coming from Ben, I stopped and answered, and was able to see Alex and Eli just a short while after he was born and to talk with them. Technology IS amazing these days!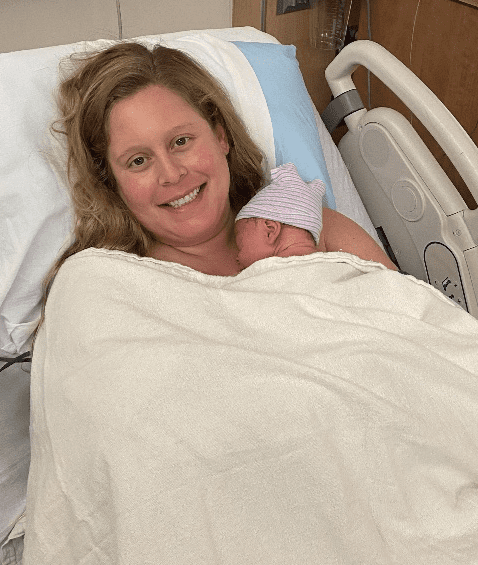 So, in the next few days, as you reflect on 2020, and look forward to 2021, I hope you will look for the silver lining in your year. What connections did you make? What new habits did you form? What did you learn about yourself?
There are always silver linings. And that glass . . . well, it is more than half full.
Happy New Year!
Grandma Karen
Where I live in San Clemente, Calif., we face the same scenario as most everyone does. Part of our town is made up of old residential neighborhoods with longtime residents (and in our case, many surfers) and older buildings in need of repair on the "main drag." Up the hill we have newer residential neighborhoods with more modern, larger homes and higher-income residents. We don't have a lot of gas stations, but we have a fair number of supermarkets and have lots of wide streets and roadways which are perfect for runners and cyclists (and recently many e-bike riders).
We all frequent the various restaurants and small shops on our main street—Del Mar—and our part of the famed Pacific Coast Highway (called El Camino Real here in San Clemente). Nearby neighborhoods of Dana Point, Laguna Beach and San Juan Capistrano also have shops and restaurants, and many residents consider this one giant community. We all support and frequent businesses all around us.
It's been heartbreaking to watch the ebb and flow of the dining scene. Pre-COVID, there was a thriving cadre of upscale restaurants, some with super creative chefs. We also have the typical fast-casual chains of Wahoo's Fish Tacos, Chipotle and there are rumors of an In-N-Out Burger starting construction.
In April and May, we took long walks and drives down El Camino Real and saw virtually no one and no business on the street. Then the summer came, and our little beach town started bustling, many of the restaurants occupied the parking space in front of their buildings with semi-permanent tables and chairs, plus awnings. At least weekly, we did our best to support our community by going out to eat, always dining outdoors of course.
Now, with the most recent surge of COVID cases, some restaurants in our community are offering "Food to Go." Unfortunately, there are restaurants nearby that have closed completely and permanently. It is so sad to see, as I know many of those restaurants were hanging on by a thread even before the pandemic.
I, like most people, am getting a little tired of cooking at home every night, so ordering in dinner is a welcome treat. Plus, it makes me feel like I am supporting the local restaurant business owners. I know many of my friends and family love to order in food as well, and some of them have chosen to use a delivery service, such as Postmates or DoorDash. You order online through the delivery service and pay them, and they pick your order up at the restaurant and deliver it to your home.
Let me tell you why I do not use a delivery service. It costs a restaurant between 25-30% of the total check to pay for the delivery service. For a restaurant owner to give up 25-30% of their revenue doesn't make business sense. But many businesses are so desperate to have the income (to keep their employees employed), that they absorb that cost. Of course, using Postmates or DoorDash when you are not able to drive yourself to get food makes sense if you're not feeling well, or if you have child care challenges, but that is not the case for me.
So, I have decided to make a conscious effort during the current lockdown to:
Order from a local restaurant at least two times a week (sometimes more). We alternate the restaurant, so we are spreading the wealth. We always order from restaurants in our own town.
We also go pick up the food ourselves, saving the restaurant the cost of paying a delivery service.
We tip generously, as we assume the business volume is down so the servers really need and appreciate the generous tips.
I hope that as you are sheltering in place in your home town that you consider supporting local restaurants in a similar manner. As they say "We are all in this together." We don't give a second thought to ordering online for our regular groceries or Christmas shopping and having it delivered to our home. But when it comes to perishable food, and supporting our local business owners, I think we should make a mindful decision to "Order In" and make a difference.
Happy Holidays and stay healthy!
Karen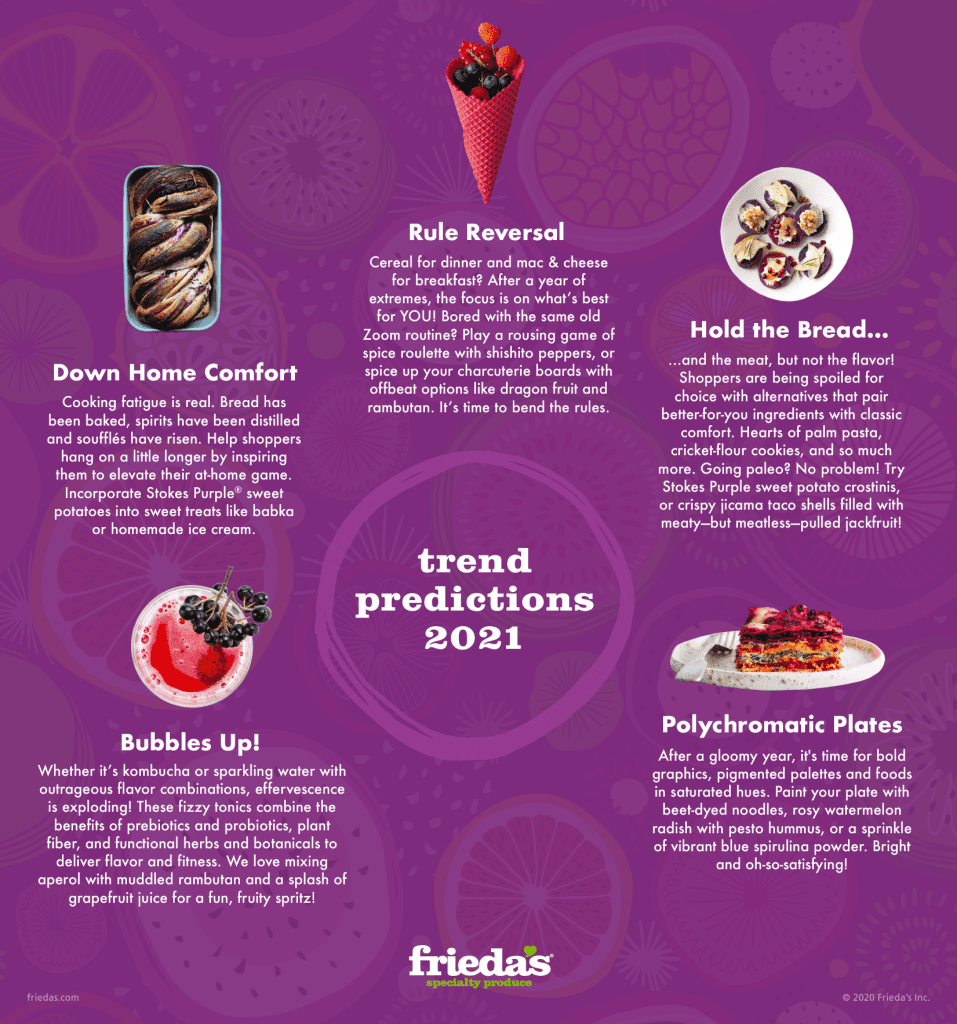 Los Alamitos, CA – (December 2020) – While past food predictions may have highlighted adventurous eating and culinary feats, this year's pandemic has firmly put the focus back on classic comfort … with a twist. The tastemakers at Frieda's Specialty Produce, known for spotting food trends with longevity, have some interesting predictions up their sleeves to help retailers make room for an exciting 2021.
"The pandemic has shifted the focus from macro trends such as travel, celebrity chefs and molecular gastronomy, to the realities of everyday living. Quarantining, social distancing, and continued sheltering in-place means that 2021 will be primarily influenced by what's directly around us, with an emphasis on health, wellness and that feel-good factor we so desperately need," says Cindy Sherman, director of marketing, insights & innovation at Frieda's Specialty Produce.
So, what does this mean for shoppers? Here's what you can expect in 2021:
Bubbles Up!
Whether it's kombucha or sparkling water with outrageous flavor combinations, effervescence is exploding! These fizzy tonics combine the benefits of prebiotics and probiotics, plant fiber, and functional herbs and botanicals to deliver flavor and fitness. We love mixing aperol with muddled rambutan and a splash of grapefruit juice for a fun, fruity spritz!
Down Home Comfort
Cooking fatigue is real. Bread has been baked, spirits have been distilled and soufflés have risen. Help shoppers hang on a little longer by inspiring them to elevate their at-home game. Incorporate Stokes Purple® sweet potatoes into sweet treats like babka or homemade ice cream.
Rule Reversal
Cereal for dinner and mac & cheese for breakfast? After a year of extremes, the focus is on what's best for YOU! Bored with the same old Zoom routine? Play a rousing game of spice roulette with shishito peppers, or spice up your charcuterie boards with offbeat options like dragon fruit and rambutan. It's time to bend the rules.
 Hold the Bread…
…and the meat, but not the flavor! Shoppers are being spoiled for choice with alternatives that pair better-for-you ingredients with classic comfort. Hearts of palm pasta, cricket-flour cookies, and so much more. Going paleo? No problem! Try Stokes Purple® sweet potato crostinis, or crispy jicama taco shells filled with meaty—but meatless—pulled jackfruit!
Polychromatic Plates
After a gloomy year, it's time for bold graphics, pigmented palettes and foods in saturated hues. Paint your plate with beet-dyed noodles, rosy watermelon radish with pesto hummus, or a sprinkle of vibrant blue spirulina powder. Bright and oh-so-satisfying!
I'm not a big fan of New Year's resolutions. I've tried them before, and like most everyone, I slip back into my normal routine by the end of January and that is usually that.
But, last year about this time, I decided to try something new. As you may remember, the first week of January I wrote about my new idea of goal-setting plans Are New Years' Resolutions Passé?
And I'd like to share some of my learnings and results this year as a way to potentially inspire you to try the same thing for 2021.
First of all, in my goal-setting routine for 2020, I set up categories (such as family, physical, personal, and travel). I broke the goals down to be as specific as possible, so I could measure them.
For example, in "physical," I had goals for how many hours of sleep I wanted to average every night, my resting heart rate goal, how many times a week I would exercise, what type of exercise, and although I had a "weight loss" goal, it was a small part of my focus.
In the "personal" category, I listed how many books I planned to read/listen to, how many times I wanted to give blood, and how many handwritten notes I wanted to write during the year. These items are always important to me, but I was inconsistent in getting them done, so I figured establishing goals and then tracking them might make a difference.
In "family," I had goals around how often I would spend time with both my daughters, my sister, my partner Jack (like dress-up dinners once a month).
And of course, I had vacation and travel goals … but those kind of got sidelined for the year due to COVID.
Then I bought a MONTHLY PLANNER for 2020 so I could record what I did each day. Now, I know what you are thinking, "Seriously, Karen, you are going to write down everything, every day? That sounds too tedious and hard!"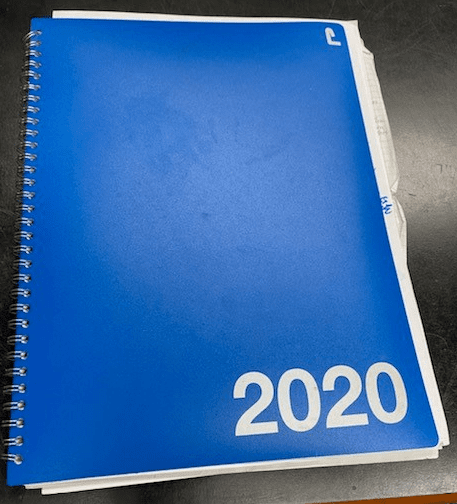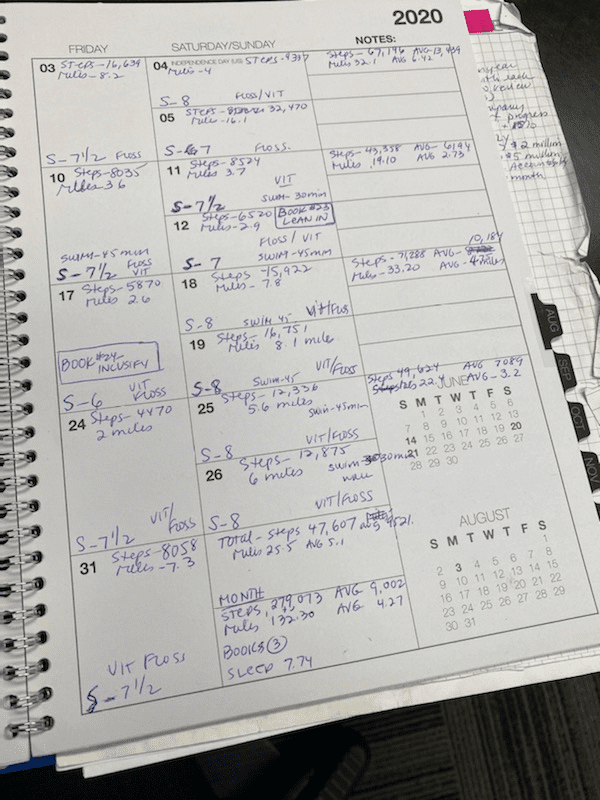 It was tedious, and it was hard to get into the habit. I cannot tell you how many times I realized that I had forgotten to write down how much sleep I got for an entire week, or what my workout was, but my goal was progress, not perfection. So, I learned to do hacks that would help me. I left my planner on the kitchen table so when I came into the kitchen each morning and each evening, I was reminded to update my calendar. Each weekend, my partner Jack and I would gently watch each other do our weekly totals on some of the categories, which inspired me to up my game many times. And then, on the first day of each month, we would do our totals for the previous month on one of the back pages of the planner for many of the categories.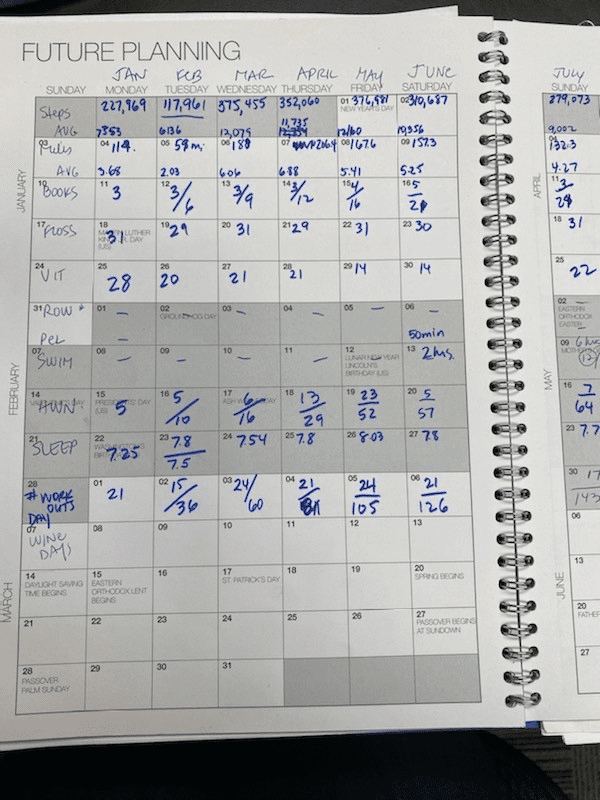 I have to admit, the task of recording everything every day all year long was daunting. If I didn't have such an aligned accountability partner, I know I would not have done as well. But having Jack, and then starting to see my own accomplishments and progress, was actually inspiring. And I think the results were amazing!
So, here is a little tease to whet your appetite (final results for 2020 will be tallied on January 1):
Goal: To complete a 5K and a 10K. Result: I completed two half-marathon (13.1 miles each)!
Goal:  Do a cardio workout four times a week: Result: YTD, I have walked/run over 1,600 miles (that's an average of more than 4.5 miles a day!)
Goal: Read/listen to more than 20 books. Result: YTD, I have listened to and completed 43 books!
Goal: Sleep an average of more than 7.5 hours a night. Result: YTD, I have averaged 7.78 hours of sleep a night!
Goal: Lose 14.4 pounds. Result: YTD, I have lost 4.4 pounds! But, I think I have a lot more muscle due to all my exercising. (BTW – Those were the hardest 4.4 pounds I've ever lost!)
What I've learned is writing down your goals, not having too many, sharing them with an accountability partner and tracking your progress—really works!
So, during the next two weeks, please don't make any New Year's resolutions. Instead, why don't you go to Staples and purchase a 2021 MONTHLY PLANNING calendar. Make a list of a few goals. Start tracking them daily. Each month, recap your activity and progress. And perhaps add a few goals to your list for the next month.
One last thought:  If we are friends on Facebook, then you probably notice that both Jack (aka John Daly) and I post a lot of our physical activities, and I post when I donate blood. Some people (who shall remain nameless) have commented that it seems a little self-absorbed to post so much about what we do. All I can say is I know for a fact that my determination and consistency have inspired others to step up their game and exercise more. And to start donating blood.
Last week, after I gave blood for the fourth time this year and posted the traditional photo of me in the donor chair with the IV and blood bag showing, I received two messages: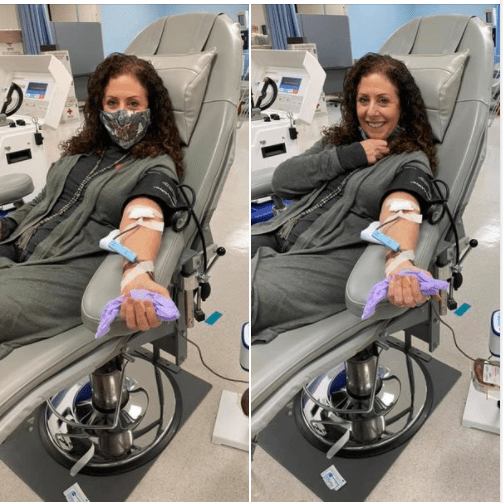 "People like you, taking the time to give blood truly saved my daughter's life. Almost brings me to tears, thank you!" (From Christina in Ventura)
"You are a lifesaver! Thanks, Karen. If it weren't for wonderful people like you and my amazing sister, I would not be here today." (From Janie in Atlanta)
If I inspire others to accomplish things they thought were not possible, then I have done a great deed.  I hope my sharing inspires you to take a big step to make 2021 your best year ever!
Karen
A few months ago, I wrote about my experience (The Difference One Person Can Make) visiting two separate wineries in Napa owned by the same family. We had a fantastic experience at one and a so-so experience at the other. It really highlighted for me how the experience I had visiting a place could be dramatically affected by the individuals you interact with.
So last weekend, as shelter-in-place orders were getting ready to go into force, we decided to visit one of the local restaurants here in San Clemente for our last night out before "lockdown." A few weeks ago, we discovered a new outdoor restaurant, FIG@313, the chef is world class and his food—divine!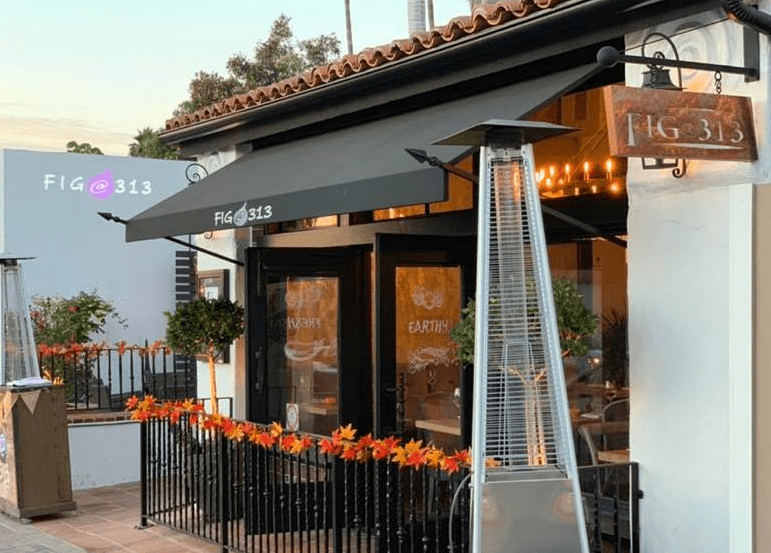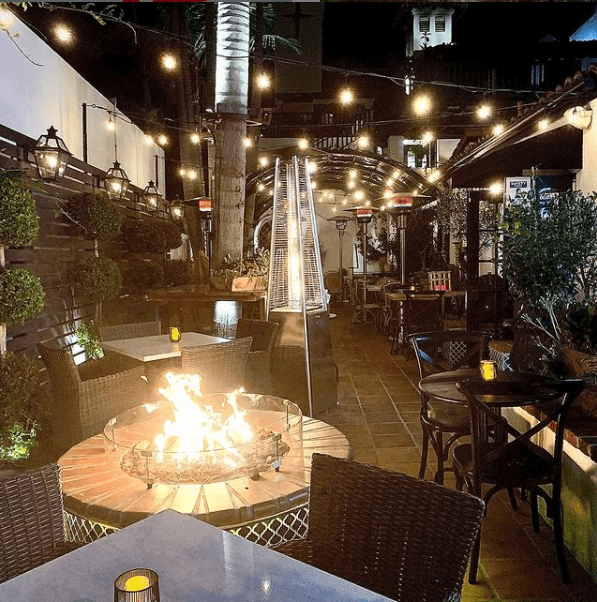 So we made a reservation on OpenTable, bundled up for our 7:30 p.m. reservation (it was a chilly 58 degrees) and drove the few miles to the main drag, El Camino Real.
We were seated near the firepit, and appropriately physically distanced from the other parties in our area. All wait staff were masked and wore black plastic gloves. Our server came over to greet us—let's call him Robert. Robert was nice enough, but when we asked him questions about the menu, his answers were curt, in fact, he did not actually answer our specific questions (like, can we get the mashed potatoes WITHOUT garlic in them?). It made me feel like he didn't really know the ingredients and foods on the menu well. Also, it was especially frustrating during our meal that he wasn't particularly attentive to us. For example, we had to request a few items from other servers as they came near us.
As we were finishing up our dinner, Jack and I were reminiscing about the service we had the first time we came there. That time, our server was Chris (that's his real name), who was big and tall and completely boisterous. He was enthusiastic, genuine and passionate about the food and the restaurant. Chris even told us that he used to be a patron of the restaurant, and after COVID when he needed some extra money, he decided to work at FIG@313 as a server. His passion and appreciation for the food and the talents of the chef came through so clearly, that he actually talked us into ordering different menu items based on his recommendations. I found my mouth actually watering when he was describing the food.
Just then, Chris came to help clear our table. We said, "Hi Chris!" and he said right back to us, "Oh, so good to see you both back here! What wine did you bring? Did you enjoy your dinner?" Even if he was faking, we felt like he remembered us, took a genuine interest in us (he remembered that we brought our own wine) and actually brightened the evening for us.
I know that for the next few months at least, all of us will be either eating at home or ordering in food. No treks to our favorite restaurants. But we will be making phone calls (either for work or fun), working, doing Zoom meetings, going to the grocery store, etc. Have you ever thought about how your intonation during a personal interaction affects the other person?
During these times of heightened stress and tension, it really can make a positive difference to others if you put a smile on your face before starting a phone, Zoom or in-person conversation. Did you know that people can tell if you are smiling when you are on the phone? What about taking a moment to have a personal check-in with someone before a meeting or before starting a conversation? How are they doing? How are their kids, parents, spouse, etc.?
Frankly, I've been doing this with everyone I've been interacting with since COVID—even with the electrician who has been coming to my house for the last four months. Each time Richard comes over to fix something, I ask him something about himself. Last time he was here, I learned that he surfs almost every day (pretty amazing to me since he is 72 years old!), that he and his wife have fostered more than a dozen kids and that he lives in Escondido. We communicate via text and that personal touch I used not only made him smile, it seemed to personalize our working relationship and I now have found him to be super responsive, like he is doing work for a friend or family member, not just a regular customer.
Think about this: You go to the same grocery store every week. You probably recognize the checkers or the managers. Have you thought about asking them how they are? How is their family—do they have kids? Instead of being in a rush to get out of the store or through the line, think about your interaction and make it personal. You could actually bring joy to someone's day.
My assistant, Tricia went to a large store this morning to pick up some gift cards for our employees and was delayed due to how busy the store was. Instead of getting frustrated and taking it out on the employees, she texted me, "It's always in adventure!" and I'm sure she was accommodating, pleasant and full of smiles to the employee she was interacting with.
Make a positive difference the next time you interact with someone. At home. At work. With a stranger.
It is the season of gratitude and generosity—share the spirit of the season!
Karen
Like almost everyone, I end my day by checking my Instagram and Facebook feeds. It gives me a chance to see what my friends and family—near and far—are doing. In the absence of seeing people in person, I have resorted to spending a little extra time online, then following up with texts, emails and sometimes phone calls if a post inspires me to connect more deeply.
A few weeks ago, I saw a post from a longtime friend Betty Mower Potalivo. Betty retired two years ago after an amazing career as regional president and group managing director of Northern Trust Corporation here in California. I met Betty through my mother, Frieda, who did all her banking and personal investments at Northern Trust. Since Betty retired, we haven't seen each other, but I occasionally see her posts on Facebook. Hint: When I find out someone is retiring or changing professions, I always make sure I am connected with them on Facebook, Instagram and LinkedIn. That way, at least I will know when something is happening in their life.
So three weeks ago, I saw this post on Facebook: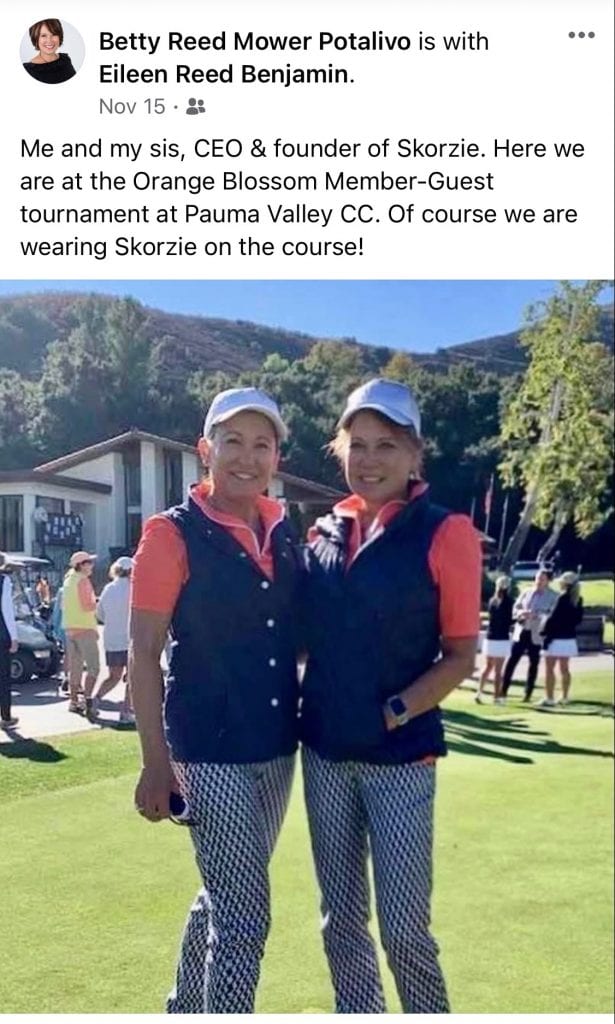 Hmm, I thought, those are some pretty cute golf clothes! And now that we have joined a golf club and I am playing once a week, golf clothes have moved up on my priority list. But, as you may've guessed—as with any sport-specific clothing—golf clothes can be expensive.
So, after seeing her post about www.skorzie.com , I decided to check it out. What I saw were cute clothes at fantastic prices. Plus, it was a woman-owned business, so I immediately purchased a few things. In case you're wondering, I picked out seven pieces of clothing, paying a total of $300 and received them two days later! And thanks to the detailed sizing charts available by brand, the clothes all fit! I am hooked.
So I sent Betty a text thanking her for the recommendation and said I would love to be introduced to her sister, Eileen. I always love talking to women business owners to find out their inspiration and talk about their success.
Well, within a week the three of us were talking on a Zoom call.
The first thing I learned about Eileen was that she had a fantastic and successful career in the non-profit world. Most recently, she ran a local large chamber of commerce. Before that, she ran a hospital foundation, all while being a single mom of two. I also learned that she turned 60 in February and loved golf.
I mention her age (with her permission, by the way), because turning 60 seems to be a turning point in many peoples' lives. I have heard multiple stories of professionals pivoting in their career at that age. Pre-60, they worked like a mad dog up the corporate ladder. Then at age 60, they changed to focus on what was in their heart. That may mean devoting yourself to a charity, being an advisor on non-profit boards, or spending more time with family. But while many people joke about mid-life crises at age 50, I have found that just as many people start following their passion at age 60.
Eileen told me that she and her sister Betty, plus their other siblings, were raised as a welfare family in Huntington Beach, Calif., and always struggled to have food on their table. As she called it, she became a "sensitive shopper." That was her way of saying she was cost conscious and frugal. She knew how hard it was to make ends meet.
So, when she stepped away from running the chamber of commerce at age 60, she decided she wanted to combine her passions: helping others less fortunate, saving money and golf.  She told me she leveraged her connections at the chamber of commerce and was able to meet the head of sales for a sports clothing manufacturer. She pitched her concept of being an alternative, online distribution channel for golf fashion for women. Through that single personal connection, she met with additional manufacturers who were thrilled to sell her their entire unsold seasonal inventory.
So, she rented a small warehouse, bought a camera and hired a couple of people and some freelancers to develop a website, post photos, and handle marketing via digital ads on IG. She does all the inventory purchasing herself and has financed the entire business herself through her savings and retirement funds. She confided in me that she didn't always get the best advice. Some things worked. Some things didn't. It has been a lot of trial and error.
But at the end of six months (she launched her business in mid-May 2020), she is on track to do more than $250,000 in sales in the first year and is cash-flow positive.
In addition to selling clothes she purchases directly from manufacturers, she was inspired by www.thredup.com and takes gently used golf clothing on consignment. But perhaps the most heartwarming component of her business model is the part that really hits home for her.
Eileen invests in causes that help stop bullying and body shaming for girls. Because she is based in Escondido, Calif., (near San Diego), she was introduce to LPGA golfer Haley Moore.  You can read about Haley [Here] and [More Here] but Haley was bullied for much of her life due to her weight and body type.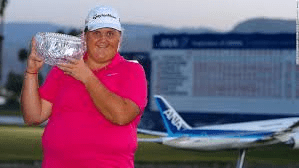 As you are reading this article, Haley is playing in an LPGA Tournament in Texas. She is an incredibly talented golfer and has a foundation to which Eileen contributes some of her profits.
So, next time you are looking at Facebook or IG, or thinking about what the next chapter in your career might be, don't be afraid to dream big. Dream differently. Think about your passions. Think about your struggles in your earlier life and how you got through. Reading an article online or in a magazine and feel a tug at your heart? Spend a little time dreaming about what a difference you could make in someone's life.
And if you're in the market for women's golf clothes, I hope you will check out www.skorzie.com and support my new friend Eileen.  If you're watching sports this weekend, how about taking a break from typical college and regular sports and check out who's playing in the LPGA tournament. It might provide a different kind of inspiration for you and your daughters, sisters and female friends.
That next chapter of your life will be here before you know it.  And, most likely, you can make a difference—an even bigger difference—by listening to your heart.
Karen