Los Alamitos, CA (March 2021) – International Women's Month, celebrated in March, is the perfect time to spotlight the incredible women who have paved the way for women all over the world. As a proud female and family founded, owned and led business, Frieda's Specialty Produce wanted to do something innovative to recognize women pioneers.
A campaign unveiled across multiple social media platforms features our founder Frieda Rapoport Caplan, Supreme Court Justice Ruth Bader Ginsburg and poet laureate Amanda Gorman. Their iconic styles and personalities were brought to life through produce like colored cauliflower, Stokes Purple® sweet potato, shishito peppers and Snow Dragon™ fruit.
"My mother would have gotten such a kick out of seeing her portrait recreated out of dragon fruit and colored cauliflower," says Karen Caplan, president and CEO of Frieda's Specialty Produce. "It brings such joy to honor her alongside the legendary RBG and the voice of the next generation, Amanda Gorman. We wanted to focus on women who have inspired us, but in true Frieda's fashion do it in a way that makes people smile."
This International Women's month we salute all female trailblazers inside and outside the produce industry, from fearless frontline warriors to the female scientists working on the vaccines and all of the moms in between.
To all the women in our lives, thank you for everything you do!
To view the campaign, please visit our social media pages:
Instagram – www.instagram.com/friedasproduce
Facebook – www.facebook.com/friedasspecialtyproduce
Los Alamitos, CA (February 2021) — The lull between the Super Bowl and Easter often leaves grocery stores and shoppers looking for a bit of retail excitement—making it the perfect time to leverage that treasure hunt mentality and introduce new tropical favorites like dragon fruit.
Dragon fruit is no longer just for summer, in fact, 42% of shoppers said they would like to buy dragon fruit year-round1. With this in mind, Frieda's has created attention-getting, limited-edition ElastiTags® that showcase the different varieties of dragon fruit, including Honey Dragon™ and Snow Dragon™. These tags make it easier for shoppers to know what the fruit will look and taste like on the inside and they give consumers a reason to try both varieties.
"Promoting multiple varieties through inviting, bountiful displays is key right now, as shoppers are visiting stores less but stocking up when they do shop," says Cindy Sherman, director of marketing innovation & insights at Frieda's. In fact, a recent survey from Deloitte Consulting found that 54% of shoppers said they are visiting stores less frequently than before, with most only going to the store once every two weeks2.
Merchandise the two varieties together, alongside citrus favorites like sumo mandarins and pixie tangerines, to increase dollar ring. Or, add some excitement to your tropicals table with an eye-catching display of dragon fruit, jackfruit and pineapples for a vibrant and fun display.
Frieda's has strong supply of these two dragon fruit varieties from Ecuador and they will be available until the end of April.
Contact your Frieda's account representative today for merchandising suggestions, including our colorful 3-tier shipper, that maximize your sales per square foot.
Source:
1 C&R 1,000 person study, February 2020
2  Deloitte Fresh Food Consumer Survey, 2020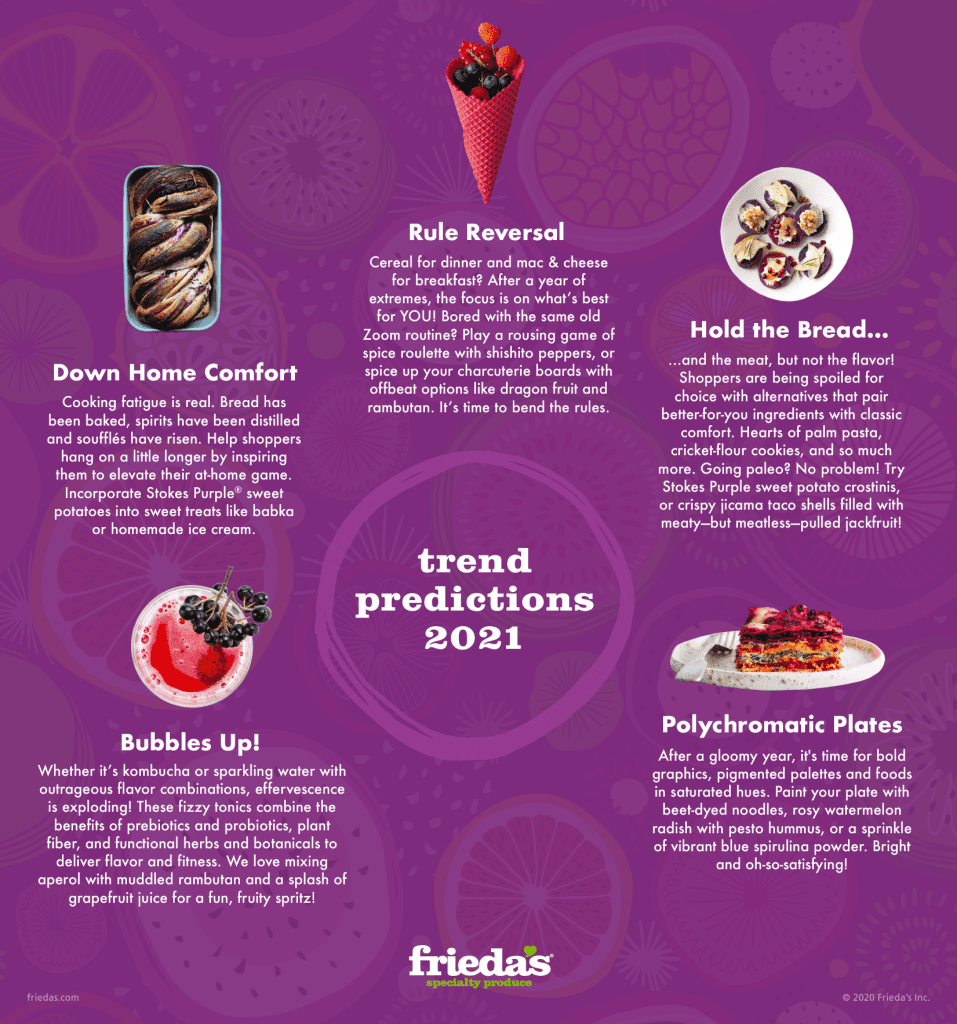 Los Alamitos, CA – (December 2020) – While past food predictions may have highlighted adventurous eating and culinary feats, this year's pandemic has firmly put the focus back on classic comfort … with a twist. The tastemakers at Frieda's Specialty Produce, known for spotting food trends with longevity, have some interesting predictions up their sleeves to help retailers make room for an exciting 2021.
"The pandemic has shifted the focus from macro trends such as travel, celebrity chefs and molecular gastronomy, to the realities of everyday living. Quarantining, social distancing, and continued sheltering in-place means that 2021 will be primarily influenced by what's directly around us, with an emphasis on health, wellness and that feel-good factor we so desperately need," says Cindy Sherman, director of marketing, insights & innovation at Frieda's Specialty Produce.
So, what does this mean for shoppers? Here's what you can expect in 2021:
Bubbles Up!
Whether it's kombucha or sparkling water with outrageous flavor combinations, effervescence is exploding! These fizzy tonics combine the benefits of prebiotics and probiotics, plant fiber, and functional herbs and botanicals to deliver flavor and fitness. We love mixing aperol with muddled rambutan and a splash of grapefruit juice for a fun, fruity spritz!
Down Home Comfort
Cooking fatigue is real. Bread has been baked, spirits have been distilled and soufflés have risen. Help shoppers hang on a little longer by inspiring them to elevate their at-home game. Incorporate Stokes Purple® sweet potatoes into sweet treats like babka or homemade ice cream.
Rule Reversal
Cereal for dinner and mac & cheese for breakfast? After a year of extremes, the focus is on what's best for YOU! Bored with the same old Zoom routine? Play a rousing game of spice roulette with shishito peppers, or spice up your charcuterie boards with offbeat options like dragon fruit and rambutan. It's time to bend the rules.
 Hold the Bread…
…and the meat, but not the flavor! Shoppers are being spoiled for choice with alternatives that pair better-for-you ingredients with classic comfort. Hearts of palm pasta, cricket-flour cookies, and so much more. Going paleo? No problem! Try Stokes Purple® sweet potato crostinis, or crispy jicama taco shells filled with meaty—but meatless—pulled jackfruit!
Polychromatic Plates
After a gloomy year, it's time for bold graphics, pigmented palettes and foods in saturated hues. Paint your plate with beet-dyed noodles, rosy watermelon radish with pesto hummus, or a sprinkle of vibrant blue spirulina powder. Bright and oh-so-satisfying!
Los Alamitos, CA (September 2020) –  Stokes Purple® sweet potatoes are back in season and shoppers are ready for them now more than ever.  So get ready for holiday demand with shippers only available from Frieda's.
Research shows that rich-hued purple vegetables are hot sellers. In fact, retailers carrying Frieda's exclusive Stokes Purple® sweet potatoes are seeing as much as 20% increases in weekly dollar same-store sales on this item vs. prior years' sales, according to Nielson data1. These purple sweet potatoes are flying off the shelves!
Why you might ask? It's the nation's focus on functional foods, which is peaking now. According to the Mayo Clinic, functional foods are nutrient-dense items that promote optimal health while reducing the risk of disease. Examples include items like oatmeal, nuts, berries, and purple sweet potatoes. The Hartman Group research firm is predicting that functional foods will hit a high this year as COVID-concerned, health-oriented shoppers look to empower themselves and power up their diets with antioxidants.
Frieda's suggests creating superfood displays that combine items like Stokes Purple® sweet potatoes, fresh turmeric, ginger root, and citrus. Tout the nutrition benefits of these fruits & vegetables and turn your produce department into a fresh, functional foods destination.
"Stokes are in high demand this year as we anticipate that holiday cooking will have a functional spin," says Alex Berkley, Frieda's director of sales. "Stokes Purple® sweet potatoes are ideal to promote for Thanksgiving and Christmas, and our display shipper is a great way to showcase them and add incremental shelf space. We recommend using signage to suggest that shoppers create healthy holiday favorites like Stokes Purple® sweet potato pie."
Organic and conventional Stokes Purple® sweet potatoes are available now through May in 15-lb. and 40-lb. cartons. Every potato is labeled to reduce front-end checker error. An organic 12/3-lb. bag option is also available.
Call your Frieda's account manager today for help in planning your ads now and pre-booking supply.
Source:
1 Nielsen Data xAOC, regional retailer in the NE. 52 weeks ending 7/11/20
About Frieda's Inc.
Frieda's Specialty Produce has been inspiring new food experiences for friends, families, and food lovers everywhere since 1962. From kiwifruit and dragon fruit to Stokes Purple® sweet potatoes and habanero peppers, Frieda's has introduced more than 200 unique fruits and vegetables to the U.S. marketplace. Founded by produce industry trailblazer Dr. Frieda Rapoport Caplan, subject of the 2015 documentary "Fear No Fruit," the family company is owned and operated by Frieda's daughters, Karen Caplan and Jackie Caplan Wiggins, in Orange County, California. Find Frieda's on Facebook, @FriedasProduce, and Friedas.com. Inspire. Taste. Love.