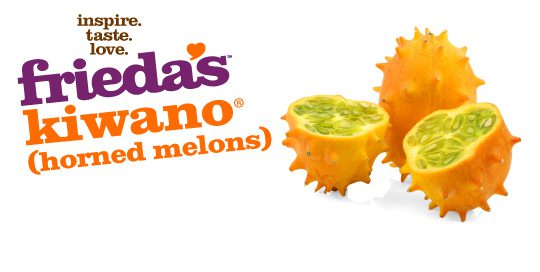 Overview
What is a Kiwano®?
Also known as horned melon or horned cucumber, Kiwano® has a unique appearance that makes them a favorite among children and a conversation piece for dinner guests. The pulp is lime-green, jelly-like and filled with tender, white, edible seeds, similar to those found in cucumbers. It tastes like cucumber, melon, and lime. The yellow peel has bright orange stripes with spikes. Surprisingly, the peel is edible–crisp and delicious!
Fun fact #1: Did you see Kiwanos in "Star Wars: The Force Awakens"? A bowl of horned melons along with a few Romanesco and yellow dragon fruit were spotted in the movie when Rey sat down to eat at Maz Kanata's castle.
Fun fact #2: Star Trek fans may also recognize the Kiwanos as Golana Melons from a "Star Trek: Deep Space 9" episode, Time's Orphan.
How to Eat
Trim off spikes with a vegetable peeler, then slice in into rounds or wedges. Sprinkle with salt or a squeeze of Meyer Lemon and enjoy!
You can also enjoy the pulp alone, eating directly from the shell with a spoon and discard the peel. Add pulp to smoothies, cocktails, or even salad dressings. Also great for making sorbets or granitas.
Try using the shell as a creative edible serving dish for ice cream topped with the pulp.
We're not joking–the peel really is edible!
Internet Explorer users may not be able to view this video.
Don't throw the Kiwano at your friend!
How to Choose
Choose melons that are yellow to orange in color with no splits in the skin.
How to Store
Do not refrigerate the Kiwanos! At peak of ripening, fruit will turn to a golden orange to deep orange color. At this stage, use Kiwanos within a few days.
When are they in season?
Where are they grown?
Product of U.S.A. and New Zealand.
Recipes
Melon with Kiwano® Mint Sauce Ingredients: 1 cup honeydew or cantaloupe chunks 1 cup watermelon chunks 1 Kiwano®, halved lengthwise Kiwano® Mint Sauce 1 Kiwano®, halved lengthwise 1/2 cup melon chunks (any variety) 2 teaspoons Fresh Mint, chopped 1 teaspoon … Continue reading →