Produce industry leader Karen Caplan to speak at the first Los Angeles edition of New York food conference Friday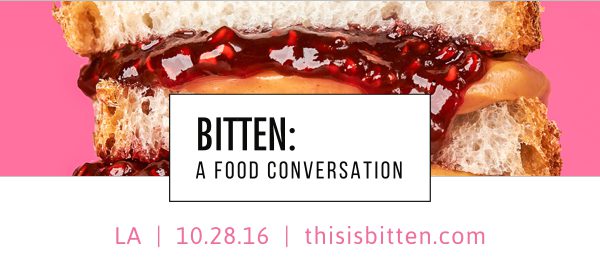 LOS ALAMITOS, CA (October 2016) — The renowned New York event series "Bitten" comes to Los Angeles for the first time this Friday, October 28. Frieda's Specialty Produce President and CEO Karen Caplan will be the day's first speaker, the only produce industry professional among an impressive list of disruptors, innovators, and thought leaders in the LA food scene.
Bitten hosts a series of events in New York City, bringing people together to talk about the future of food, looking through the lens of creativity, art, trends, technology, and innovation. For "Bitten LA," topics will range from food waste reduction to the science of flavor, from cocktail trends to the convergence of science fiction and food. Speakers include Los Angeles Times food critic Jonathan Gold and Nyesha Arrington, Bravo's "Top Chef" contestant and executive chef at Leona in Venice, California.
"I've been enamored with the Frieda's story since reading about it in David Sax's book, 'The Tastemakers,' so I am thrilled to have Karen open our first-ever Los Angeles conference," said Naz Riahi, founder and CEO of Bitten.
Join Los Angeles' food trendsetters for a day of inspiration, connections, and good food at the Gallery Theater of Barnsdall Art Park in Hollywood, starting at 8:30 a.m. Tickets are available now.
About Frieda's Inc.
Frieda's Specialty Produce celebrates a 54-year legacy of inspiring new food experiences for friends, family, and food lovers everywhere. Credited with introducing more than 200 specialty fruits and vegetables to U.S. supermarkets, Frieda's has helped launch unique items like kiwi fruits, Stokes Purple® sweet potatoes, habanero peppers, Sunchokes®, and organic finger limes. Founded in 1962 by produce industry icon Dr. Frieda Rapoport Caplan, subject of the 2015 documentary "Fear No Fruit," the family company is now owned and operated by Frieda's daughters, Karen Caplan and Jackie Caplan Wiggins, in Orange County, California. Find Frieda's on Facebook, @FriedasProduce, and Friedas.com. Inspire. Taste. Love.