In November, my sister Jackie and I received an email letting us know that our mother, Frieda, had been unanimously selected to receive the Lifetime Achievement Award from our industry trade group, the United Fresh Produce Association, at the Produce Legends Dinner.  It was only the third time this award had ever been given and mom was the first woman to receive it.
In the weeks leading up to the event on January 28, mom received hundreds of congratulatory phone calls, emails, letters and gifts. It was quite overwhelming, for mom and our family, to experience the outpouring of love and admiration from so many people in our industry.
The event took place in Tucson, Arizona at Loews Ventana Canyon. As a surprise, Jackie and I reached out to many of moms' friends outside of the produce industry to put together a tribute video to show at the event.
[youtube=https://youtu.be/L81YumOoQtk]
At mom's request, my eldest daughter, Alex, introduced her to the audience of 200 guests. At age 23, her comments were polished, yet sincere, touching and funny. There was not a dry eye in the room when she finished.
But what took my breath away that evening were all the people who flew in just for the night to honor my mother: The son of one of our employees from over 25 years ago; almost a dozen former employees who got their start at Frieda's; customers and suppliers from all over the country…and they all came dressed in purple–our company color!
There were also strangers; men and women who said how mom's bravery in starting a company 50 years ago inspired them to start their own business.
So, when she accepted the award, she thanked her industry friends and the complete strangers who, over the years, provided encouragement, information, and referrals, which helped grow our business.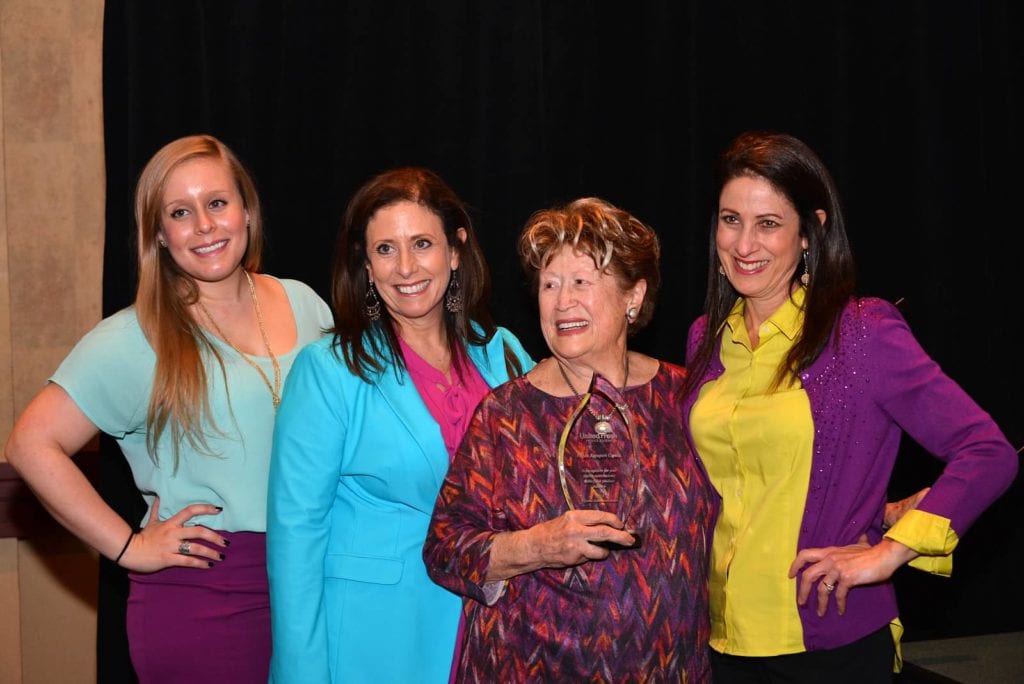 All of this made me think…each of us can be a source of inspiration for others without even knowing it. With a smile, good deed, random act of kindness or a referral, you could help or inspire someone to be their own personal best.
That has probably been the biggest life lesson I have learned from my 89 year old mother: Be kind to everyone and treat them like they are the most important person in the world to you.
Thanks mom!
Karen
Save