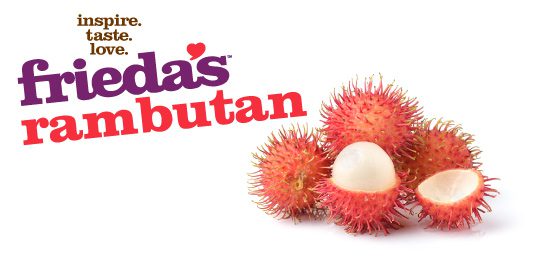 Overview
What is a Rambutan?
This punky relative of the Lychee has a spiky red shell covering a sweet and juicy grape-like flesh that surrounds an inedible woodsy seed. The aromatic sweet-tart flavor is perfect for desserts or just enjoyed out of hand.
How to Eat
Peel, remove seed, and enjoy alone or add to fruit salads, desserts or chicken and fish dishes.
Watch This Video
Health Benefits
Good source of vitamin C.
How to Choose
Choose fruits with in-tact skin and no leaks.
How to Store
Keep refrigerated in a plastic bag and use within 2 weeks.
When are they in season?
Where are they grown?
Product of U.S.A., Vietnam, Guatemala, and other Central American countries
Recipes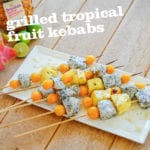 Grilled Tropical Fruit Kebabs Exotic fruits get caramelized then drizzled with a zesty key lime-honey sauce for a sticky-sweet summer treat. Ingredients 1 pint cape gooseberries* (24 berries), husk removed and rinsed well (or 24 fresh lychee and/or rambutan, peeled … Continue reading →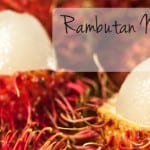 Rambutan Mandarin Fruit Cocktail Ingredients: 12 to 15 Rambutan, peeled and seeded 1  11-ounce can mandarin oranges, drained 3 tablespoons orange juice 2 teaspoons sugar 2 teaspoons lemon juice 1/2 teaspoon fresh Ginger, minced Fresh mint (optional) Steps: In a … Continue reading →
Nutrition