Last week I went to Las Vegas. Does it surprise you that it was a business trip? I was invited to speak at the first Vegas Food Expo. My topic was "How Produce Trends Happen." It's always fun for me to demystify how kale or kiwi appeared on the produce scene. "Gradually and then suddenly," I always say.
It's been a while since I've been to Las Vegas and for a few years now, I've had something on my bucket list. And that is to take a tour of Zappos headquarters. My dear friend Jack Daly, who is an author and does sales training for a living, has talked about the tour for years. So, with an extra half day available to me, I went online a month ago and booked a tour for Friday morning.
When most people think of Zappos, they think of buying shoes online, free shipping both ways, and founder Tony Hsieh selling the company to Amazon for $1 billion. That is all true.
But the reason the tour is so popular is to learn about the company's secret sauce, its real competitive advantage. Zappos is known for its culture.
From the moment I went on the website and signed up (and received regular reminders about my upcoming visit), and then as I walked through the front doors, I could tell there was something very special about the place. First of all, everyone is unbelievably happy and friendly. It didn't seem like they were working. It seemed like they were just hanging out. After signing in, I was offered water, snacks, storage for my luggage, and shopping time at the Z Boutique (the store with promotional merchandise, or  "swag") located right off the lobby.
Since I arrived early, I wandered into the swag store just to see what they had besides the normal hats, T-shirts, etc. That's when I met Lindy. She was running the store that day. Actually, she seemed almost too happy to me. But I could tell it was completely sincere, especially since I asked her how she came to work at Zappos. I noticed how naturally she engaged with me, didn't put any pressure on me to buy anything, and wasn't in any rush. Of course I had to buy Tony Hsieh's book, "Delivering Happiness," plus a T-shirt and shot glasses. (More about shot glasses later.)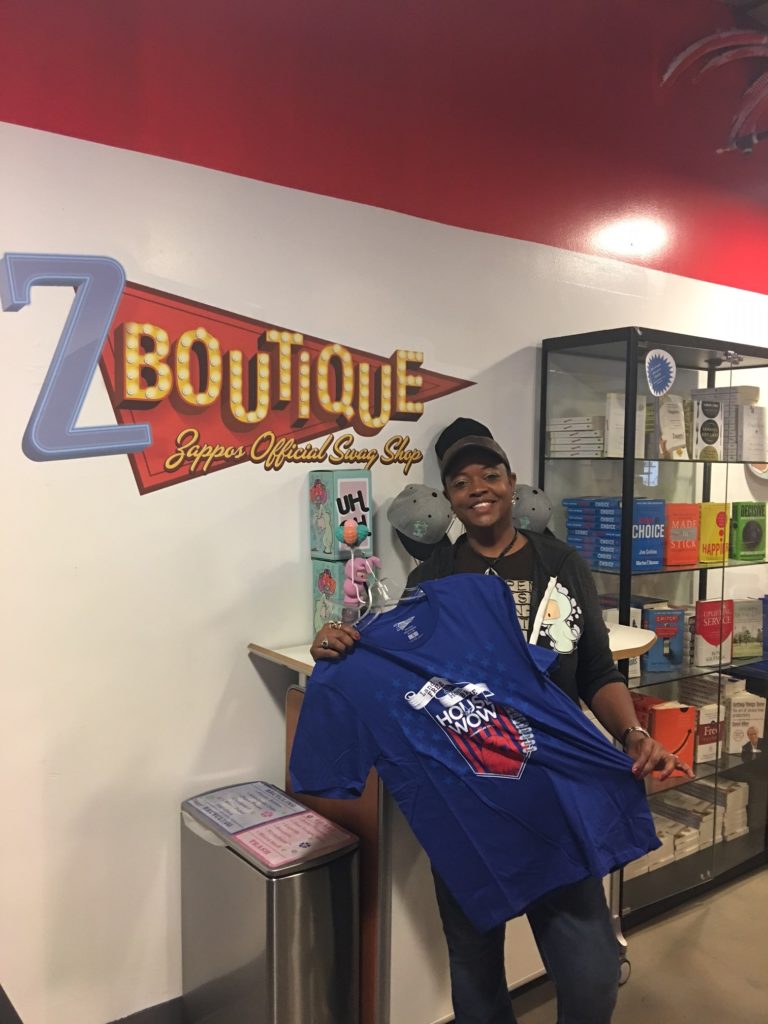 Just before our tour, a few tour guides ushered us into a large alcove, where they played several videos, which clearly demonstrated their culture.
The first video was about how a customer service rep from Zappos really connected with a customer who called to buy tennis shoes for a run she was participating in. As it turned out, the customer was battling breast cancer and this was a big run for her. The customer service rep felt so connected after the call that she wanted to do something to make the customer feel special. So she sent her flowers! And then, through one of Zappos' funds, Zappos and the rep arranged a party for the customer a few months later to celebrate her birthday! Yes, you are reading this correctly. All the customer did was call in to buy a pair of shoes. And the customer service rep was empowered to "delight" her in any way she saw fit. Talk about winning a client for life! (As you know, they've already won over my daughter Alex.)
A second video was about how Tony Hsieh started his company, including how he got the name Zappos. His partner, Nick, suggested they call the company "Zapos," as a nickname for the Spanish word for shoes, "zapatos." They added an extra "p" because it looked better and the name "Zappos" was born. I found it super interesting that Tony graduated from Harvard in 1995 and sold his previous company, LinkExchange, to Microsoft for $265 million, which provided the startup money for founding Zappos.
Zappos has a team of six full-time tour guides; that is their full time job at Zappos. Our small group of five had an hour-long tour with our two guides. The facility is the former city hall of Las Vegas. Sadly, it's a concrete building with not a lot of natural warmth. Our guide, Ryo, told us that they moved there in 2013 and it is much nicer than when they moved in. But Zappos is continuing to remodel to make it feel like home.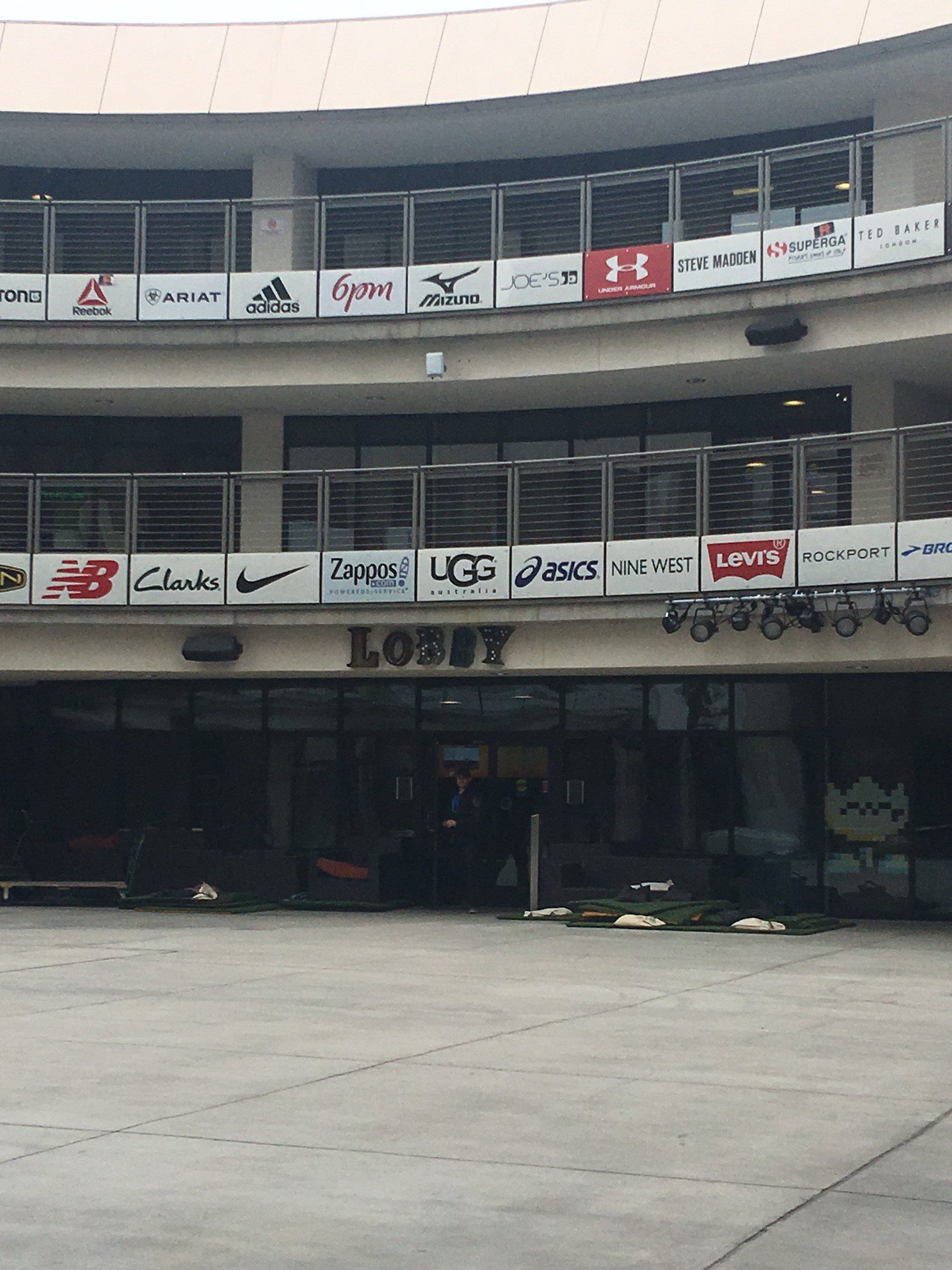 Here are some of the highlights of the tour and things I learned:
Zappos has employee lounges in every wing and on every floor. Healthy food and beverages, like water, natural sodas, oatmeal, and healthy snack bars, are provided free to employees. For the less healthy options (like Monster drinks and candy), the employees have to pay a nominal fee, which goes into their charity pool. The company judges how happy its employees are by how much of the free food they consume!
No one has a private office. Everyone has the same type of work station. Part of the tour was going to Tony Hsieh's desk. Darn, he wasn't there that day. It is in the middle of a bunch of other desks and I could tell he actually works there. By the way, he loves vodka! He had a large bottle of Belvedere vodka on his desk and a few shot glasses. I knew this guy had good taste!
When they interview people for jobs at Zappos, their philosophy is to ask themselves, "would I want to go have a drink with the candidate?" If not, they probably wouldn't work well in their environment. It takes an average of 60 to 90 days for most people to get hired there. And all candidates are interviewed by multiple people. The decision to offer a job to someone has to be unanimous.
Instead of giving performance reviews, they do peer reviews. All of the criteria for the review are related to the employee's alignment with the company's core values.
The customer service reps have no script. They are trained to handle any and all questions that a customer has with no transferring to another department or a supervisor. No time limit is set for how long a call should take. The world record for the longest call for a Zappos customer service rep is 10 hours and 43 minutes. Remember Tony Hsieh's book is "Delivering Happiness." Zappos' mission is to deliver happiness…they just happen to sell shoes.
I could go on and on about the tour and Zappos. But I think the best thing is if you are intrigued and planning a trip to Las Vegas, go online and book a tour. It's $10 and well worth the 90 minutes.
Oh, about my produce trends talk. Did you know that kale and kiwifruit have something in common (besides the letter "k")? Both took about 18 years from the time they were first promoted to them appearing ubiquitous.
Here's a photo of me in the lobby of Zappos. They have a throne…it truly made me feel like royalty!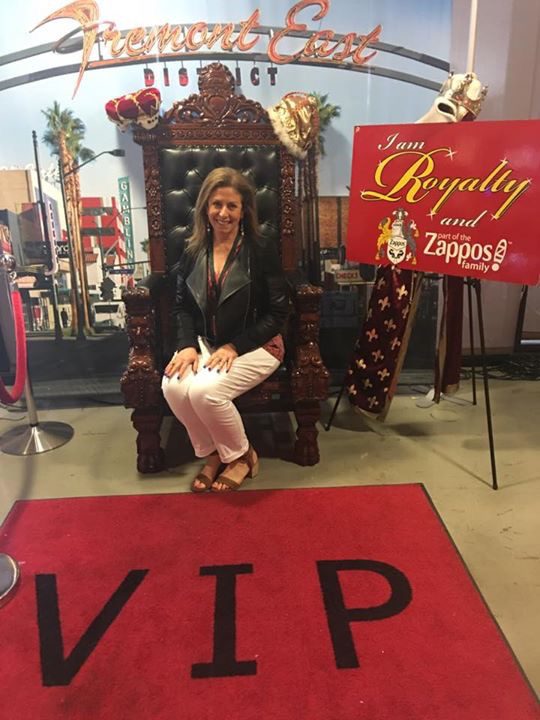 Karen
Save
Save