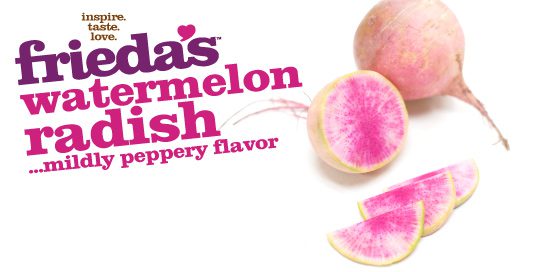 Overview
What is a Watermelon Radish?
This large radish is beige to green with occasional pink blush on the outside. The flesh inside is bright pink, giving it a watermelon-like appearance when cut. This tender-crisp cousin of the daikon radish is peppery with a hint of sweetness.
How to Eat
Because of its unique color, the watermelon radish looks and tastes great thinly sliced or shaved in a salad, or used for pickling. Cut into thin wedges and serve in a veggie tray or spread with butter and a sprinkle of sea salt. Grab a large one and slice thin to use as low-carb mini taco shells! Watermelon radish can also be sauteed, roasted, and baked into colorful chips.
Health Benefits
How to Choose
Choose radishes that are firm–avoid the spongy ones.
How to Store
Store refrigerated, covered loosely in plastic for 3 to 5 days in the crisper drawer.
When are they in season?
Where are they grown?
Recipes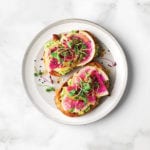 Watermelon Radish Avocado Toast Ingredients 2-3 ripe avocados 1 tablespoon Meyer lemon juice 1 teaspoon salt 1 small loaf sourdough bread, cut into 1-inch slices 1 watermelon radish, sliced into 1/8-inch slices, then quartered Microgreens, for garnish Black sesame seeds, … Continue reading →
Save