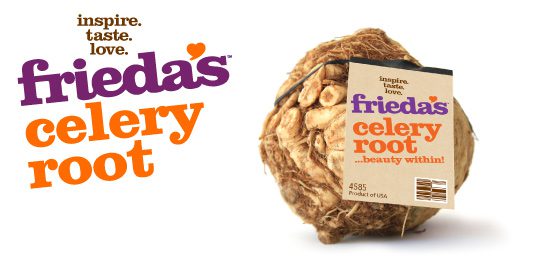 Overview
What is a Celery Root?
Known in Europe as "celeriac," this underground relative of celery is cultivated only for its root. It has a crisp texture and a mild aroma with flavors of celery and walnuts.
How to Eat
Wash thoroughly, trim off stems, and peel. Place cut pieces in lemon water to prevent browning. Add to salads, soups, and stews, or cook by sautéing or roasting.
Health Benefits
How to Choose
Choose firm roots that feel heavy for their size.
How to Store
Rub cut sides with lemon juice to prevent browning. Refrigerate in plastic wrap up to 2 weeks.
When are they in season?
Where are they grown?
Recipes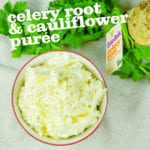 Celery Root and Cauliflower Purée Forget potatoes! Luscious and creamy, this purée can be made healthy with olive oil or decadent with a touch of butter. Ingredients 1 medium celery root (about 1 pound) 1 small head or half large … Continue reading →
Warm Celery Root with Mustard Sauce Ingredients: 1 large, or 2 to 3 small, Frieda's Celery Root 2 tablespoons lemon juice 2 tablespoons mayonnaise 2 tablespoons plain yogurt 2 teaspoons Dijon mustard Salt and pepper to taste 2 tablespoons fresh … Continue reading →
Nutrition