Pre-book begins now for shoppers' favorite stone fruit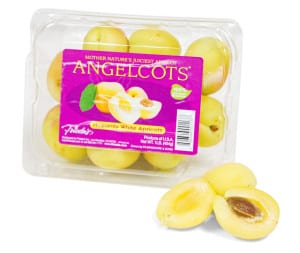 LOS ALAMITOS, CA (April 2015) — Frieda's Specialty Produce's exclusive Angelcots®, the "heavenly white apricots," are only available for three weeks starting in mid-June. This specialty hybrid of Moroccan and Iranian apricot varieties is grown in Northern California and packed in 16/1 lb. clamshells.
Angelcots' pale-yellow skin—with a pale-peach blush—is covered with a fine, velvety fuzz. The beautiful fruit has the right balance of acid and sugar, along with a buttery, perfume-like sweetness. Angelcots have the juiciness of the ripest nectarine and the delicate texture and aroma of an apricot, with floral and tropical notes. Angelcots are also rich in vitamins A and C, as well as being a good source of fiber.
Interested retailers, wholesalers, and foodservice distributors can contact Frieda's for promotional ideas, marketing tools, product information, and high resolution images to assist with any marketing needs.
About Frieda's
With over 50 years of fresh produce innovation, Frieda's Specialty Produce continues to change the way America eats fruits and vegetables. Founded in 1962 by Frieda Caplan, Frieda's was the first wholesale produce company in the U.S. to be founded, owned, and operated by a woman, and is still a family- and women-owned business today. Frieda's has introduced more than 200 specialty items to U.S. produce departments, including Kiwifruit, Spaghetti Squash, Habanero Peppers, Sunchokes®, Stokes Purple® Sweet Potatoes, Sangria and Fiore Viola Artichokes, and many more. Frieda's featured program is "Eat One Fruit a Day That Scares You," which encourages everyone to #FearNoFruit. Connect with Frieda's on Facebook, Twitter, Instagram, YouTube, Pinterest, and at Friedas.com.