Summer is ripe for dragon fruit promotions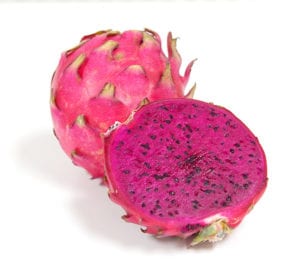 Los Alamitos, CA (June 2017) – This is the perfect time to really drive retail sales for red-fleshed dragon fruit with a lower retail price point. Nothing adds color and excitement like this eye-catching, pink-skinned, magenta-fleshed fruit.
"Summertime is peak season for dragon fruit, and the prices are very reasonable," said Alex Jackson Berkley of Frieda's Specialty Produce. "Dragon fruit is one of the top-selling and trending tropical fruits, and also resonates with Asian and Hispanic shoppers.
"Build a big, beautiful dragon fruit display with signage about the different varieties, as shoppers may want to try all the colors and flavors. Merchandise other tropical fruits along with the dragon fruit to make the display a truly exotic destination," said Berkley.
Nicaragua Dragon Fruit
Available from June through November, Nicaragua red dragon fruit has a rounder shape—like a pink softball—with a deep magenta flesh and better flavor than the mild Vietnamese variety. Frieda's ships Nicaragua fruit from both Miami and Los Alamitos, California, in pallet or truckload volume.
In addition to Nicaragua, Frieda's supplies dragon fruit from several other growing regions to offer year-round availability on this trending fruit:

Vietnam Dragon Fruit
Available in white and limited red flesh, this top-selling variety boasts a beautiful appearance and is available year-round. (It's also the only dragon fruit that has to be irradiated.)
Israel Pitaya
Available from July through March, the non-irradiated Israeli crop has multiple colors and appearances, from white flesh, to red flesh, to the popular yellow skinned fruit with white flesh. Some varieties feature curly "leaves," while others may have a more unique pinecone-type shape.
USA White and Red Dragon Fruits
Similar in appearance to the Vietnam fruit, they're grown in Florida and California, and available from June to August.
"We always get asked the difference between dragon fruit and pitaya. The names can actually be used interchangeably!" said Berkley. "The key is to have the fruit properly labeled with a PLU—which we do on all the fruit we ship."
From super-trendy pitaya bowls and smoothies to tropical fruit platters for summer entertaining, red-fleshed dragon fruit is the hottest fruit of the season. Retailers, wholesalers, and foodservice providers interested in growing their tropical fruit program should contact Frieda's account managers today.
About Frieda's Inc.
Frieda's Specialty Produce has been inspiring new food experiences for friends, families, and food lovers everywhere since 1962. From kiwifruit to dragon fruit and from Stokes Purple® sweet potatoes to habanero peppers, Frieda's has introduced more than 200 unique fruits and vegetables to the U.S. marketplace. Founded by produce industry trailblazer Dr. Frieda Rapoport Caplan, subject of the 2015 documentary "Fear No Fruit," the family company is owned and operated by Frieda's daughters, Karen Caplan and Jackie Caplan Wiggins, in Orange County, California. Find Frieda's on Facebook, @FriedasProduce, and Friedas.com. Inspire. Taste. Love.