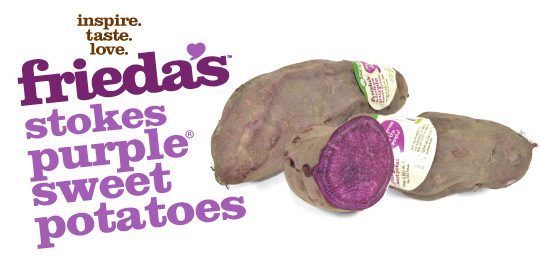 Overview
What is a Stokes Purple® Sweet Potato?
Stokes Purple® are a special sweet potato variety with purple skin and bold purple flesh that intensifies when cooked. Aside from its unique bold color, the Stokes Purple® Sweet Potato differs from other sweet potatoes in its flavor and texture, offering a favorably dryer, denser, and richer taste with well-balanced sweetness.
Different variety than Okinawan Sweet Potato. Learn more here!
Exclusively grown in California and non-GMO. Meet our grower!
Also available in organic.
Where to buy?
Available nationwide at select supermarkets.
See our list of retailers by state here*.
*Please note that we're always adding new retailers for this high-demand product. We also recommend you go to your favorite U.S. supermarket produce manager and ask for Stokes Purple® by name!
Also available online:

How to Eat
Scrub external skin and wrap potatoes in aluminum foil. (Rub with olive oil prior to wrapping for extra moist results.) Place wrapped potatoes on a baking tray and bake at 350 degrees for 1 to 2 hours (bigger potatoes take longer). The dense flesh of this potato takes a bit longer to cook than most other sweet potatoes, but it's worth the wait!
Can also be steamed, boiled, roasted or fried. (Not that the drier texture of this potato lends better to high-moisture cooking methods.)
Caution bakers! Baking soda may turn the purple sweet potato green! Please check your recipe.
Health Benefits
Excellent source of vitamin C and also provides fiber. (The skin is edible, too!)
Vibrantly purple from anthocyanins.
Sweet potatoes have a low glycemic index when boiled.
Watch the Video
How to Choose
Choose sweet potatoes with firm, smooth skin and even tone.
How to Store
Keep in a cool dry place and use within 2 weeks.
When are they in season?
Where do they grow?
Pinterest
Recipes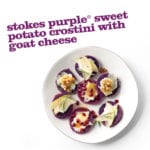 Stokes Purple® Sweet Potato Crostini with Goat Cheese Perfectly baked Stokes Purple® sweet potato slices make excellent bite-sized toasts, ready to mingle with sweet or savory toppings. Ingredients 2 large Stokes Purple® sweet potatoes, unpeeled (5-6 inches long) 2 tablespoons … Continue reading →
Nutrition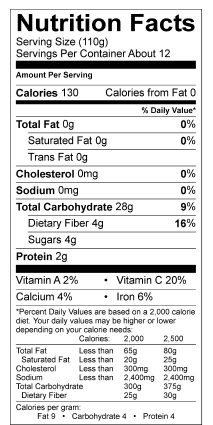 Buy Now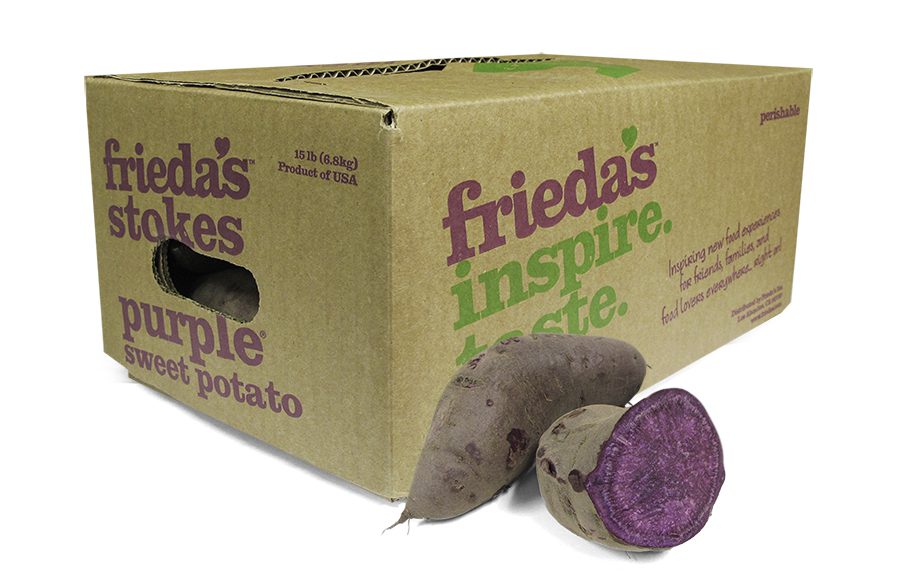 15 lb. Stokes Purple® Sweet Potatoes
15-pound box
$60 includes shipping (contiguous U.S. only)
Purple skin and bold purple flesh that intensifies when cooked. Dense, rich flavor & balanced sweetness with floral notes.
Grown in California; non-GMO.
Click here for local pick up option in Los Alamitos, CA (shipping waived)
Product Description
15-pound boxes only at this time. (Approximately 15 to 25 potatoes per box, depending on size.)
Cost includes shipping via FedEx Ground. You will receive potatoes within 5 to 7 business days. (*Southern California residents, see local pickup option.)
Available to ship to contiguous United States only. (Sorry, HI & AK… and other countries! Contact us so we can try to help you find a retailer.)
Orders ship on Monday each week (except holidays).
Orders must be entered by 12 p.m. PST on Thursday for shipping following Monday. (Orders entered AFTER 12 p.m. PST on Thursday will be held for shipping until the following Monday.)
Note: a PayPal account is NOT required. Please select the "Pay with Debit or Credit Card" option after checking out.
Questions?
Email us at mail [at] friedas dot com.
learn more
Only logged in customers who have purchased this product may leave a review.
Save
Save
Save
Save
Save