As we are now a week from Thanksgiving and finalizing exactly what we are going to cook and feast on for the holiday of thanks (myself included), I can't help but share what I plan to serve for dessert at my Thanksgiving dinner.
First, a little background.
Obviously, I love vegetables. In fact, for a few Thanksgiving dinners in the last decade, I prepared and served more than 10 (yes, 10) different vegetable dishes. Admittedly, 10 was probably a bit much.
In the last few years, my daughters, Alex and Sophia, have joined me in my cooking adventure. So it's become quite fun to hang out in the kitchen while preparing dinner. Each year we make a few family favorites—roasted root vegetables and Stokes Purple® sweet potato salad with chipotle dressing always make the list. And I always try a new way to make Brussels sprouts as they are the preferred green veggie at my house.
But dessert has always been a challenge. I'm not a big pumpkin pie fan, and frankly, everyone seems more interested in how many bottles of wine we drink (we line the kitchen counter with empty bottles and do a count at the end of the evening). But this year, my daughter Alex announced to me that she is making dessert.
Stokes Purple® sweet potato pie!
Admittedly, Stokes Purple® sweet potatoes are one of the top-selling items at Frieda's. And as we were developing new recipes for them this year, we noticed that pies were really trending. So our chef said, "Let me give it a try." She created a colorful and seriously delicious Stokes Purple® sweet potato pie.
.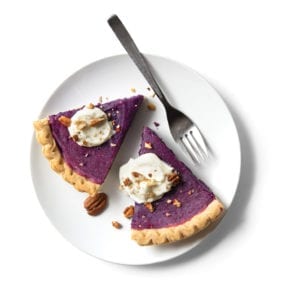 As you can see, it is colorful. And it's a nice change from the conventional pumpkin pie. So I am happy to share the recipe with you and secretly hope you'll try it for your family celebration next weekend. I would love to hear how it goes over.
Stokes Purple® Sweet Potato Pie Recipe:
Ingredients
1 9-inch frozen, pre-made pie crust, thawed
Filling:
2 large, baked* Stokes Purple® sweet potatoes (5-6 inches long), peeled and roughly chopped
3/4 cup coconut milk (from 15-ounce can full-fat coconut milk)
4 tablespoons butter
1 egg
1 teaspoon cinnamon
1/4 teaspoon allspice
1 teaspoon sea salt
1/2 cup plus 1 tablespoon sugar
Seeds from 3-inch piece vanilla bean (or 1 1/2 teaspoons vanilla extract)
Topping:
1 cup heavy whipping cream
2 tablespoons maple syrup
Seeds from 1-inch piece vanilla bean (or 1/2 teaspoon vanilla extract)
1/8 teaspoon sea salt
Pecans, whole or crushed
Steps
Preheat oven to 350 degrees. Bake pie crust 15 minutes. Meanwhile, in blender container or food processor, blend sweet potatoes, coconut milk, butter, egg, cinnamon, allspice, sea salt, sugar, and vanilla until smooth. If too thick to blend, add 1-2 teaspoons coconut milk.
When crust is done, increase oven temperature to 425 degrees. Transfer pie crust to wire rack; carefully pour in filling. Smooth out top with spatula. Put pie back in oven and bake 15 minutes. Then, decrease oven temperature to 350 degrees and bake additional 15 minutes. When done, crust should be barely golden and filling should look set. Remove pie and allow to cool to room temperature on wire rack. Cover and place in refrigerator to cool overnight.
Chill whisk and bowl from stand mixer (or regular bowl and whisk) in freezer at least 10 minutes. Pour heavy whipping cream, maple syrup, vanilla, and salt into chilled bowl and whip on high until peaks form, about a minute. It's better to under-whip than over-whip! Store whipped cream in refrigerator up to 4 hours.
Before serving, allow pie to come to room temperature. Just before serving, whip topping by hand to make it extra fluffy. Top pie with maple whipped cream and pecans. Slice and serve.
*Note: For extra-creamy sweet potatoes, wrap in foil and bake the night before making pie. Store in refrigerator, still wrapped in foil, and use in recipe as directed.
______________________________________________________________________
Wishing you and your family a holiday filled with gratitude, kindness and generosity. And plenty of leftovers.
Karen