This past weekend I was in beautiful Monterey, California, attending the annual Produce Marketing Association Foodservice Conference. I found it energizing to rendezvous with friends and enjoyed some fantastic educational programs there.
Much of Saturday morning was filled with speakers talking about food trends. One of the most prominent trends is the increasing presence of vegetables at the "center of the plate." There has been a buzz about this for many years, but it seems to have reached critical mass now.
In fact, both Chef Jet Tila of Food Network's "Cutthroat Kitchen" and Gerry Ludwig, Corporate Consulting Chef of Gordon Food Service, ended their presentation with a prediction on the next big vegetable trend:
Carrots and Cauliflower.
Yes, you read correctly. They said that these two "rather common" veggies were actually cutting edge. Thick, center-cut Cauliflower can be grilled like a steak, and served as the main course. And, of course, Cauliflower is not just white anymore. You have purple, orange, & green.
And Carrots—well they come in a variety of colors and sizes, too. They will be roasted with the tops on! Yep—the latest green in the vegetable world is the carrot top. It's an example of "root to stem" cooking.
As I listened to these presentations about veg-centric cooking, I started thinking that perhaps the produce industry's incredible push to educate and increase fruit and vegetable consumption is really working! Even First Lady Michelle Obama promoted our industry with the Let's Move Salad Bars to Schools program.
And then, BAM! My happy bubble burst.
The after lunch speaker was none other than Chef Hugh Acheson, one of the hottest chefs in America. You've probably seen him as a judge on "Top Chef" or a contestant on "Top Chef Masters."
Hugh had heard the morning speakers and opened his comments with his take: Want to know what has really pushed chefs to get creative with vegetables? The cost of protein.
He told us that protein costs are going through the roof. Chefs know that their food costs should be around 30 percent, so to keep from raising their prices they had to get creative. So, instead of serving an 8 or 10-ounce steak, they now serve a 6-ounce steak and put a large variety of prepared vegetables center stage on the plate. Another adjunct trend is the use of meat broth as a flavoring for vegetables.
So it is economics. And our health wins!
Hugh also shared the genesis of his newest cookbook, The Broad Fork. He is a member of a CSA (Community Supported Agriculture) and gets a box of locally grown produce every week. His neighbor also gets a box. It seemed as if every week his neighbor would come over and ask Hugh, "What the hell do I do with Kohlrabi?" (I guess there was Kohlrabi in the box quite often.)
So, for a year, Hugh took his weekly CSA box and developed four recipes for every single item. The result was this amazing cookbook filled with seriously delicious and very creative recipes.
So, if you want to know what the hell to do with Kohlrabi or Celery Root or Parsnips, check out Hugh's gorgeous cookbook. I can't wait to start cooking from it!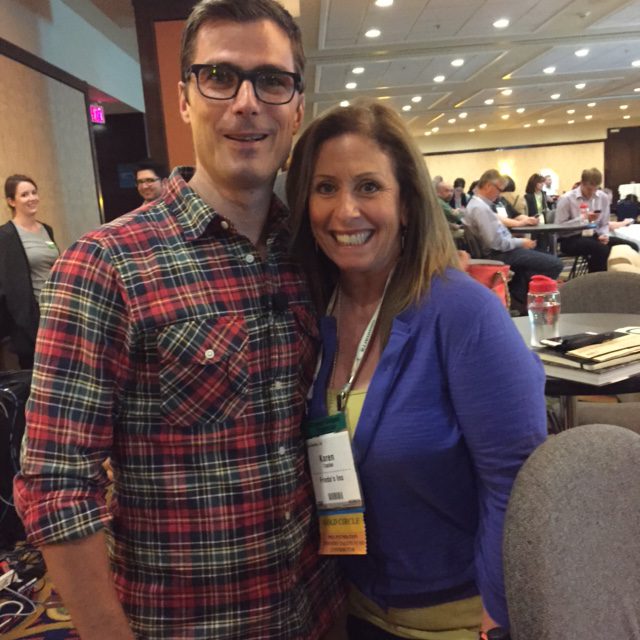 Enjoy!
Karen