The Frieda Caplan documentary is set to inspire a new wave of women in produce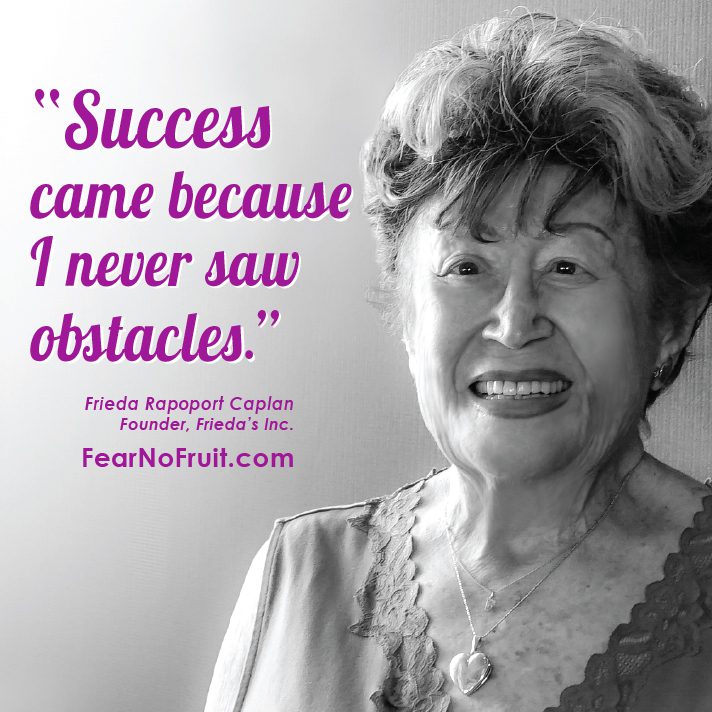 LOS ALAMITOS, CA (March 2016) – A screening of "Fear No Fruit," the Frieda Caplan documentary, is scheduled for the April 18 optional evening session 2 at the 2016 Women's Fresh Perspectives Conference April 17-19 in San Diego. Hosted by the Center for Growing Talent by PMA, the annual event is dedicated to providing leadership development for women in the fresh produce and floral industry.
The conference combines education and networking in a packed agenda. Education will include in-depth general sessions and workshops tailored to a range of career stages.
"We believe this year's conference program will truly inspire attendees," said Alex Jackson, co-chair of the Women's Fresh Perspectives Committee and a senior account manager at Frieda's Specialty Produce. "My grandmother Frieda has been my inspiration throughout my life and we are grateful for the privilege to share her life and business success story with hundreds of women in the produce industry."
Directed by Mark Brian Smith, "Fear No Fruit" chronicles the life of Dr. Frieda Rapoport Caplan, the first woman entrepreneur on the Los Angeles Wholesale Produce Market in the 1960s. While the film focuses on the life and career of produce icon Dr. Caplan, founder of Frieda's Specialty Produce, it also features interviews with other industry women power players like Tonya Antle of Tanimura & Antle, and well-known California chefs Susan Feniger and Mary Sue Milliken.
"Fear No Fruit" was an official selection of the 2015 Newport Beach Film Festival, San Luis Obispo International Film Festival, Carmel International Film Festival, and the 2016 Sedona International Film Festival. The feature-length documentary film is now available on DVD and online VOD platforms including iTunes, HuluPlus, Google Play, and Amazon Instant Video. Additionally, the film is available for educational and community screenings via Kino Lorber EDU.
About Frieda's Inc.
Frieda's Specialty Produce celebrates a nearly 54-year legacy of inspiring new food experiences for friends, family, and food lovers everywhere. Credited with introducing more than 200 specialty fruits and vegetables to U.S. supermarkets, Frieda's has helped launch unique items like Stokes Purple® sweet potatoes, habanero peppers, Sunchokes®, and organic finger limes. Founded in 1962 by produce industry icon Dr. Frieda Rapoport Caplan, subject of the 2015 documentary "Fear No Fruit," the family company is now owned and operated by Frieda's daughters Karen Caplan and Jackie Caplan Wiggins in Orange County, California. Inspire. Taste. Love.