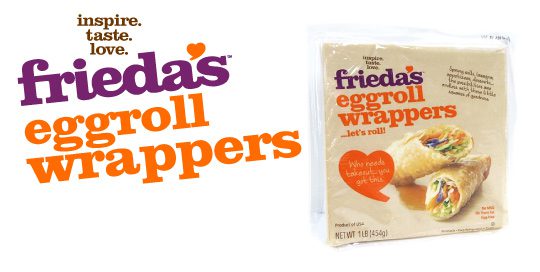 Overview
What are Eggroll Wrappers?
Paper-thin, 6.5-inch squares of raw pastry dough; traditionally used to make egg rolls and spring rolls by filling with meats and vegetables, rolling into a cylindrical shape, dipping in batter and deep-frying.
Frieda's eggroll wrappers contain no eggs.
How to Use
Fill these paper-thin sheets of dough with vegetables, meat, seafood or fresh fruit and boil, deep-fry or steam. Great for appetizers, snacks or side dishes.
Health Benefits
Good source of iron. No MSG. No trans fat.
How to Store
Keep refrigerated, or freeze up to 6 months.
Where are they produced?
Recipes
Turon (Banana and Jackfruit Eggrolls) Turon–or banana lumpia–is a Filipino street dessert that is essentially jackfruit and banana-filled and fried eggrolls. We bake ours and serve with a caramel/dulce de leche dipping sauce. Ingredients 2 tablespoons butter, melted 16 pieces … Continue reading →