Frieda's Specialty Produce offers shoppers' favorite tropical fruits in easy-to-merchandise, protective clamshells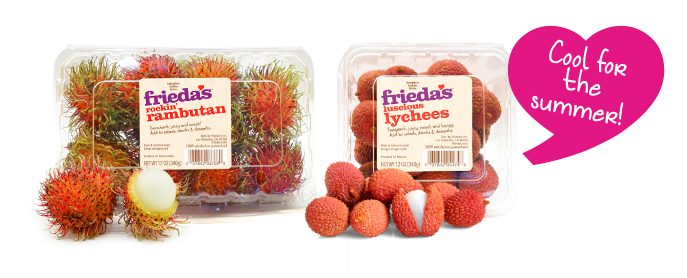 Los Alamitos, CA (May 2017) – The popular lychee and rambutan are back in season with lychees beginning now and rambutan in late May. Frieda's Specialty Produce offers this dynamic duo in bulk or in protective clamshells to help with merchandising, reducing shrink, and attracting shoppers.
"Despite their weird looks, both lychees and rambutan are quite delicate. Our clamshells help protect the fruits, extending the shelf life, and make them really easy to merchandise," said Karen Caplan, president and CEO of Frieda's Specialty Produce. "Shoppers often confuse the lychee and the rambutan—they're both red tropical fruits of roughly the same size and similar texture. Our clamshells with bright, colorful labels reduce the confusion.
"Sampling of these often-confused tropical fruits may also help increase basket rings," said Caplan. "And they're really easy to sample—just peel and enjoy!"
The renowned lychee has rough, bumpy skin, while the rambutan has thicker skin covered in soft, hair-like spikes. Both fruits have juicy, grape-like flesh with one large inedible seed, but the flavors are completely different. Lychees are fragrant with a strong, sweet-tart flavor. Rambutan are more subtle with their sweetness.
Frieda's "Luscious Lychees" from Mexico are available now in 10-lb. bulk and 12/12 oz. clamshells. "Rockin' Rambutan" from Guatemala are set to start late May, and will be available in 5-lb. bulk and 14/12 oz. clamshells. Rambutan are also available from Vietnam and Mexico.
About Frieda's Inc.
Frieda's Specialty Produce has been inspiring new food experiences for friends, families, and food lovers everywhere since 1962. From kiwifruit to dragon fruit and from Stokes Purple® sweet potatoes to habanero peppers, Frieda's has introduced more than 200 unique fruits and vegetables to the U.S. marketplace. Founded by produce industry trailblazer Dr. Frieda Rapoport Caplan, subject of the 2015 documentary "Fear No Fruit," the family company is owned and operated by Frieda's daughters, Karen Caplan and Jackie Caplan Wiggins, in Orange County, California. Find Frieda's on Facebook, @FriedasProduce, and Friedas.com. Inspire. Taste. Love.