Purple crisp pods stand out as a healthy snack option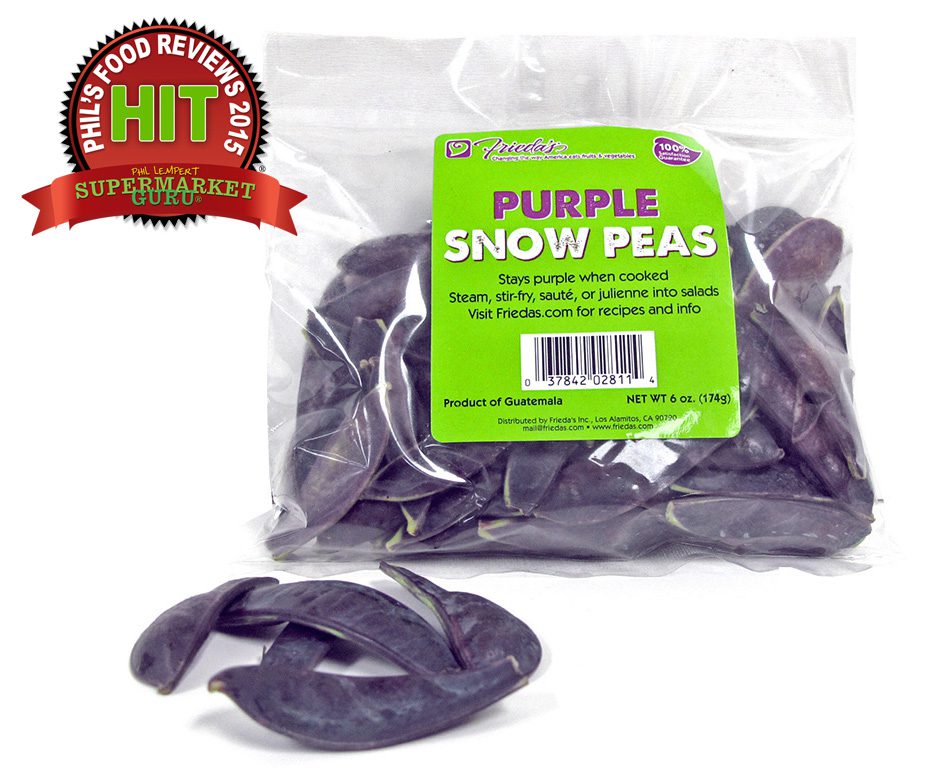 LOS ALAMITOS, CA (May 2015) — Supermarket Guru Phil Lempert confirms that Frieda's Specialty Produce's Purple Snow Peas are a hit. In "Phil's Food Reviews," Purple Snow Peas were his pick of the week on May 1, scoring 93 out of 100.
Purple Snow Peas are available year-round, however the rainy season in Guatemala can affect availability intermittently from June to mid-November. An excellent source of vitamin C, fiber and folate, Purple Snow Peas come in 12/6-ounce plastic bags or in 10-pound bulk. These deep purple pods have tiny green peas inside and maintain their purple color when cooked.
"I love these," Phil says in his review. "Great to get kids to eat more vegetables. Under 40 calories for half a bag with zero fat, 3 grams of protein and 5 grams of naturally occurring sugars."
Frieda's offers healthy snack options to help keep shoppers away from not-so-healthy snacks. Crisp and crunchy, easy and fun-to-eat, exciting fresh produce like Purple Snow Peas, Rambutans, Mini Sweet Peppers, and Starfruit can satisfy any craving.
Interested retailers, wholesalers, and foodservice distributors can contact Frieda's for additional information on Purple Snow Peas.
About Frieda's Inc.
With over 50 years of fresh produce innovation, Frieda's Specialty Produce continues to change the way America eats fruits and vegetables. Founded in 1962 by Frieda Caplan, Frieda's was the first wholesale produce company in the U.S. to be founded, owned, and operated by a woman, and is still a family- and women-owned business today. Frieda's has introduced more than 200 specialty items to U.S. produce departments, including Kiwifruit, Spaghetti Squash, Habanero Peppers, Sunchokes®, Stokes Purple® Sweet Potatoes, Sangria and Fiore Viola Artichokes, and many more. Frieda's featured program is "Eat One Fruit a Day That Scares You," which encourages everyone to #FearNoFruit. Connect with Frieda's on Facebook, Twitter, Instagram, YouTube, Pinterest, and at Friedas.com.