As you probably know, today, January 31, is the beginning of the Chinese Lunar New Year. The celebration starts on the second new moon after the winter solstice and goes on for 15 days. This year, we welcome the Year of the Horse.
According to Chinese legend, when the Jade Emperor—the Emperor in Heaven—summoned all the animals, he designated the first 12 that appeared to be calendar signs. Thus, there is a 12-year cycle of the lunar calendar, with each year represented by a different animal, with its own personality and philosophy.
If you were born in the Year of the Horse, you have such character traits as strength, energy, and an outgoing nature. You are extremely animated and thrive when you are the center of attention. Find out what your Chinese animal symbol is and what it means about you here.
You're probably wondering what the connection is between Chinese New Year and fresh produce. Well, more than 40 years ago, our company worked with many of our growers and our retail customers to offer all sorts of Chinese vegetables like Boy Choy, Napa Cabbage, Snow Peas, Bean Sprouts, Chinese Long Beans, and Fresh Ginger Root, to name a few. It seemed that the perfect time to promote them was around the Chinese New Year holiday, which always falls in January or February.
If you can imagine, four decades ago very few U.S. growers were even producing these vegetables and even fewer supermarkets were stocking them. So, it was fun to create new packaging, promotions, and contests to get produce managers and consumers excited about these new items. Nowadays, every single market you walk into offers most of these Asian vegetables. Chinese restaurants have become ubiquitous, and if you want to order stir-fried vegetables at a restaurant, no one blinks an eye.
In fact, Chinese New Year has become so popular that this year the famed retailer IKEA created a line of products just for the holiday! And if you like Las Vegas, many of the casinos and resorts are featuring special Chinese New Year vacation packages, authentic cuisine at their restaurants, and tournaments based in Chinese culture and tradition.
So this week as you're planning meals to serve at home—or trying to decide where to go out for lunch or dinner—think about celebrating Chinese New Year in your own special way by trying a different Chinese vegetable or dish each day. Here are some suggestions:
Gung Hay Fat Choi! (Happy New Year!)
Karen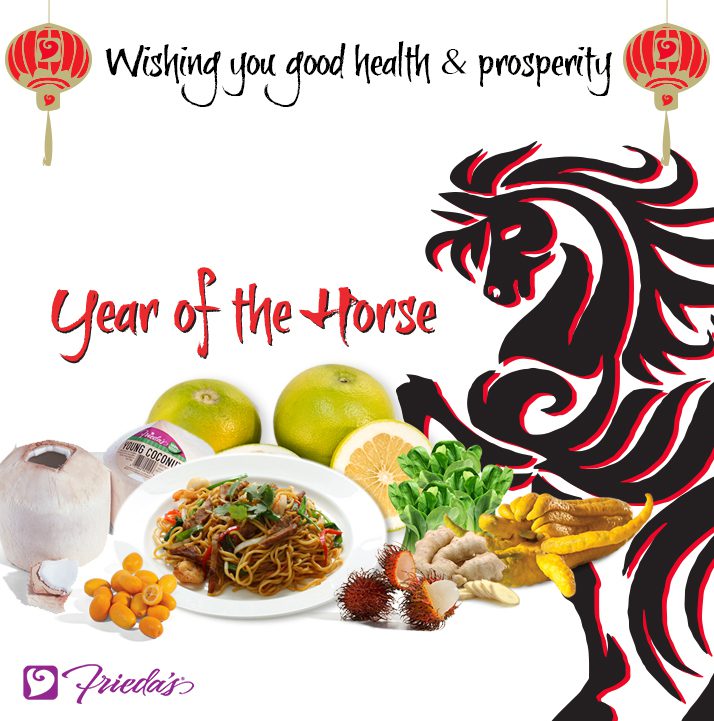 The chairs of the Federal Reserve System have always been men. Now, the 15th leader of our national bank is Janet Yellen, the first woman to chair it.
With this appointment, Janet is opening doors to women in economics and finance everywhere. In a way, her accomplishment reminds me of how my mother, Frieda, opened doors for women in the produce business, when she founded our company in 1962, as the first woman to own a produce business in the U.S.
Seven years ago when I was a director of the Los Angeles branch of the Federal Reserve Bank of San Francisco, I had the good fortune to get to know Janet when she became president of the 12th District, which covers much of the western U.S. We had several dinners together during our overlapping terms of office. The conversations we had weren't all about work.
We also talked about our respective families. I asked after her husband, Nobel Prize winner George Akerlof, and their son, Robert, who is an economics professor in England. And she peppered me with questions about my daughters, our business, and the ins-and-outs of the produce industry.
So, when I saw her picture on this week's cover of "TIME" magazine, I got a big smile on my face.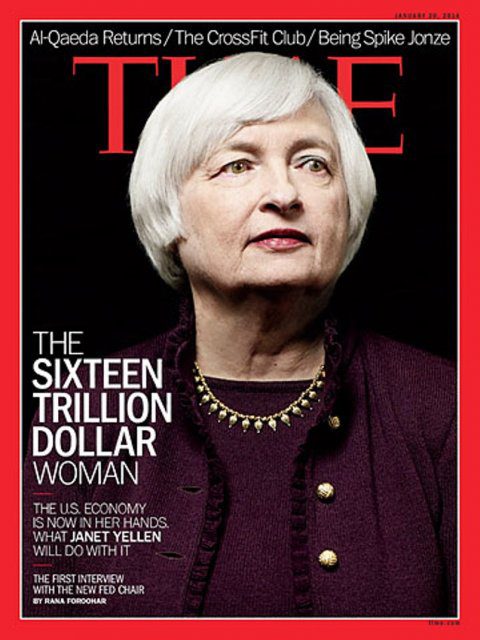 I am privileged to know yet another trailblazer.
So, when I read about the Senate's confirmation hearing on Janet's position, I sent a congratulatory email to her assistant, figuring that she would be too busy to pay attention to my personal note. I never thought I would hear back from her.
But I did. Janet took the time to send me a personal email and, as always, ask about my family. I'm sure she was taking the Christmas holiday period to take many deep breaths and relax before traveling back to Washington, D.C.
It is Janet's connection to people that makes her the perfect person for this job. A woman of great strength, she also has a deep understanding of the challenges of our economy. Plus, Janet knows that statistics aren't everything. She recognizes how the economy affects people in the real world in a very real way, and that our economy is made up of individuals like you and me. Even the "TIME" magazine article made note of that. (You will need a subscription to read the article online, or you can pick up a copy from a newsstand now.)
Janet is also one to welcome challenges and to challenge the status quo in pursuit of the truth. If you watched the Senate confirmation hearing on C-SPAN, you would have seen the twinkle in Janet's eye when Senators asked her difficult questions. She clearly loved it.
During my next trip to Washington, D.C., I hope Janet and I will, once again, have dinner together. I can hardly wait to hear about her new adventures as the Sixteen Trillion Dollar Woman!
Karen
Have you ever wondered how my company, Frieda's, knows when fruit is ripe and sweet?  Well, today was a good reminder for me on just how we do that.
Over the New Year's holiday, my husband and I had friends visiting from Houston, and before they left, they stopped by my office for a quick tour.
After a visit in the offices, we donned our hairnets, sanitized our hands and put on our gloves—all requirements for our facility.
We walked through the repacking area where large boxes of products are repacked into smaller ones.  For example, we might receive a box of 40-pound Habanero Chile Peppers, which we will repack into 5-pound and 10-pound cartons.  My friends were fascinated with the large number of projects we were working on at one time.
After we visited the receiving area which opens at 4 a.m. each day, we stopped by the Quality Assurance (QA) inspection station.  Our QA Supervisor Nicole had prepped the area with some samples of tropical fruits: Cherimoya, Dragon Fruit, Gold Kiwifruit and Horned Melons (also known as Kiwano®).
It was fun to watch Nicole demonstrate the use of a refractometer which assists her in determining the ripeness and sweetness of fruit.  The device measures the amount of soluble solids—the ratio of sugar to acid—in the fruit being evaluated.  The measurement is also referred to as the Degree Brix or just Brix.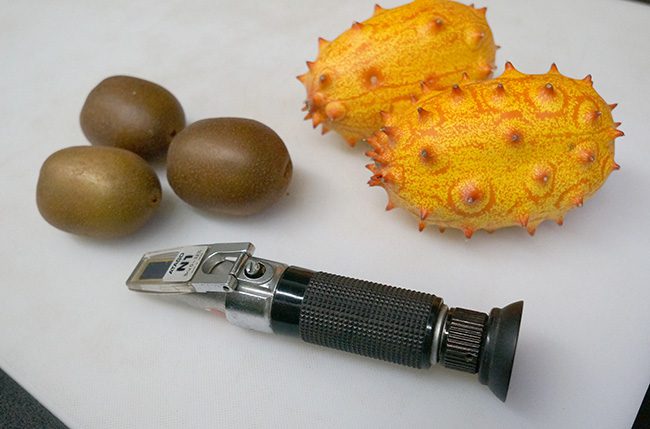 It was so interesting to see the difference in Brix of the Golden Kiwifruit, which was 13.5 percent to the Horned Melon which was a 4 percent. It kind of makes sense because the Horned Melon is a member of the Cucumber family, so we would not expect it to be sweet.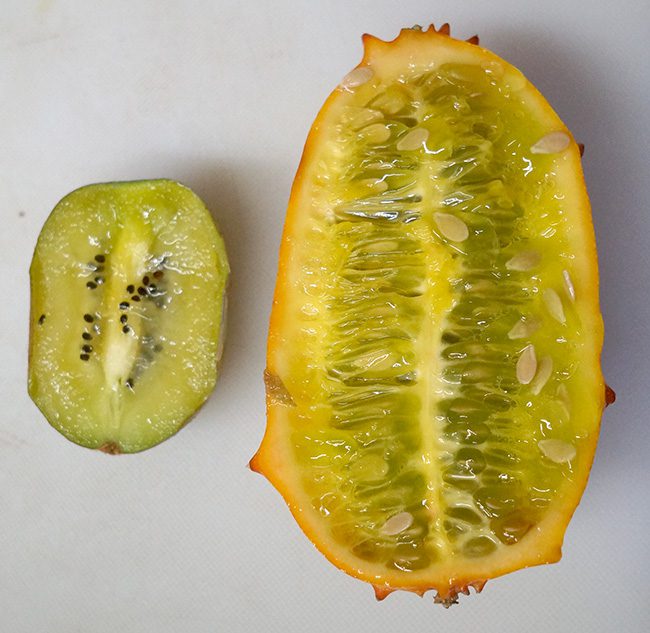 You can see that Nicole squeezes the juice from the fruit, right onto the open refractometer, and then closes it. She looks through the lens and the Degree Brix is reflected through the prism of the refractometer.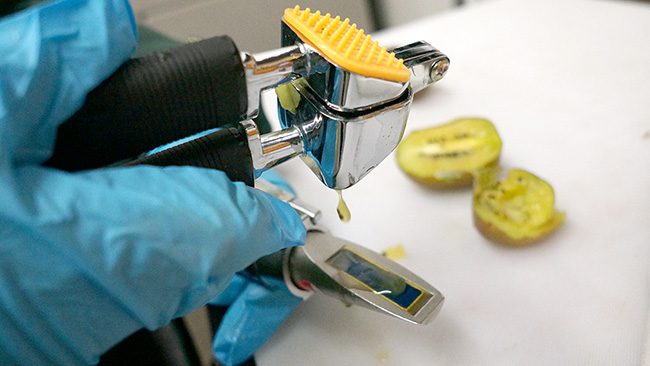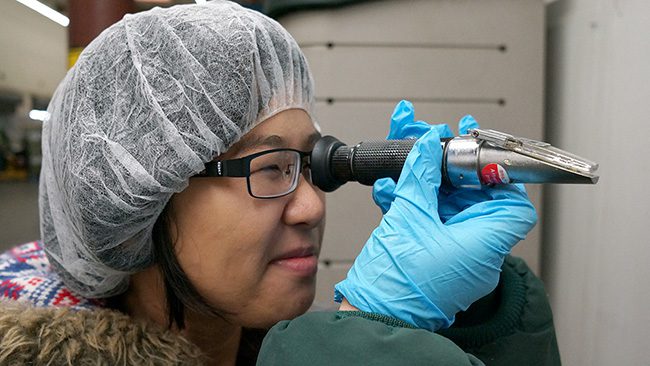 In case you are wondering, most supermarket produce warehouses have similar equipment and we ask them for their expectations before we ship to them.  That's why we test all our produce, before we receive it at our warehouse.
I don't think you will ever find a refractometer at an actual grocery store, as it is a very expensive piece of equipment, close to $500. But if you have some time, check out this YouTube video on how to use one!
As you can see, sometimes picking a ripe piece of fruit is not as easy as squeezing a cantaloupe or smelling a strawberry!  My friends were very happy to have learned something new.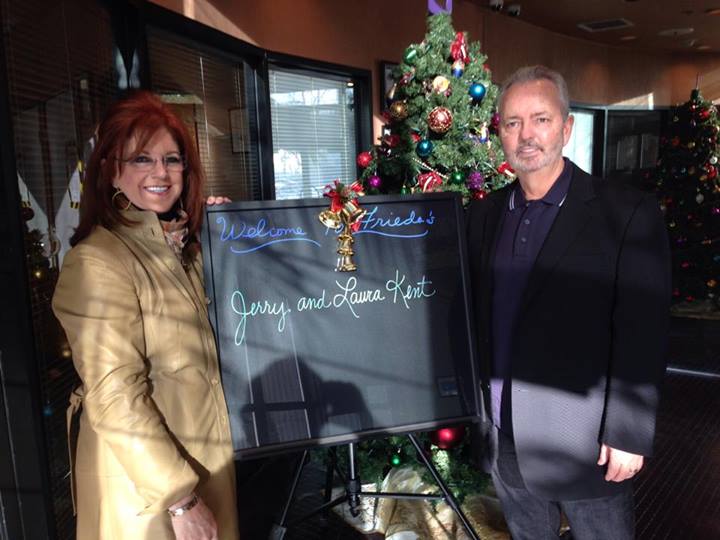 Karen