When I think about the essential flavorings and ingredients to have on hand in my kitchen at all times, I am at first tempted to think about dried herbs.
You know what I'm talking about. Those jars, gathering dust in the spice rack. Just last week, when I was preparing a recipe, I found that all I had was a jar of stale, flavorless herbs. Who knows how long they had been there! And then, I realized that I did NOT have the other spice that I was looking for. Because the spice rack is like the "rotting drawer" in my refrigerator, I put things there, and they go bad before I can use them or find them.
So, this year, I've decided to keep a few "essentials" in my kitchen–but not in the dried spice rack. Because I want to use fresh flavorings and ingredients with fresh flavors from now on, I plan to keep these either in my refrigerator or on my counter, so they can easily be added to my cooking
Fresh Ginger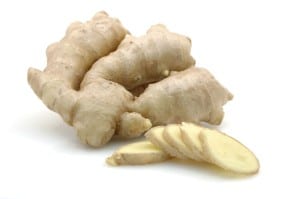 I just love the pungent smell of fresh Ginger–whether I add it to the oil when making an Asian stir-fry or grate it into a pitcher of cold water with lemon slices for a refreshing drink. Check out this Heirloom Tomato Salad with Ginger, Lemon, and Chile.
For my next Ginger recipe, I am going to make my own Crystallized Ginger. Did you know that Crystallized Ginger is a natural treatment for nausea and motion sickness?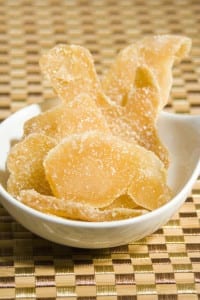 Unpeeled fresh Ginger can be wrapped and stored in the refrigerator for several weeks.  It's perfect to always have on hand.
Fresh Shallots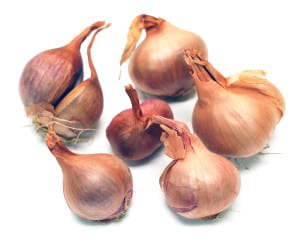 I use chopped onions in almost every recipe for cooked veggies, so I plan to take it up a notch by using fresh Shallots as an alternative. I buy three or four large Shallots every time I go to the store and keep them on the counter with my onions. The flavor is a bit more complex than a regular onion's, plus using Shallots just makes me feel like a gourmet cook. Here's a basic vinaigrette recipe from the New York Times, using finely chopped Shallots.
Shallots can be stored unrefrigerated in a cool, dry place up to one month, so they are definitely handy.
Jicama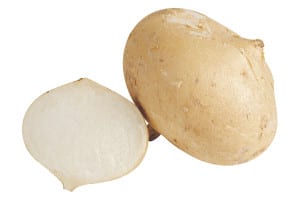 I've been getting a little bored with my sliced cucumbers and celery, which I pack dutifully each day for my morning snack. Ever since I discovered that Jicama (hee-ka-ma) has natural probiotic fiber, I think it will be a good healthy boost to include a few times a week as my morning veggie snack.
One important thing to know is that whole, uncut Jicama should be stored like a potato–in a cool, dry, dark place. However, once you peel and cut Jicama, it will only last a day or so in the fridge and it has a tendency to slime. So only cut up enough to use in one day. Wrap the unpeeled half in plastic and that will stay fresh in the fridge for another week.
Heirloom Tomatoes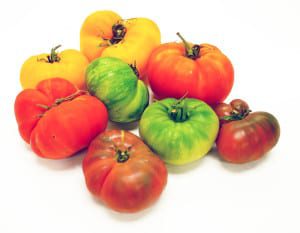 The reason I plan to keep Heirloom Tomatoes on hand in my kitchen is because they taste so much better than regular tomatoes. Plus with all the holiday entertaining, I created a recipe with them, which has become my "go-to recipe" anytime I need to make something yummy to take to a party or for a dinner party at home.
Ingredients:
Heirloom Tomatoes
Fresh Mozzarella Cheese
Basil Leaves
Pink Himalayan Salt
Freshly Ground Pepper
Balsamic Vinegar Glaze
I purchase Heirloom Tomatoes at the store, making sure to pick up as many different colors and shapes as they have. Because they are kept at room temperature at the store, I also keep the tomatoes on my counter for at least one to two days, so the flavors develop. After washing them, I slice them horizontally into thick slices.
I slice Fresh Mozzarella Cheese (Bel Gioso brand is my personal favorite) into thick slices too.  I wash and pat dry the basil, pulling the leaves from the stems (I discard the stems).
Then I layer the tomatoes and cheese with a large basil leaf between them. It's very colorful! Sometimes, I fill a platter that serves 15 to 20 people or make individual salad plates–it depends on my mood.
I sprinkle the salt crystals and give a quick grind of pepper to taste. And then I drizzle the glaze over everything, making sure there will be enough for each bite.
Yum–I'm getting hungry as I write this!
I hope you'll join me in keeping some fresh ingredients in your pantry. It really does make a difference!
Happy New Year!
Karen
Last week, I spent much of my time in New York City attending one of our industry's premier trade shows: The New York Produce Show.
This show is different from most others I attend: the first day is a Global Trade Seminar; the second day is the trade show, complete with exhibit booths and a breakfast; and the third day is a Foodservice Forum, featuring famous chefs and thought leaders in the culinary world. Lots of industry and non-industry people were talking about trends, sandwiched around a day of looking at products and networking.
It was the morning of the Global Trade Seminar that I got my first big insight.
Industry consultant Dawn Gray, my longtime friend, talked about transparency in business. She was addressing an audience made up mostly of foreign Growers who want to do business in the U.S. and U.S. Growers who want to export around the world.
She talked about the reality of transparency: no more keeping the names of your sources of supply a secret because we now need to provide detailed information to food safety and traceability programs. It's not hard to find anything or anyone, thanks to the Internet. She talked about the new reality of sharing all information. This is a shocker to most produce traders because way back before the fax machine, digital photographs and the Internet, sources of supply and customer names were proprietary.
Dawn also talked a bit about the role of social media in educating people, and there was some discussion about the Arab Spring and instant communication. New apps are developed every day and fuel the need for transparency.
What came first? Did social media come first and explode because people wanted transparency in their lives, knowing the how, the why, and the what? Or did the drive to transparency come first, and, because of that, social media started to grow? Those were the questions to ponder.
My second insight came on Wednesday morning when I was asked to speak at the media luncheon on the floor of the New York Produce Show. That insight was about personal connections.
There were two speakers that morning besides me.
First was chef and cookbook author Maricel Presilla, who is originally from Cuba. Maricel spoke about the most important and flavorful ingredients in Latin and Central American cooking. But before she spoke, we smiled at each other and embraced like old friends.
I reminded Maricel that we met back in 1992 when I took a class at the Smithsonian called "Lost Crops of the Incas," where Maricel was a guest lecturer. More than 20 years later, she is still looking for some of her favorite ingredients like Arracacha, Epazote, and Oca. This past year, her cookbook "Gran Cocina Latina" won the 2013 James Beard Foundation Cookbook of the Year! We agreed that we need to work together to offer these amazing, and sometimes rare, ingredients.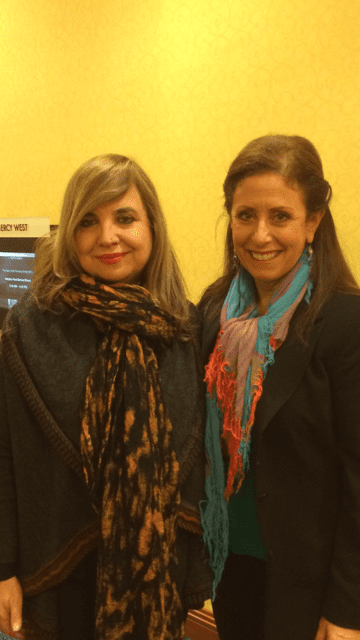 Based on that "Lost Crops of the Incas" seminar, in 1996, our company launched a line of Native American foods called "Lost Crops of the Americas." We were decades ahead of our time, offering commercially for the first time items such as Purple Potatoes, Oca, Quinoa, and a line of heirloom dried beans, amongst many other items.
I went to New York to talk with the food media about this "Lost Crops" line, and one of the people I met and had lunch with then has become one of my personal lifelong idols, Florence Fabricant, now the dining section critic for the New York Times.
So it was a surprise and an absolute delight that Florence was also a speaker at the New York Produce Show media luncheon.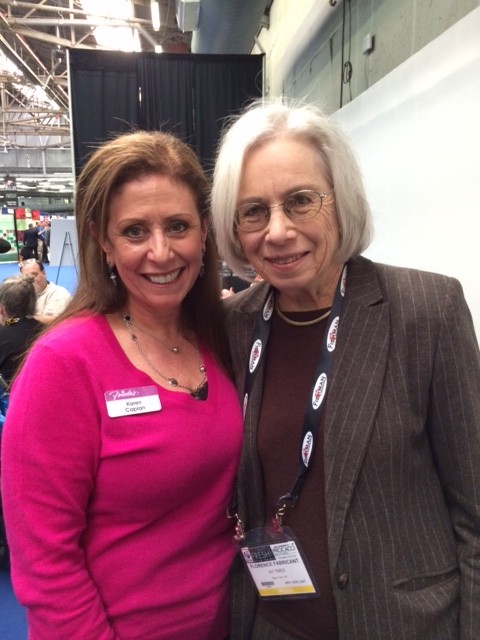 When I came up to personally say hello to Florence after her presentation, we hugged. Then she whispered to me to send her regards to my mother. We talked about some of Frieda's first introductions, including the Sunchoke®, one of the products we included in our "Lost Crops" line.
I could not believe the coincidence of seeing these two women, who had so influenced me and our company. And in one place. Twenty years later.
So, as I was finishing my remarks to the attendees at this luncheon, I mentioned to them the importance of personal connections. Before the age of email, Facetime® and YouTube, many of us were making connections, exchanging business cards, sending personal thank you notes, and sharing recipes and stories.
Food is such a great way to stay connected, don't you think?
Happy Holidays!
Karen
Last week, I spent three days visiting my youngest daughter, Sophia, who is a second-year student at The New School/Eugene Lang College in New York City. Because she could not come home for Thanksgiving/Hanukkah this year due to her work schedule, I thought I would go visit her.
After I arrived, we started to talk about food and where we would eat lunch. The first thing I said to her was: "I want to go to this Hu Kitchen that I keep seeing on your debit card statement!" I wrongly assumed it was a Chinese restaurant, and for the life of me, I could not figure out why she was going there so often.
Then she started telling me that with her gluten and soy food allergies she found Hu's food suits her perfectly. And "Hu" is not a Chinese name–it is short for "Human." Aah, now I'm getting the picture!
So, Hu Kitchen is really "Human Kitchen," serving healthy–and tasty–foods for humans.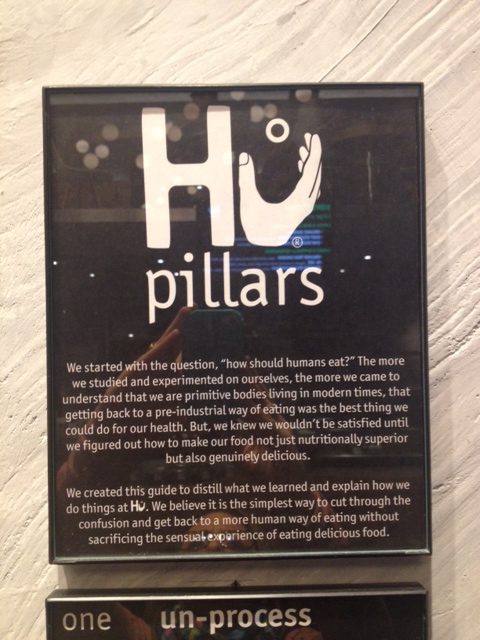 And the place is small, but dazzling.
We walked up to the first refrigerated counter (which looks like a deli case in a Whole Foods), and a young man came up to help us. I could tell he was in management just by what he was wearing and his demeanor. He told me his name was Andrew.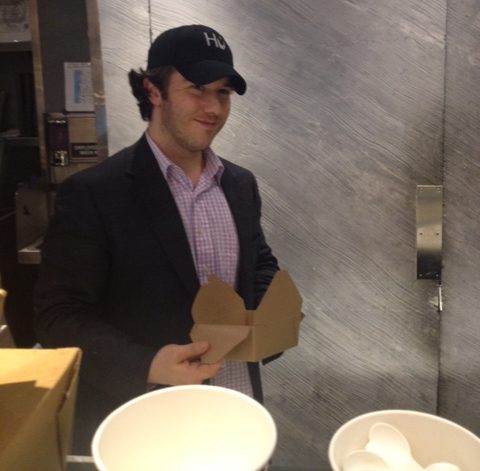 As he was helping me fill up a plate with a variety of delicious and gluten-free fruit and vegetables, I asked him about his background. He got his bachelor's degree from a college in Ohio, then got his master's in management from the Cornell University School of Hospitality in Ithaca, New York. He told me that at Hu Kitchen he was "living the dream." And you could tell that he loves his job by the way he interacted with all the customers and employees.
I asked him how many Hu Kitchens there were. He told me, "one for now," but they are in discussions to add a few more around New York City.
If you've ever been to NYC, then you know that real estate is super expensive. So stores, restaurants, and shops are all very small and make efficient use of their space. Vertical displays up to the ceiling are normal. And it is not unusual for multiple locations of a popular eatery to be every few blocks, as "location, location, location" is everything in such a densely populated city.
But I foresee that the Hu Kitchen concept will be popping up in other places besides New York City. Eateries that focus on plant-based foods, gluten-free options, and freshly made take-out (or dine-in) will soon be the norm in EVERY city.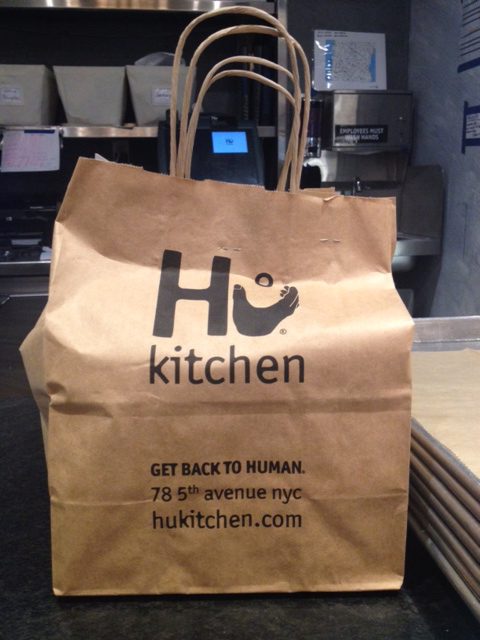 For example, right here in Southern California, a new chain is growing like wildfire: Veggie Grill. Having started only a few years ago, there are now 15 Southern California locations, plus a few more in Oregon, Washington, and Northern California.
And just look at the growth the Chipotle restaurant chain has experienced. What do they focus on? Local. Organic. Transparent.
Thinking back on my daughter's debit card statement and my assumption about her food choices, I realized that many times our millennial children can teach us about making healthy choices. We just have to be ready–and willing–to listen.
I'm already wondering what I may learn from my daughter the next time we're together.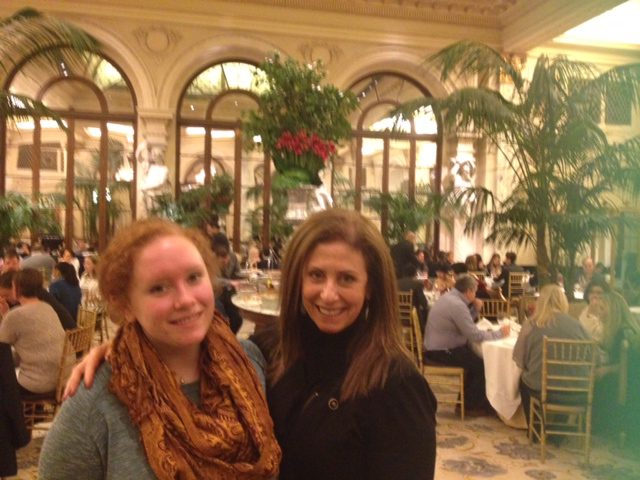 Karen