Liven up citrus displays with California-grown exotic varieties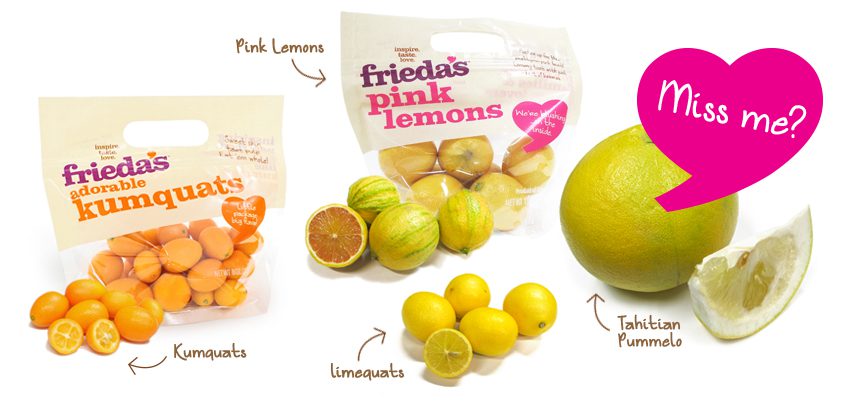 Los Alamitos, CA – (February 2017) – California specialty citrus supplies are back after a few weeks of winter rainstorms. Cheer up shoppers with California-grown exotic citrus varieties like Tahitian pummelos, kumquats and other "quat" varieties, specialty lemons, and more.
"We have had an incredible specialty citrus season so far—these varieties really bring excitement to the citrus display," said Alex Jackson, senior account manager at Frieda's Specialty Produce. "Winter doesn't mean just apples and oranges anymore. A big, beautiful display of bulk and packaged specialty citrus will draw attention."
Specialty citrus is not just great for retailers, but foodservice as well. "Mocktails and fizzy drinks are big this year, and specialty citrus is key to making things exciting at the bar as both ingredients and garnish," added Jackson.
Start California dreaming, and contact Frieda's account managers today to stock up on peak-season citrus such as Tahitian pummelos, kumquats, limequats, mandarinquats, pink lemons, proprietary varieties of mandarin orange, and organic mango oranges.
About Frieda's Inc.
Frieda's Specialty Produce has been inspiring new food experiences for friends, families, and food lovers everywhere since 1962. From kiwifruit to dragon fruit and from Stokes Purple® sweet potatoes to habanero peppers, Frieda's has introduced more than 200 unique fruits and vegetables to the U.S. marketplace. Founded by produce industry trailblazer Dr. Frieda Rapoport Caplan, subject of the 2015 documentary "Fear No Fruit," the family company is owned and operated by Frieda's daughters, Karen Caplan and Jackie Caplan Wiggins, in Orange County, California. Find Frieda's on Facebook, @FriedasProduce, and Friedas.com. Inspire. Taste. Love.