As fermented foods become more mainstream, retailers should stock up on shoppers' favorite Korean pickled vegetables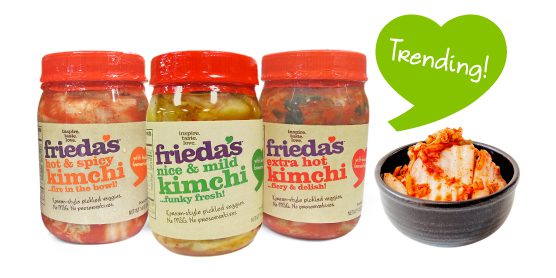 LOS ALAMITOS, CA (January 2017) — Food trendsetters and health experts continue to sing the praises of fermented foods, so it's time for produce departments to capitalize on the rising demand by stocking the refrigerated section with kimchi—Korean pickled vegetables.
Consumer Reports, Thrillist, and Food Network's Healthy Eats blog are among many trends lists that called out fermented foods like kimchi, kombucha (fermented tea), and kefir (yogurt-like drink) as this year's hot items.
As more research reveals the correlation between good digestive health and overall wellness, dietitians and other health professionals continue to recommend adding fermented foods like kimchi to one's diet for a healthy dose of probiotics.
"More shoppers are looking to eat better and are getting their recommendations from retail dietitians. We are definitely seeing that in our sales over the past few years," said Karen Caplan, president and CEO of Frieda's Specialty Produce. "Our new packaging also helps with that. It's colorful. It's funny. And that helps make kimchi less intimidating to shoppers who may be scared to try something 'fermented.'"
Frieda's offers Nice & Mild "funky fresh" kimchi, Hot & Spicy kimchi that's "fire in the bowl," and "fiery and delish" Extra Hot kimchi—all with "friendly fermentation!"
"Kimchi is popular with the health and wellness set, as well as foodies everywhere," said Caplan. "You can find recipes and pictures of kimchi in just about everything from Korean-inspired tacos and burgers to a Bloody Mary. Even the Idaho Potato Commission's recent recipe contest winner is a kimchi potato recipe!"
Caplan also added, "The upcoming Chinese New Year promotion is a great opportunity to showcase this versatile fermented food along with other Asian vegetables."
Retailers who are ready to rock their refrigerated cases with Frieda's kimchi varieties should contact Frieda's account managers today.
About Frieda's Inc.
Frieda's Specialty Produce has been inspiring new food experiences for friends, families, and food lovers everywhere since 1962. From kiwifruit to dragon fruit and from Stokes Purple® sweet potatoes to habanero peppers, Frieda's has introduced more than 200 unique fruits and vegetables to the U.S. marketplace. Founded by produce industry trailblazer Dr. Frieda Rapoport Caplan, subject of the 2015 documentary "Fear No Fruit," the family company is owned and operated by Frieda's daughters, Karen Caplan and Jackie Caplan Wiggins, in Orange County, California. Find Frieda's on Facebook, @FriedasProduce, and Friedas.com. Inspire. Taste. Love.