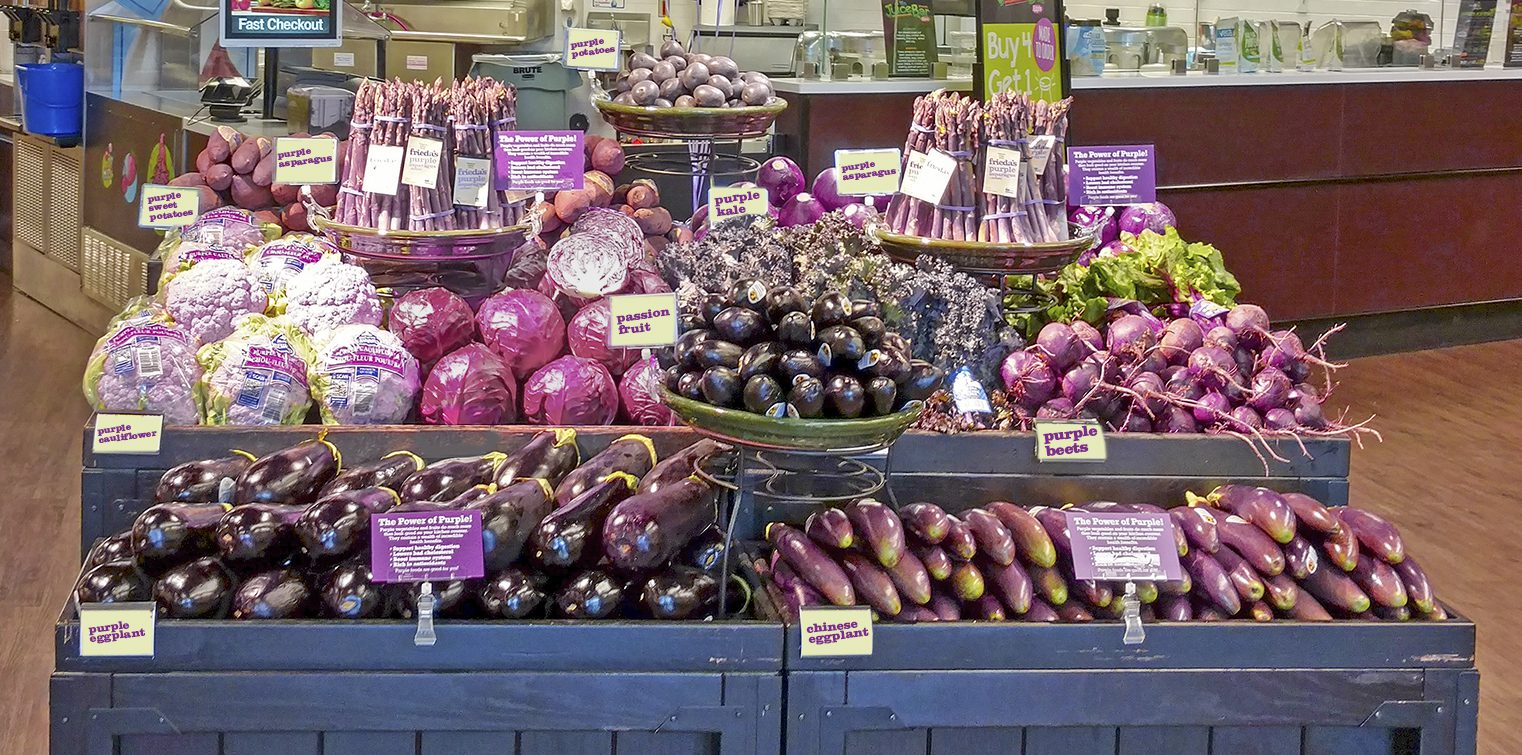 LOS ALAMITOS, CA (January 2017) — Purple produce was featured as a top 2017 food trend in national media including NBC's TODAY, Fortune, Forbes, Food & Wine, Parade, and Consumer Reports. Frieda's Specialty Produce urges retailers, wholesalers, and foodservice providers to take advantage of this purple buzz before it fades.
Most of these reports mentioned by name Stokes Purple® sweet potatoes, purple asparagus, and purple cauliflower, which Frieda's predicted to be one of the top trends for 2017.
"Purple fruits and vegetables are everywhere in the media right now with purple cauliflower and Stokes Purple® sweet potatoes leading the way," said Karen Caplan, president and CEO of Frieda's Specialty Produce. "Cauliflower in general is gaining ground as a contender to dethrone kale, and Stokes Purple® sweet potatoes sales remain strong as shoppers are asking for them by name nationwide.
"This is the perfect time to build a big, bountiful 'Purple Power' destination in the produce department or promote special menus while purple is fresh in shoppers' minds."
Other purple produce includes passion fruit, purple potatoes, purple carrots, radicchio, Treviso, and eggplant varieties.
Frieda's has been promoting purple produce since its "Year of Purple" campaign in 2013. Retailers, wholesalers, and foodservice providers should contact Frieda's account managers to discuss all the ways to bring purple power to the people today.
About Frieda's Inc.
Frieda's Specialty Produce has been inspiring new food experiences for friends, families, and food lovers everywhere since 1962. From kiwifruit to dragon fruit and from Stokes Purple® sweet potatoes to habanero peppers, Frieda's has introduced more than 200 unique fruits and vegetables to the U.S. marketplace. Founded by produce industry trailblazer Dr. Frieda Rapoport Caplan, subject of the 2015 documentary "Fear No Fruit," the family company is owned and operated by Frieda's daughters, Karen Caplan and Jackie Caplan Wiggins, in Orange County, California. Find Frieda's on Facebook, @FriedasProduce, and Friedas.com. Inspire. Taste. Love.
Save