Asian holiday promotions help build relationships with growing population of Asian-American shoppers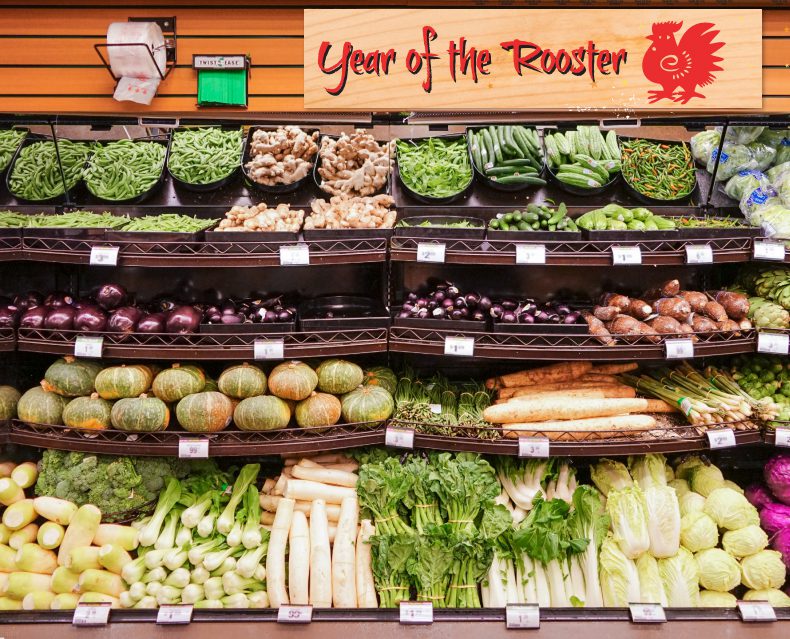 LOS ALAMITOS, CA (December 2016) — Retailers should take advantage of Chinese New Year promotions not only to offset winter sales slump, but also to build relationships with Asian-American shoppers, the fastest-growing population segment in the U.S.
Chinese New Year (also known as "Lunar New Year" or "Spring Festival") is one of the biggest food holidays of the year. In 2017 it will begin on January 28. The holiday is celebrated in communities worldwide and goes on for 15 days. Fresh produce, meat, and seafood are the focus of holiday feasts.
"Asian-Americans are the fastest growing population with significant buying power and Asians of Chinese ancestry represent about 20 percent of the group," said Karen Caplan, President and CEO of Frieda's Specialty Produce. "A Chinese New Year promotion is the opportunity for retailers to serve the Asian-American community, so retailers must have these traditional ingredients in store to attract Asian-American shoppers. Working with seafood, meat, and floral departments on Chinese New Year promotions will further boost sales."
A recent study by Nielsen reports that, currently at 20.5 million strong, the Asian-American population is expected to grow to 25.7 million by 2019. The study also reveals that Asian-Americans purchased 72 percent more fresh vegetables and 29 percent more fresh fruit per household than did the total U.S. population.
"When we first introduced the concept of promoting Chinese New Year in product departments back in the 1970s, we saw it as an opportunity to introduce Asian fruits and vegetables to non-Asian shoppers. Now, promoting Chinese New Year will draw in Asian shoppers," added Caplan.
Some of the Chinese New Year top sellers include traditional fresh vegetables such as ginger, daikon radishes, bok choy, gailan, Shanghai bok choy, Napa cabbages, snow peas, and sugar snap peas. For fruits, retailers should have a good supply of kumquat, mandarins, pummelo, Oroblanco, Buddha's Hand citron, and persimmons on hand, to name a few.
For over 43 years, Frieda's has inspired retailers on their Chinese New Year display programs. Call a Frieda's account manager to start planning today.
About Frieda's Inc.
Frieda's Specialty Produce celebrates a 54-year legacy of inspiring new food experiences for friends, family, and food lovers everywhere. Credited with introducing more than 200 specialty fruits and vegetables to U.S. supermarkets, Frieda's has helped launch unique items like kiwi fruits, Stokes Purple® sweet potatoes, habanero peppers, Sunchokes®, and organic finger limes. Founded in 1962 by produce industry icon Dr. Frieda Rapoport Caplan, subject of the 2015 documentary "Fear No Fruit," the family company is now owned and operated by Frieda's daughters, Karen Caplan and Jackie Caplan Wiggins, in Orange County, California. Find Frieda's on Facebook, @FriedasProduce, and Friedas.com. Inspire. Taste. Love.