Inspire your shoppers with creative and colorful produce in the new year.
Los Alamitos, CA – (December 2018) – January is always a time when shoppers are looking to increase the amount of fruits and vegetables in their diets. According to a recent Wakefield Research survey, 87 percent of consumers are interested in making small diet changes, such as eating more fruit and veggies, as part of their diet in the new year. Make it easy for your shoppers by inspiring healthy everyday eating through unique and colorful produce.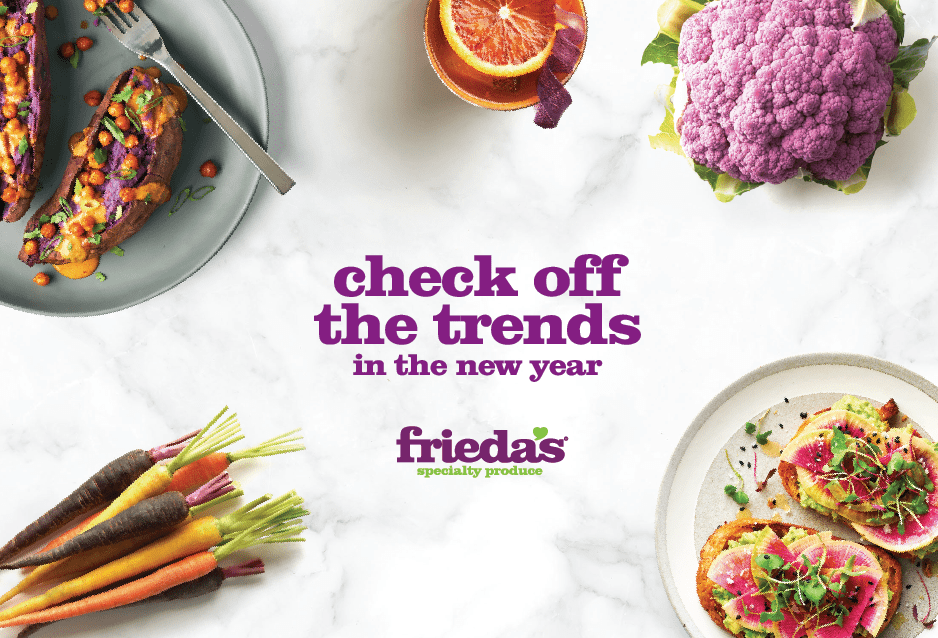 "Consumers want colorful and different produce items to shake up their healthy eating habits in the new year," said Alex Berkley, sales manager at Frieda's Specialty Produce. "They're looking for recipes that make healthy eating fun and delicious to help kick off 2019 right." In fact, 78 percent of millennials are looking to discover new food favorites through recipes, according to Wakefield Research.
To help consumers jump-start their New Year's resolutions, Frieda's suggests making it easy for them to find healthy and enticing meal ideas like Chickpea-Stuffed Stokes Purple® Sweet Potatoes, Watermelon Radish Avocado Toast, and Turmeric-Colored Cauliflower Tacos. Juicing is trending for January too and our Blood Orange and Ginger Juice will help get their morning started off right.
Frieda's can help you inspire your shoppers with merchandising, signage and recipe solutions that will make produce the star of their plates. Call your Frieda's account manager today.
About Frieda's Inc.
Frieda's Specialty Produce has been inspiring new food experiences for friends, families, and food lovers everywhere since 1962. From kiwifruit to dragon fruit and from Stokes Purple® sweet potatoes to habanero peppers, Frieda's has introduced more than 200 unique fruits and vegetables to the U.S. marketplace. Founded by produce industry trailblazer Dr. Frieda Rapoport Caplan, subject of the 2015 documentary "Fear No Fruit," the family company is owned and operated by Frieda's daughters, Karen Caplan and Jackie Caplan Wiggins, in Orange County, California. Find Frieda's on Facebook, @FriedasProduce, and Friedas.com. Inspire. Taste. Love.