Spicy root is more than just a traditional staple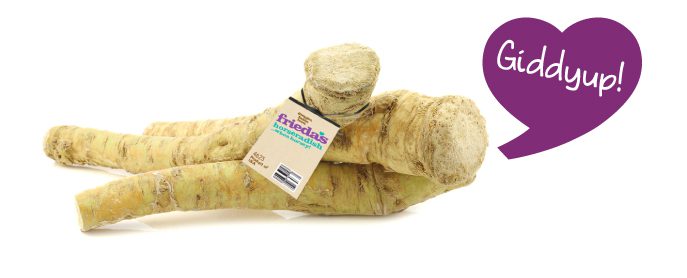 Los Alamitos, CA – (February 2017) – Horseradish root is a must-have item for Passover, the traditional Jewish celebration beginning at sundown on Monday, April 10, and ending Tuesday, April 18. Retailers should now pre-book their horseradish orders in preparation for this important cultural holiday.
"Horseradish and parsley sales go through the roof the week before Passover as they are the most traditional produce items used for the holiday meal," said Karen Caplan, president and CEO of Frieda's Specialty Produce. "In addition to Passover, fresh horseradish is also used as a condiment for fish and seafood during the Christian observance of Lent, which begins March 1 and ends on April 13. It is a great opportunity for retailers to increase basket ring."
But this traditional root is actually gaining popularity as part of the growing weekend brunch trend, and as a key ingredient in bloody Mary beverages and other chef-inspired creations. In fact, the Baum + Whiteman Restaurant and Hotel 2017 trends report listed horseradish among the year's buzzwords as the use of horseradish went up 29 percent last year.
"Weekend brunch has become a part of the culture, and the trend continues to grow. Fresh horseradish is going to grow along with it," said Caplan. "Once shoppers experience fresh horseradish while dining out, they will try to replicate it at home."
Call Frieda's account managers today to pre-order horseradish roots, as well as other Passover essentials including parsley, beets and baby beets, fingerling potatoes, parsnips, parsley root, specialty carrots, and baby apples.
About Frieda's Inc.
Frieda's Specialty Produce has been inspiring new food experiences for friends, families, and food lovers everywhere since 1962. From kiwifruit to dragon fruit and from Stokes Purple® sweet potatoes to habanero peppers, Frieda's has introduced more than 200 unique fruits and vegetables to the U.S. marketplace. Founded by produce industry trailblazer Dr. Frieda Rapoport Caplan, subject of the 2015 documentary "Fear No Fruit," the family company is owned and operated by Frieda's daughters, Karen Caplan and Jackie Caplan Wiggins, in Orange County, California. Find Frieda's on Facebook, @FriedasProduce, and Friedas.com. Inspire. Taste. Love.