Last Saturday evening I was invited to a gratitude party for L.A. Compost. "Gratitude Party." What a great way to thank your supporters in a non-pretentious way. And the price of entry? Make a donation of an amount you feel comfortable with to support L.A. Compost!
Getting there was a bit of a driving adventure as it was located in a warehouse/gallery in a small neighborhood near Dodger Stadium (Go, Dodgers!). Even though it was only about 20 miles from my house, it took an hour to get there, weaving through the neighborhoods of South Central L.A. It actually wasn't too far from Chinatown and DTLA (downtown LA), and the Los Angeles Wholesale Produce Market where I worked after college.
The founder of L.A. Compost, Michael Martinez, greeted the small group of 80 people shortly after I arrived. His story was so inspiring. Originally from Los Angeles, he ended up as a Teach for America school teacher in Miami-Dade, Florida. During his time as a teacher, Michael was astounded that the young people he worked with didn't know where their food came from. He helped the students, their families, and the community create communal gardens at the school. He remembers the kids getting so excited to see broccoli and other vegetables growing that they actually fought over who would get to eat the food!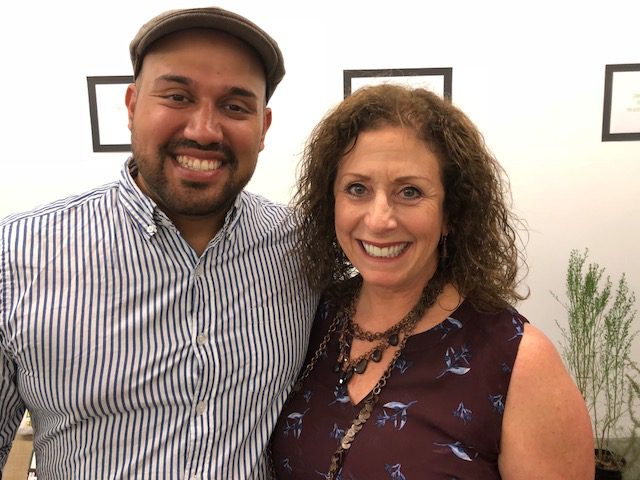 When he relocated back to Los Angeles, and with the passion that obviously percolated while working for Teach for America, he decided he wanted to make a difference here in SoCal. So he founded L.A. Compost, a nonprofit that began by working with four schools to lead students in composting waste from cafeteria kitchens. Michael also oversees compost and garden hubs at the Natural History Museum of Los Angeles and the University of Southern California, where he runs school and community workshops.
L.A. Compost has grown and now helps set up composting hubs around the greater Los Angeles area.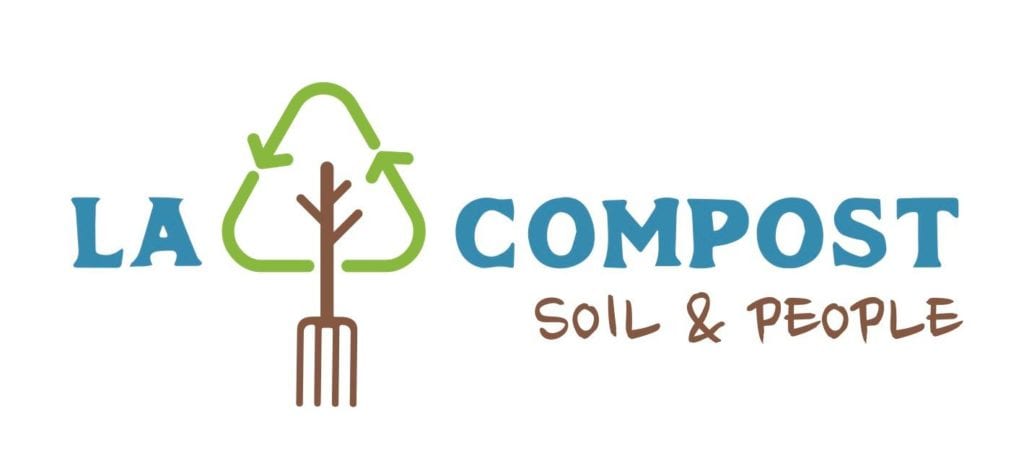 The gallery where the event was held was filled with various pop-up displays demonstrating how composting works and highlighting a few other organizations. Two of the pop-ups really caught my eye.
Imperfect Produce offers home delivery of misshapen fresh fruits and vegetables that would normally not make its way to consumers. Its business model is, essentially, to seize the rejects! Imperfect Produce, an actual company, and other organizations are finding ways to reduce the amount of wasted food by making it "sexy" to be ugly, misshapen, and dimply. (Conventional supermarkets and club stores typically insist on consistently sized and pristine-looking produce, and will reject it for blemishes or marks that really have no effect on the eating quality.)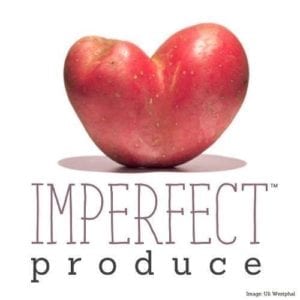 Next to Imperfect Produce was a pop-up for L.A. Kitchen, which was started in 2015 by Robert Egger (who also started the famous DC Central Kitchen). Robert created a teaching kitchen, reclamation center for wasted food, and feeding facility for low-income senior citizens all rolled into one. It's really brilliant. Gather up the food that would normally go to waste and give it to the hungry.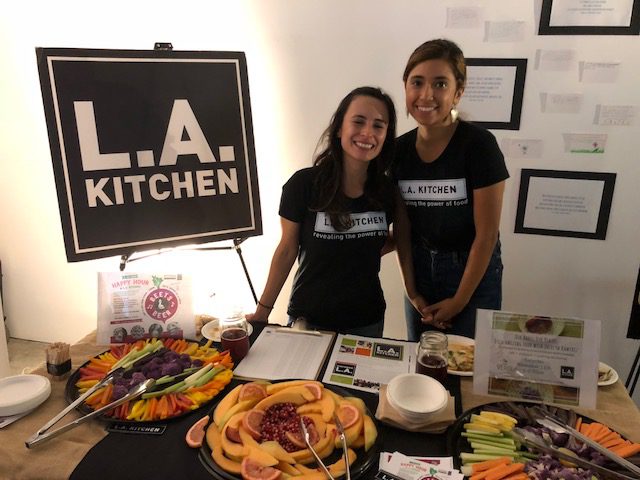 What was so interesting about these two organizations is that they explained to me how they find themselves working together. If Imperfect Produce has fruits and vegetables it does not get orders for, it is donated it to L.A. Kitchen, which then processes the fresh produce into food and meals for the hungry. And if L.A. Kitchen has excess fresh produce, it oftentimes allows Imperfect Produce to market it.
If you're reading my blog, chances are you have never known hunger. However, whether you know it or not, you probably live in a city or county that does have extreme hunger. Many times it is camouflaged. People are ashamed to say they are hungry. Through my work with the Second Harvest Food Bank of Orange County, I have learned that even in my own county thousands of people (many of them young children, entire families, and seniors) experience food insecurity every week.
Many of us do what we can to help alleviate hunger. We provide canned food during a food drive or we write checks to food banks and other organizations who provide food to the hungry. We may volunteer at a food kitchen during the year or during the holidays.
But how many of us will make it our personal mission, our career or avocation, to find solutions to help feed the hungry? To educate people on how they can personally make a difference? To literally walk the talk?
I say that Michael Martinez is a pretty amazing guy to find such a holistic way to create and promote healthier lifestyles. He has partnered with existing organizations (like Imperfect Produce, L.A. Kitchen, and others) and continues to use his training as a teacher to educate young people on how to make healthy choices and create a healthier planet.
Like many, I recycle at my home and in our office. I've thought about composting at my house, but was talked out of it by friends who said, "It can be smelly." After attending Michael's gratitude party, I think I need to do further investigation into composting. Perhaps that will help me with my next big project: a home garden!
Karen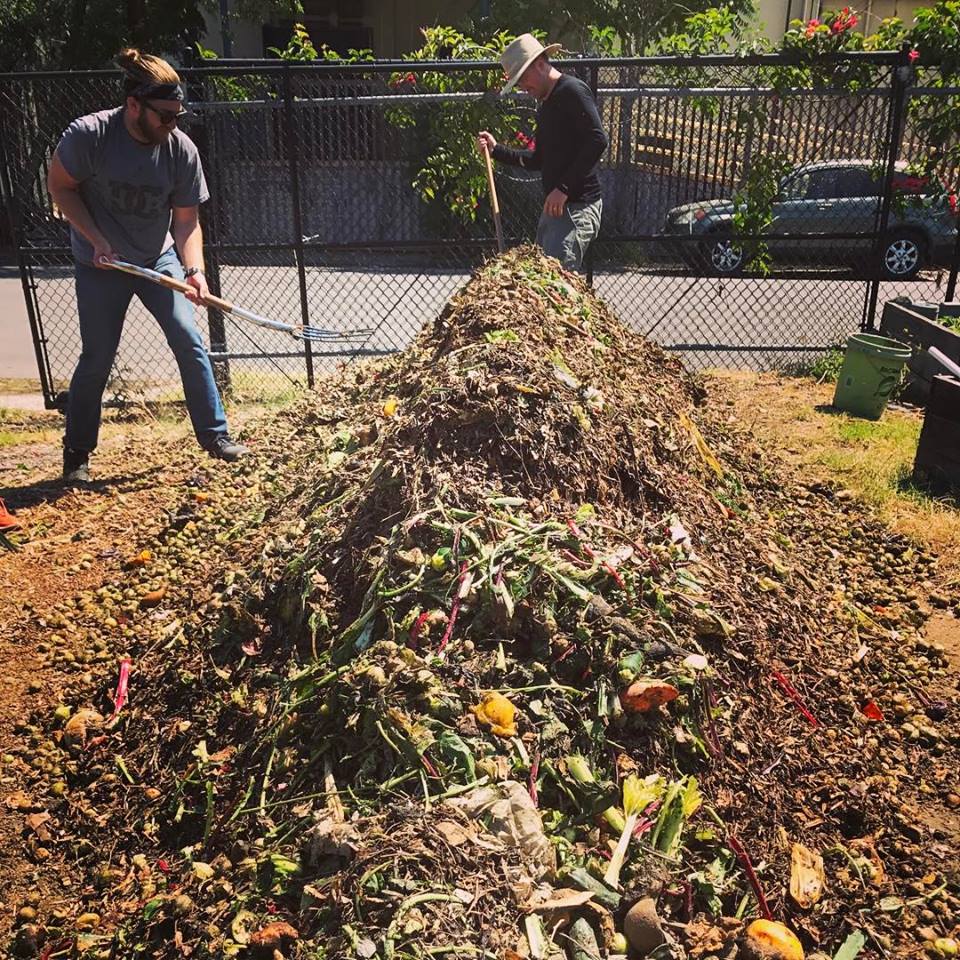 Good fall supply from the Southern Hemisphere to smooth transition to strong California season

Los Alamitos, CA (October 2017) – It may be getting cold outside, but produce sales can stay hot with winter citrus. Shoppers will be looking for the sunshiny color and bright flavor of citrus, from tiny kumquats to giant pummelos.
"We have good supplies of citrus from the Southern Hemisphere already coming in, and California has just started," said Alex Jackson Berkley, senior account manager of Frieda's Specialty Produce. "It's never too early to start planning your specialty citrus program for the winter months."
Top citrus sellers include Cara Cara and blood oranges; Meyer, pink, and seedless lemons; and mandarin varieties.
"The items that create excitement are our high-flavor citrus varieties like Tahitian pummelos, sweet limes, and mandarinquats," said Berkley. "We've noticed shoppers are more informed about unique citrus varieties—it's so much more than navel oranges and lemons now."
As a trends spotter, Frieda's team predicts a slight bump in demand for blood oranges. "Our phones have been ringing with consumer magazines looking for blood oranges for their winter issues. October through December is the time to make sure you're always well stocked with blood oranges."
Call your Frieda's account managers to book your citrus program today.
About Frieda's Inc.
Frieda's Specialty Produce has been inspiring new food experiences for friends, families, and food lovers everywhere since 1962. From kiwifruit to dragon fruit and from Stokes Purple® sweet potatoes to habanero peppers, Frieda's has introduced more than 200 unique fruits and vegetables to the U.S. marketplace. Founded by produce industry trailblazer Dr. Frieda Rapoport Caplan, subject of the 2015 documentary "Fear No Fruit," the family company is owned and operated by Frieda's daughters, Karen Caplan and Jackie Caplan Wiggins, in Orange County, California. Find Frieda's on Facebook, @FriedasProduce, and Friedas.com. Inspire. Taste. Love.
In May, I attended the Berkshire Hathaway annual meeting in Omaha, Nebraska. It was exciting to watch and listen to the Oracles of Omaha (Warren Buffett and Charlie Munger) answer questions about their investment decisions.
But even more exciting and intellectually stimulating was what I experienced the day before when I attended an invitation-only meeting of global business leaders. There were about 100 of us in the hotel meeting room and during the course of the day, a variety of participants got up and talked about trends, leadership, their life's journey, and more. They came from all over the world: Oman, Australia, California, Iowa, and Switzerland, to name a few.
At the end of the day, our host and facilitator stood in front of the room and asked people to share their main observations: takeaways and "aha"s.
Meditation was on the top of the list.
Yes, meditation had been mentioned by many of the leaders and CEOs in our group. Honestly, I was quite surprised to learn that so many of the world's business leaders practice meditation. Common threads in their comments were that it was a way to create calm in the day, to give them time to get centered, and to get rid of distractions, and it helped create some inner peace.
After I traveled home from Omaha, I kept thinking in the back of my head—I really want to learn to meditate.
A few months ago, one of my personal advisors suggested I take at least 10 minutes every day to sit still and be quiet. Like many of us in business, I feel like I am constantly on the hamster wheel of life and the only time I stop is when I roll into bed at night. Go-go-go. That's what it's always felt like. It was nearly impossible for me to think about sitting still for 10 minutes and not doing anything. But I did try it. I was inconsistent, but I started to do it on the weekends when I was home alone. And sometimes when I got home at night, I would make a conscious effort to sit quietly in a dark area of my house and do nothing. It felt weird at first, but then it got better.
Then, about a month ago, a friend of mine told me she had started meditating. And I said, "Oh, I've always wanted to meditate." She said she uses an app on her phone and she shared it with me (there was a free trial).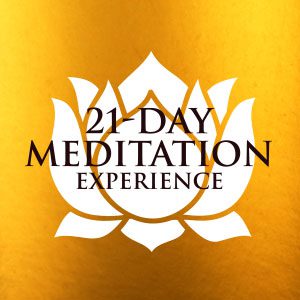 So, I downloaded the app, got up a little earlier the next morning and listened to the guided meditation (for 20 minutes total). What I liked about this guided meditation is that Oprah gives a 1- to 2-minute overview, then Deepak Chopra shares a 2- to 3-minute insight. Then he gives you a specific mantra and peaceful music plays for 13 to 14 minutes as you repeat the mantra to yourself.

And then I would start my day.
So, I've been meditating for four weeks and this is what I've learned:
I actually look forward to my meditation time. I used to be rush-rush-rush in the morning, but now I take my time. The meditation actually sets my intention for the day.
I've noticed that I feel more calm and clear at work. More focused. Not so distracted.
I am sleeping better at night.
A couple of days last weekend, I had the time to meditate a second time in the afternoon. I re-listened to the same meditation as in the morning. I felt energized and clearer. I found myself getting excited just thinking about meditating a second time on the same day.
In casual conversation with two male acquaintances over the last few weeks, both told me they had been thinking about meditating as well. I shared the link above and both of them, business executives, are trying it out.
Many Fortune 500 CEOs use this mindfulness practice: Rupert Murdoch, Oprah Winfrey, Bill Ford, and Arianna Huffington, to name just a few. Harvard Business Review published this article about the trend in 2015.
Many meditation apps are available. Check out headspace.com and calm.com for starters. If you're wondering if meditation is for you, just think about it. And if you already meditate, I would love to hear from you.
Namaste,
Karen
October 5 was National Kale Day! Woo-hoo!
Last year, I wrote about National Kale Day and about how it started. And how it seemed that everywhere you turned, you would see kale being featured as the new "it" food. It's an ingredient in salads at fast casual restaurants like McDonald's and Chic-Fil-A. And all sorts of snack companies, like Brad's Kale Chips, have popped up.
I attended an industry luncheon this week where kale was a featured ingredient in the salad. Honestly, a salad made with just chopped kale, diced beets, and feta cheese left me a little cold (and hungry). I found it unappealing. And I'm in the industry!
I'm guessing that many consumers are feeling the same way when food companies take a popular food and try to insert it into their menus every way possible.
What was appealing about kale in the first place? It was the dense nutrient content (vitamin A and fiber), plus the natural healing properties of cruciferous-type vegetables. But no one really wanted to EAT kale—because it's so fibrous and chewy—so they juiced it.
And I think that's what started the "kale craze."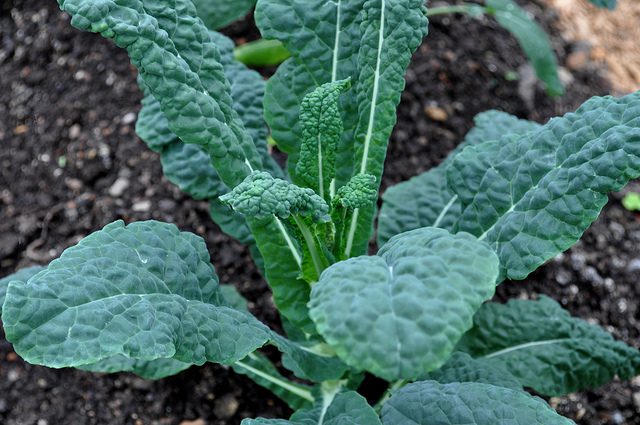 My first real exposure to the health benefits of kale was when I watched this TEDx talk by Dr. Terry Wahls at TEDx Iowa City 2011. The talk is entitled, "Minding your Mitochondria." In a nutshell, Dr. Wahls was diagnosed with multiple sclerosis (MS) in 2007. She quickly declined, began taking doctor-prescribed medicine, and did chemo, but she declined further to the point that she was wheelchair-bound and could barely move on her own. Thankfully, due to her curiosity and her research training, she found a different way to treat her MS. In fact, if you take the 18 minutes to watch to her TEDx talk, you will see the role that kale (and other nutrient-rich greens, berries, vegetables, plus grass-fed meats) played in her almost 100 percent recovery.
Yes, you read that correctly—her almost 100 percent recovery.
If you are concerned about food allergies (including dairy and gluten), arthritis, asthma, fibromyalgia, dementia, Alzheimer's, diabetes, MS, Parkinson's, to name a few, then I highly recommend watching this 18-minute, life-changing TEDx talk.
After watching it multiple times, I am more compelled than ever to have a kale-based green drink every day and to increase my consumption of fresh fruits and vegetables. For my health and vitality.
So, yes, this week we celebrated National Kale Day! Do yourself and your family a big favor, and have some kale.
Karen
The specialty produce company brings new produce ideas to the table

Los Alamitos, CA (October 2017) – Frieda's Specialty Produce is bringing innovation to the table at PMA Fresh Summit booth 1207 with jackfruit selling solutions.
"At Frieda's, we know jack…fruit, and we know how to make it sell at retail," said Alex Jackson Berkley, senior account manager of Frieda's Specialty Produce. "Jackfruit has become one of the most asked-about and sought-after tropical fruits, a natural star for your tropical program. You cannot miss a pile of jackfruit at retail—it's definitely a 'wow' item that sets stores apart from the competition."
Jackfruit is one of the biggest (literally) trends in produce today. The sheer size of this fruit (8 to 24 pounds) catches the eye, but it's the label and point-of-sale merchandising that close the sale for shoppers, by offering them the information and inspiration they need to make a confident purchase.
"There's no better time to talk to us about jackfruit and our full line of tropical fruits than at PMA Fresh Summit," added Berkley. "Our jackfruit selling solution is just one of the ways we go beyond what is expected at Frieda's."
With more than 55 years as specialty produce trailblazers, Frieda's knows what's new in specialty produce and what's trending with shoppers to keep its customers relevant in the produce space.
"Our mission is to inspire new food experiences for consumers and we are always looking for ways to partner with clients who understand that education is key for moving these lesser known and unusual fruits and vegetables," Berkley said.
So, pull up a chair at booth 1207 or call a Frieda's account manager today to learn more about the company's fresh brand, shopper-friendly packaging, and unique product mix that make life a lot sweeter for retailers, wholesalers, and foodservice providers everywhere.
About Frieda's Inc.
Frieda's Specialty Produce has been inspiring new food experiences for friends, families, and food lovers everywhere since 1962. From kiwifruit to dragon fruit and from Stokes Purple® sweet potatoes to habanero peppers, Frieda's has introduced more than 200 unique fruits and vegetables to the U.S. marketplace. Founded by produce industry trailblazer Dr. Frieda Rapoport Caplan, subject of the 2015 documentary "Fear No Fruit," the family company is owned and operated by Frieda's daughters, Karen Caplan and Jackie Caplan Wiggins, in Orange County, California. Find Frieda's on Facebook, @FriedasProduce, and Friedas.com. Inspire. Taste. Love.