Frieda's Specialty Produce offers special training and programming to help retailers ring in Year of the Dog
Los Alamitos, CA (December 2017) – Draw in shoppers to your store with the unique food experience of a Chinese New Year promotion. Frieda's Specialty Produce offers special support to customers who book a Chinese New Year promotion by January 10; it includes a holiday promotion playbook, team training, point-of-sale support, and key merchandising recommendations to create a successful program.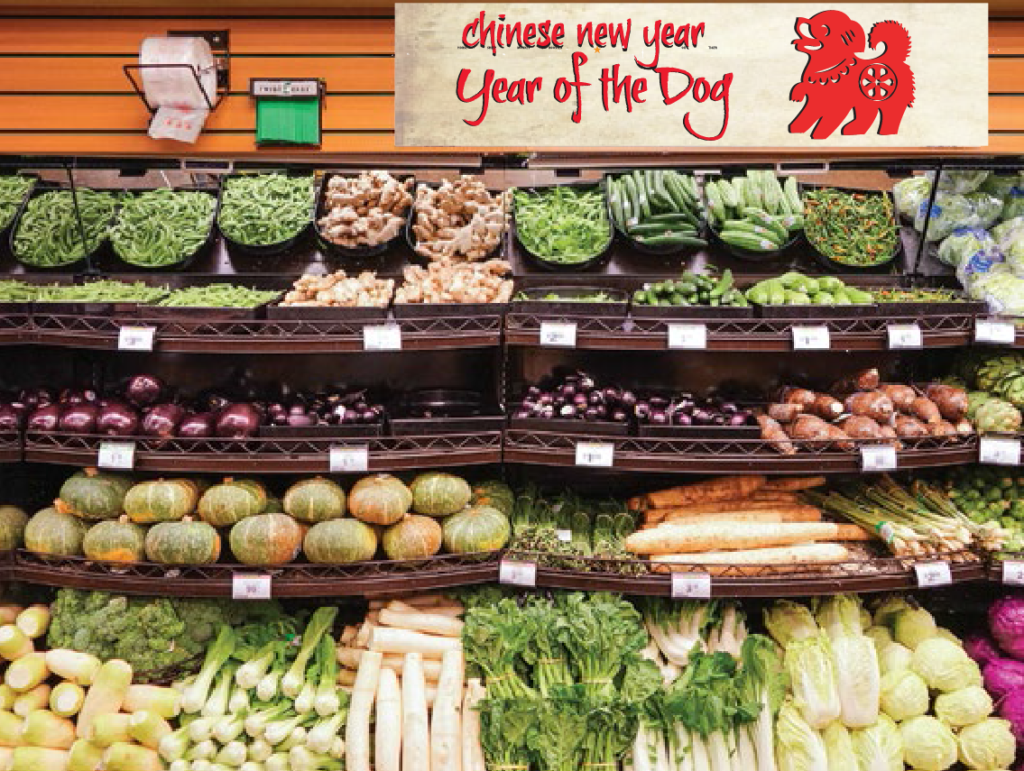 Chinese New Year (also known as "Lunar New Year" or "Spring Festival") is one of the biggest food holidays, and is celebrated across the country and around the world. The Year of the Dog begins on February 16, but the celebration starts a few days before and continues for 15 days afterward with feasts focusing on fresh produce, meat, and seafood.
Since the number six is considered lucky in Chinese tradition, here are six reasons retailers need Chinese New Year promotions.
1. Boost Winter Sales
Other winter promotions like the Big Game and Valentine's Day promotions do not always translate into bigger sales in the produce department. However, the Chinese New Year celebration is all about fruits and vegetables, and it goes beyond just the one day.
"The celebration may begin a few days before the actual new year's day on February 16, but the key to success is to have your stores ready to go with full displays starting in early February and continue promotions through the end of the month," said Alex Jackson Berkley, assistant sales manager at Frieda's.
2. Unique In-store Experience
According to SupermarketGuru's 2018 trends forecast, shoppers will be looking for a multi-sensory food experience—they want to interact with foods. "Chinese New Year is a great opportunity to engage in-store shoppers with an experience they can't get from shopping online, and that definitely will set your store apart from the competition," said Berkley. "Make an event out of the holiday with sampling and cross-promotions with other departments."
3. Produce Showcase
Traditional feasts feature top Asian sellers such as ginger, daikon radishes, and Shanghai bok choy. "Create a destination with a refrigerated Chinese New Year spot display with Asian staple vegetables and complementary items such as wonton and egg roll wrappers, edamame, and kimchi," recommended Berkley. "Specialty citrus such as kumquats, pummelo, and mandarin oranges are used as gifts, so a bountiful citrus display will not go unnoticed."
4. Halo Effect
Shoppers buying produce items for Chinese New Year will also purchase seafood, meat, floral arrangements, and other center-aisle Asian grocery items. "The promotions can span the store through collaboration with other departments to further boost sales," said Berkley.
5. A Food Holiday for All
This promotion is not just for Asian shoppers who celebrate the holiday. "Chinese New Year is a foodie holiday!" said Berkley. "After all, Chinese food is one of the top three most consumed ethnic foods in the United States. Shoppers are looking for ingredients to make authentic meals at home. This promotion is the perfect opportunity to showcase your Asian produce selection to all shoppers, a key to remaining competitive."
Asian cuisines and flavors have been trending for the past few years, across all regions of the U.S. A Chinese New Year promotion gives retailers the opportunity to feature their specialty offerings so shoppers will return for their Asian grocery needs throughout the year.
6. Attract Growing Asian Population
"With a Chinese New Year promotion, retailers can start building a relationship with the growing Asian demographic," said Berkley.
According to a Nielsen report, Asian-Americans are the fastest growing population with significant buying power. Asians of Chinese ancestry represent about 20 percent of the group. Asian-Americans purchase 72 percent more fresh vegetables and 29 percent more fresh fruit per household than does the total U.S. population.
Frieda's has a proven, nearly 45-year track record for helping produce retailers create successful Chinese New Year programs. Get ahead of the pack and call Frieda's account managers today to book a Chinese New Year promotion. Also find more inspiration here.
About Frieda's Inc.
Frieda's Specialty Produce has been inspiring new food experiences for friends, families, and food lovers everywhere since 1962. From kiwifruit to dragon fruit and from Stokes Purple® sweet potatoes to habanero peppers, Frieda's has introduced more than 200 unique fruits and vegetables to the U.S. marketplace. Founded by produce industry trailblazer Dr. Frieda Rapoport Caplan, subject of the 2015 documentary "Fear No Fruit," the family company is owned and operated by Frieda's daughters, Karen Caplan and Jackie Caplan Wiggins, in Orange County, California. Find Frieda's on Facebook, @FriedasProduce, and Friedas.com. Inspire. Taste. Love.