Frieda's Specialty Produce picks four produce trends to prepare retailers for 2017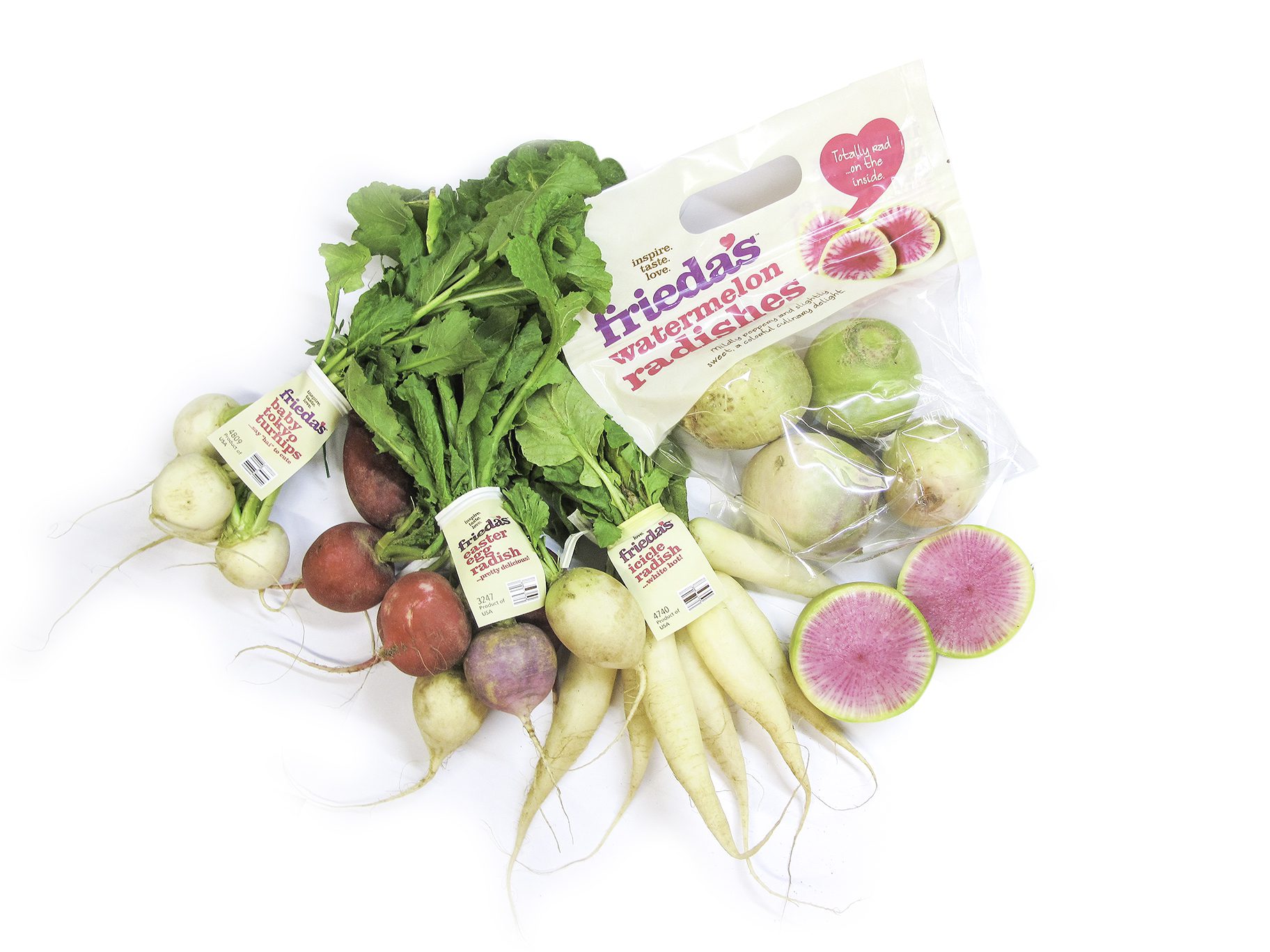 LOS ALAMITOS, CA (January 2017) — From Whole Foods to Nielsen, almost all of the 2017 food trend reports lead to one place: the produce department. "Vegetable-centric" cooking and dining are on top of most trends lists and retailers must be ready to offer a wide variety of fruits and vegetables to shoppers seeking to add more produce to their plates.
"Vegetable-centric eating is finally mainstream, and it's paving ways for the future of food and produce consumption," said Karen Caplan, president and CEO of Frieda's Specialty Produce. "Retailers are embracing this change by expanding the number of vibrantly colored vegetables and providing more produce variety for shoppers."
Frieda's identifies four emerging fruit and vegetable trending items for 2017:
Radishes
With root-to-stem cooking making its way from restaurants to home kitchens, specialty radishes will take center stage as vegetables that can be eaten whole, tops and all. It also doesn't hurt that the recent episode of Bravo's "Top Chef Charleston" featured all types of radishes from daikon to French breakfast to watermelon radishes. With their vibrant colors, bright flavors, and nutritious green tops, radishes might just be the next kale.
Purple Cauliflower
Cauliflower has been jockeying for "the new kale" position for many years now, but with the focus firmly back on purple vegetables, the purple cauliflower might just make it this year! This purple cruciferous vegetable finds itself all over Instagram in gorgeously-arranged vegetable trays and pickle boards. Even food television personality Alton Brown touted cauliflower as the "ingredient of the year" for 2016.
Hard Squashes
Shoppers are also looking for a variety of squash year-round instead of just in the fall and winter. From soups to grain bowls to spiralized noodles, hard squashes can do it all. They are hearty and nutrient-dense, economical and versatile. No wonder they are becoming the darling of "veg-centric" cooking, with butternut and delicata squashes leading the pack.
Tropical Fruits and Aromatics
Tropical flavors are the key to many rising trends from the tiki cocktail revival to island cuisine. Be ready with shoppers' favorites like jackfruit, lychees, dragon fruit, and starfruits, and make sure to have fresh aromatics on hand like turmeric, ginger, and lemongrass.
About Frieda's Inc.
Frieda's Specialty Produce celebrates a 55-year legacy of inspiring new food experiences for friends, family, and food lovers everywhere. Credited with introducing more than 200 specialty fruits and vegetables to U.S. supermarkets, Frieda's has helped launch unique items like kiwi fruits, Stokes Purple® sweet potatoes, habanero peppers, Sunchokes®, and organic finger limes. Founded in 1962 by produce industry icon Dr. Frieda Rapoport Caplan, subject of the 2015 documentary "Fear No Fruit," the family company is now owned and operated by Frieda's daughters, Karen Caplan and Jackie Caplan Wiggins, in Orange County, California. Find Frieda's on Facebook, @FriedasProduce, and Friedas.com. Inspire. Taste. Love.
Save