Capitalize on the shift in shoppers' behavior during 40 days of Lent
Los Alamitos, CA – (February 2018) – The start of Lent on Ash Wednesday coincides with Valentine's Day this year for the first time in 73 years. While some shoppers will be reaching for chocolates and filet mignon on February 14, Lent-observing shoppers will give up other food indulgences during this 40-day period. It's a great opportunity to promote a variety of healthy and wholesome fresh produce to fill up their baskets.
Twenty-six percent of Americans observe Lent and abstain from meat on Fridays when they traditionally enjoy seafood from Ash Wednesday through Thursday, March 29. Some go meatless the entire time.
"Produce departments should capitalize on the shift in shopping behavior by stocking up on a wide variety of fresh produce and meat substitutes during this time," said Alex Jackson Berkley, assistant sales manager at Frieda's Specialty Produce. "One of our largest retail clients, with a significant Hispanic shopping base in its region, promotes Frieda's Soyrizo™ for the entire Lent period.
"With the majority of the Hispanic community observing Lent, it is important that retailers are also ready with Latin produce," said Berkley.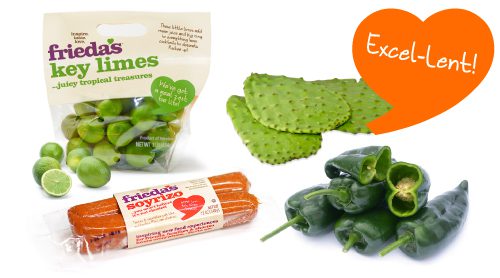 Frieda's recommends building larger than normal retail displays to feature top Latin seasonal sellers such as cactus pads (nopales), fresh Poblano and Anaheim peppers, and dried peppers like Guajillo, Ancho Mulato, and Pasilla Negro. Other popular items that complement the surge in seafood sales include shallots, ginger, fennel, key limes, and Meyer and pink lemons.
For more merchandising suggestions, contact Frieda's account managers today.
About Frieda's Inc.
Frieda's Specialty Produce has been inspiring new food experiences for friends, families, and food lovers everywhere since 1962. From kiwifruit to dragon fruit and from Stokes Purple® sweet potatoes to habanero peppers, Frieda's has introduced more than 200 unique fruits and vegetables to the U.S. marketplace. Founded by produce industry trailblazer Dr. Frieda Rapoport Caplan, subject of the 2015 documentary "Fear No Fruit," the family company is owned and operated by Frieda's daughters, Karen Caplan and Jackie Caplan Wiggins, in Orange County, California. Find Frieda's on Facebook, @FriedasProduce, and Friedas.com. Inspire. Taste. Love.