"The coolest thing is that after more than 50 years, the business remains family run," said David Whiting in his March article in the Orange County Register.
It was a pleasure to have David and Cindy from the Orange County Register spend the day with Frieda and the Caplan family!
Get to know the people behind your produce department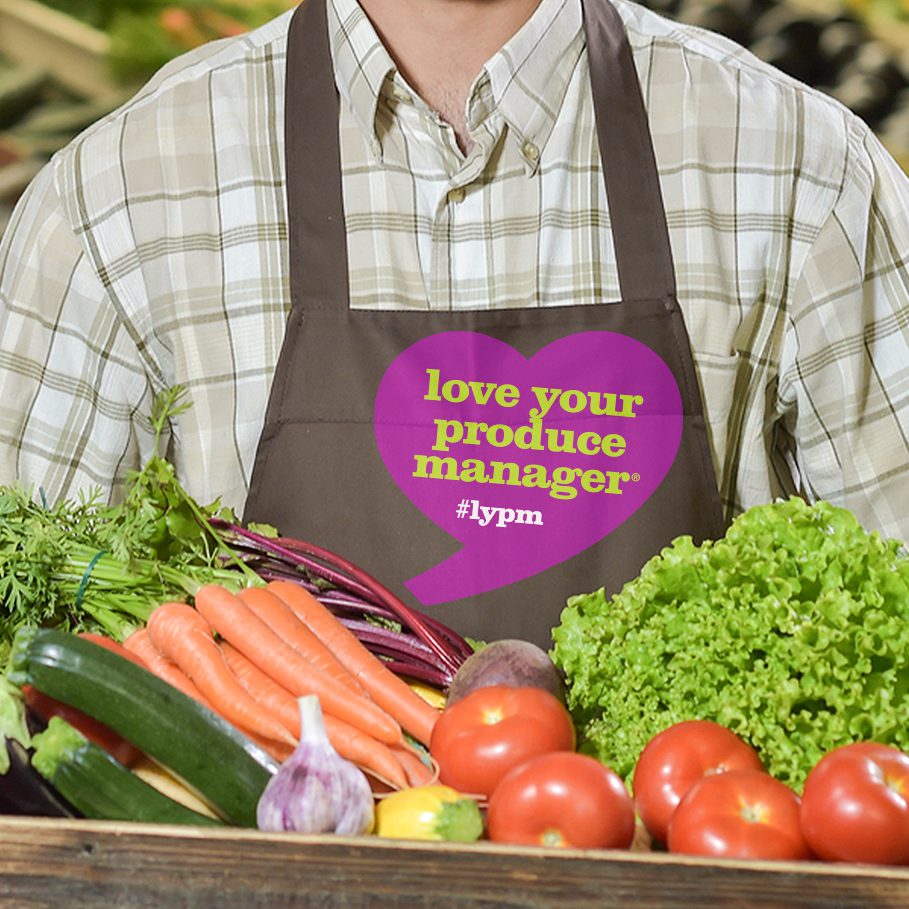 Do you know who your supermarket produce manager is? Most people don't, unless they happen to be in the produce department early in the morning when these hardworking men and women go through the inventory of beautiful vegetables and gorgeous fruits they have ordered for your local grocery store. That is why, on April 2, we are celebrating Love Your Produce Manager® Day to show our appreciation for their work.
So, why should you love your produce manager and other produce team members?
They know what's what
Is this cilantro or Italian parsley? Is scallion the same thing as green onion? (The answer is yes.) Can you help me find a jicama? Your produce managers can help you navigate the produce department and find the exact fruit or vegetable you're looking for. They can also answer your questions about certain products. Not sure how to eat a cherimoya? Your produce manager can help you with that!
They know what's fresh
Produce managers definitely know their produce. They can tell you what's in peak season and when your favorite vegetables will be back in season. They also have the knowledge to help you pick the best fruits and vegetables from the shelf!
They provide inspiration for your next meal
Supermarket produce people know how to make those fruits and vegetables look enticing with creative and colorful displays. Merchandising these perishables could be considered an art form, and it may even inspire you to pick up something for a recipe you've been meaning to try. While not all produce staff are gourmet cooks, many do have a handy tip or two about the best way to store and prepare some of the fresh items in your basket. Ask your produce manager about his or her favorite recipe and try it out for yourself.
They can help you get what you want in the store
It never hurts to ask your produce manager about hard-to-find items or to request specialty items. Produce managers are your connection to new and exciting produce. Your input helps them stock their shelves better and gives them opportunity to bring in something new to the stores. For example, back in the 1960s, a shopper asked a produce manager for what we now know as the kiwifruit. He, in turn, asked around, and we found them for him. The rest is history!
Two words: free samples
Would you like to know what a lychee tastes like? Your produce manager may be able to help you with that. In some supermarkets, produce managers can provide a sample of products upon request.
Now that you know how resourceful produce managers are, make sure to stop by and say hello to your local produce guy or gal the next time you're in the store.
(And don't forget to show them extra appreciation on April 2 on social media with hashtag #LYPM.)
Take egg roll and wonton wrappers beyond Asian cuisine
Egg rolls and wontons have never wandered far out of the American culinary purview.  After all, Chinese cuisine is one of the most popular ethnic foods in the U.S.
However, we have seen surge in popularity with egg roll and wonton wrappers in recent years as more people are cooking at home. Home cooks are wrapping and rolling fearlessly with all the video tutorials out there to guide them along the way, and with the wrappers being readily available at supermarkets.
[youtube=https://youtu.be/w4fth81B0_U]
But egg rolls and wontons have come a long way from the traditional filling of meat and vegetables and deep frying. Have you tried the Tex Mex, avocado, or salmon egg rolls at the Cheesecake Factory? Or perhaps the chicken wonton tacos at Applebee's?
Clearly, these little pastry sheets are definitely meant for so much more than just egg rolls and wontons. They're just waiting for you to unwrap and unleash a delicious culinary world beyond the traditional Asian applications.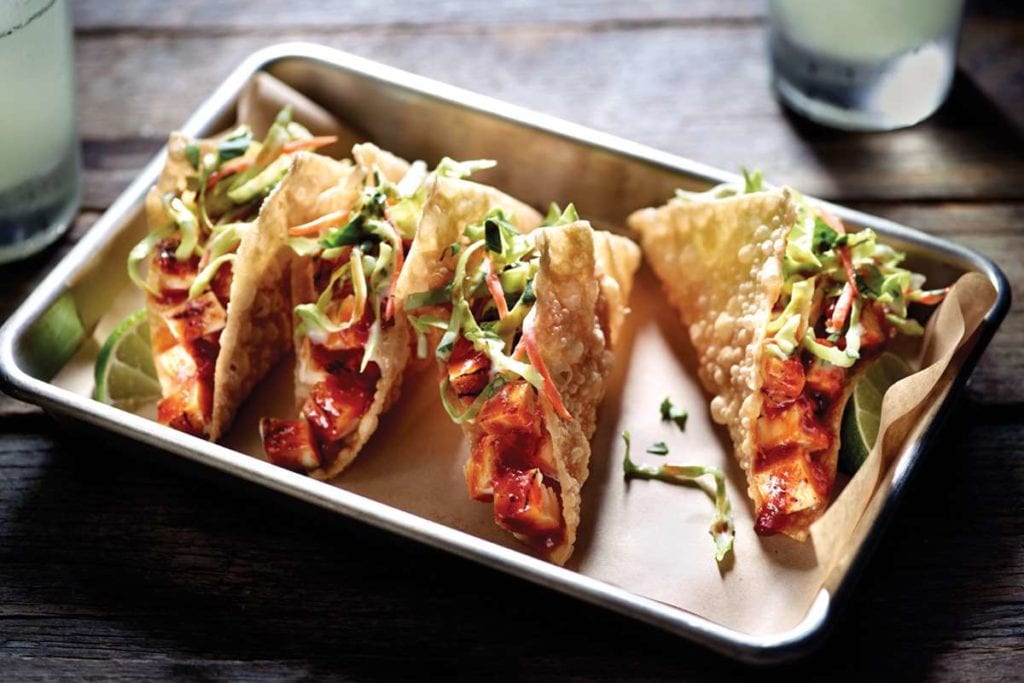 Wok, away, grasshopper! Here are three creative ways to use egg roll and wonton wrappers.
Meal In a Cup
Eggroll wrappers fit perfectly into standard muffin tins, and smaller wonton wrappers are adorable in mini tins! After a quick trip to the oven, these pastry cups are ready to be filled with just about anything from sweet to savory.
How to: Spray muffin tins with cooking spray or brush lightly with olive oil, then fit one wrapper into each cup. Depending on a recipe, you may fill them and bake them off all in one go, or you may have to bake the cups first, fill them, then bake again. Either way, the results are the same: delicious, bite-size morsels!
With what do you fill them? Anything you heart desired! You can just spoon in some Chinese chicken salad, or take a southwestern turn and fill with black bean salad with avocado. For a hot meal, try ricotta cheese with meat sauce topped with mozzarella for a lasagna cup, ground turkey taco filling topped with cheese and tomatoes, or jalapeno poppers like this one below.
[youtube=https://youtu.be/wVQiP5kvomM]
Fresh Pasta Stand-In
No time to roll out fresh pasta? Egg roll and wonton wrappers to the rescue!
Use egg roll wrappers as lasagna sheets. No need to pre-cook the noodles! Just layer them in as you would with your regular lasagna application. Cover and bake until the noodles are cooked through, then you can bake a little longer or put the lasagna under the broiler if you like that brown and melty, cheesy crust.
As for wonton wrappers, they are just the right size for making ravioli. Fill these sheets with anything from simple ricotta (and bake for appetizer) to the show stopping raviolo al uovo with ricotta and runny egg yolk center.
[youtube=https://youtu.be/IGtSyNEGhEs]
Sweet Sensations
The sky's the limit when it comes to using egg roll and wonton wrappers for desserts! Make the dessert cups by brushing on melted butter instead of non-stick spray. Sprinkle on some cinnamon-sugar for a perfect ice cream vessel (hm…dulce de lechce ice cream…), apple pie filling, or cannoli cream.
You can also make traditional shaped egg rolls and wontons that are crispy on the outside and filled with oozy, gooey, yummy sweet fillings like fried chocolate hazelnut banana raviolis, or S'more egg rolls filled with chocolate and marshmallow fluff.
[youtube=https://youtu.be/Y_yrKXVBGPE]
And by the way, these egg roll and wonton wrappers freeze really well. Pack unused portions into a zip top back, squeeze out all the air, and pop them into the freezer. They'll keep for at least two months. Just thaw them out in your refrigerator overnight before use.
But seriously though, with all the things you can make with these wrappers, we doubt you'll have them in your freezer that long.
Peak season citrus and fresh vegetables play major roles in this food-centric lunar festival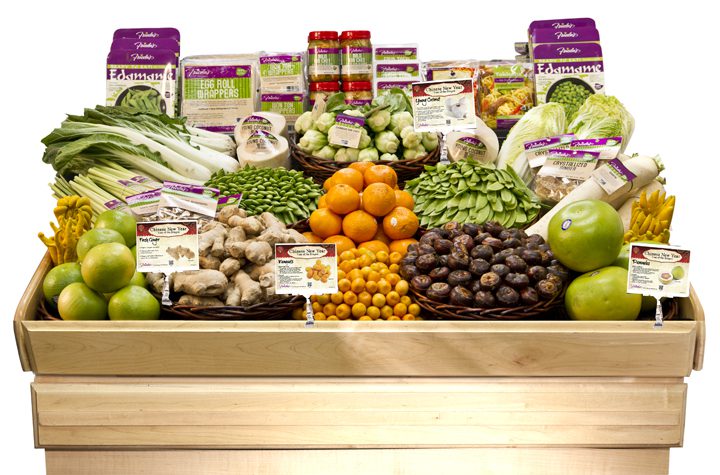 Hang the red lanterns, gather your citrus fruits, and cook your noodles. On February 16, it's time to welcome the year of the Dog!
Chinese New Year (or Lunar New Year) is the most important traditional Chinese holiday, and is celebrated around the world. The celebration starts on the second new moon after the winter solstice, which is on February 8, 2016, and goes on for 15 days. During this time, also known as the Spring Festival, those who celebrate visit temples to pay respect to their ancestors and pray for good fortune in the coming year. Small red envelopes of money are given to children as a token of good luck and prosperity. And, like most any family-centered holiday, everyone gathers around for a family feast, making Chinese New Year one of the biggest food holidays of the year.
Food is definitely a focus of Chinese New Year celebration, but it's more than just nourishment. In Chinese traditions, foods served during the festival have auspicious meanings. Chinese traditions are rich with wordplay and symbolism. Some of the dishes and ingredients have names that sound similar to words and phrases referring to good wishes.
For example, "Kumquat" literally means "golden orange." Symbolizing wealth and prosperity, the little citrus fruits, and sometimes the tree saplings, are given as gifts during Chinese New Year. Other "wealthy" fruits include Oranges and Tangerines. The larger citrus like Pummelos and Grapefruits symbolize abundance, prosperity, and family unity.
Another item that represents good fortune is Daikon or Asian Radish. In one Chinese dialect, the word for radish is a homophone for "good fortune." This is why the savory radish cake is traditionally eaten during Chinese New Year celebration. But Daikon is more versatile than that. It can be added to soups and stews, steamed, or eaten fresh, chopped up or thinly shaved into salads.
Daikon could be a part of the mixed vegetable dish that represents family unity. This typical stir-fry is made with a touch of oyster sauce for business success and a mix of vegetables like Shanghai Bok Choy for close family ties, and Woodear and Shiitake Mushrooms for longevity.
The ultimate longevity blessing, however, comes from the noodles. Long and uncut, they symbolize long life. While Chow Mein is a traditional choice, other Asian noodles like Yakisoba are used for pan-fries and stir-fries, and Udons are used in soups. Shrimp may be added for liveliness and pork for abundance of blessings.
One of the many Chinese New Year wishes translates to "May your happiness be without limit." With good eating like this, it definitely is the beginning of a very happy year!
Kung Hei Fat Choy! (Happy New Year and be prosperous!)
Want more? Sign up today to receive occasional updates from Frieda's.

[youtube=https://www.youtube.com/watch?v=zYCn4Wix6dw]
Our president and CEO Karen and our company were featured on Intel's #SheOwnsIt series which spotlights women small business owners and their journey of success.
"It is an absolute requirement to be fearless when you run a business. Sometimes you're going in a direction no one else has been before. And the leader has to be leading the charge."
And we'd follow her anywhere.
Demystifying different types of purple-fleshed sweet potatoes, one tuber at a time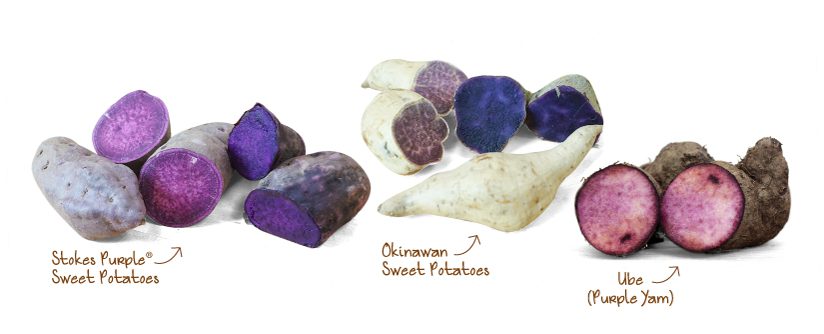 There is no doubt that purple sweet potatoes have gained popularity over the past year. But not all varieties of purple sweet potatoes are created equal.
Oh yes, there is more than just ONE purple sweet potato variety!
The three main types of purple flesh sweet potatoes consumed in the U.S. are Stokes Purple® sweet potatoes, Okinawan sweet potatoes, and Ube (pronounced OO-beh). Consumers—and even food writers—often confuse these three because of skin or flesh color, different names, and even because the Internet shows confusing images. As a matter of fact, one of them is not even a sweet potato at all but a true yam. (And no, a yam is not the same as a sweet potato either, but that's a whole other story.)
Follow us down the purple trail, friends.
Stokes Purple® Sweet Potatoes
Born in the USA, Stokes Purple® sweet potatoes originated in Stokes County, North Carolina. They're now grown commercially in the perfectly sandy soil of central California. Available from late August through early to late spring, these sweet potatoes have purple-tinted skin with bold purple flesh that intensifies when cooked.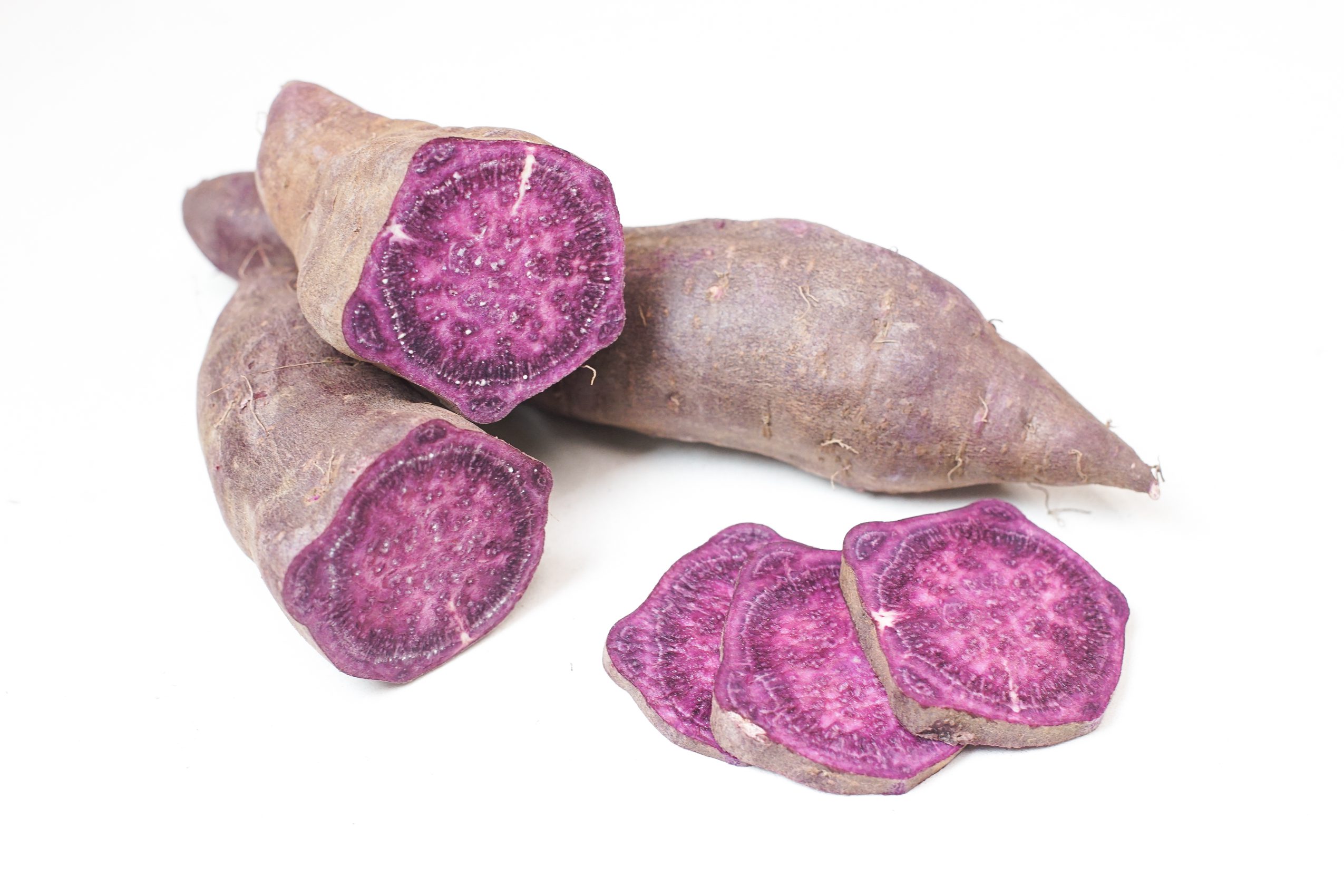 Stokes Purple® sweet potatoes have a drier, denser texture, and better-balanced sweetness than their orange counterparts. A good source of vitamin C, Stokes Purple® has the most anthocyanins, the antioxidant compound in the purple pigments, of all three purple sweet potatoes.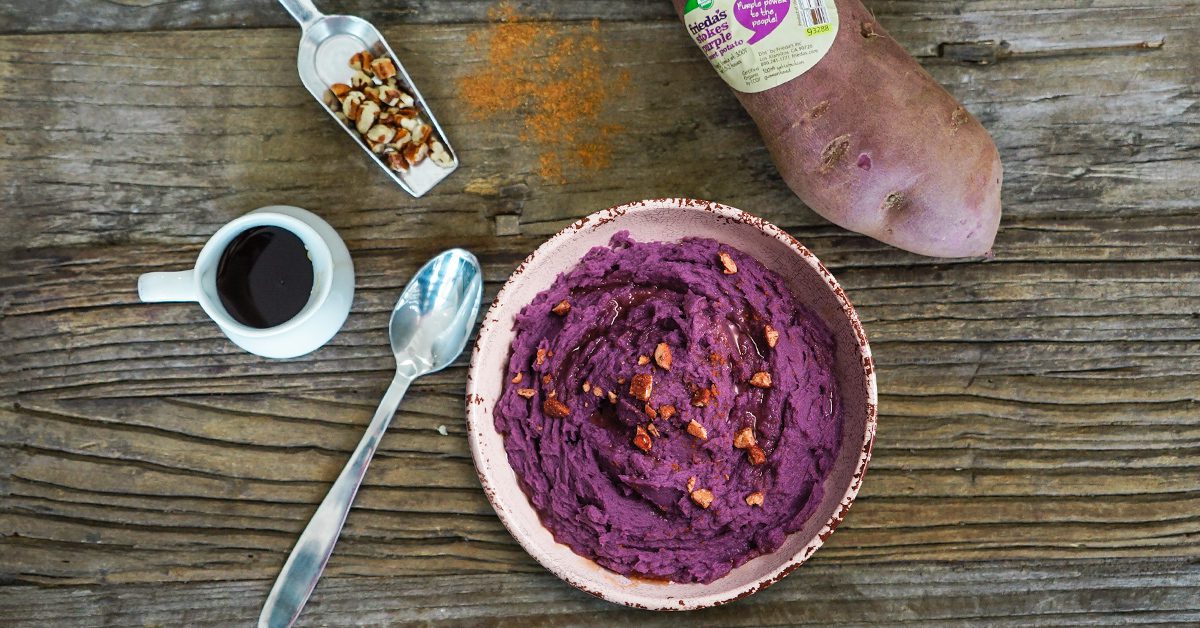 Because of their gorgeous color inside and out, Stokes Purple® sweet potatoes are often mistakenly identified as either Okinawan sweet potatoes or worse, ube.
Okinawan Sweet Potatoes
The origin of the Okinawan sweet potato reads like an adventure novel. Believed to have come from Aztec South America with the Spaniards to the Philippines and China in the 1490s, the plant did not reach Japan until the 1600s. The initial planting was in Okinawa, the southern island of Japan, before they were cultivated all over Japan. Eventually, these purple tubers ended up in Hawaii and became a part of the native menu, where they are also known as "Hawaiian sweet potatoes."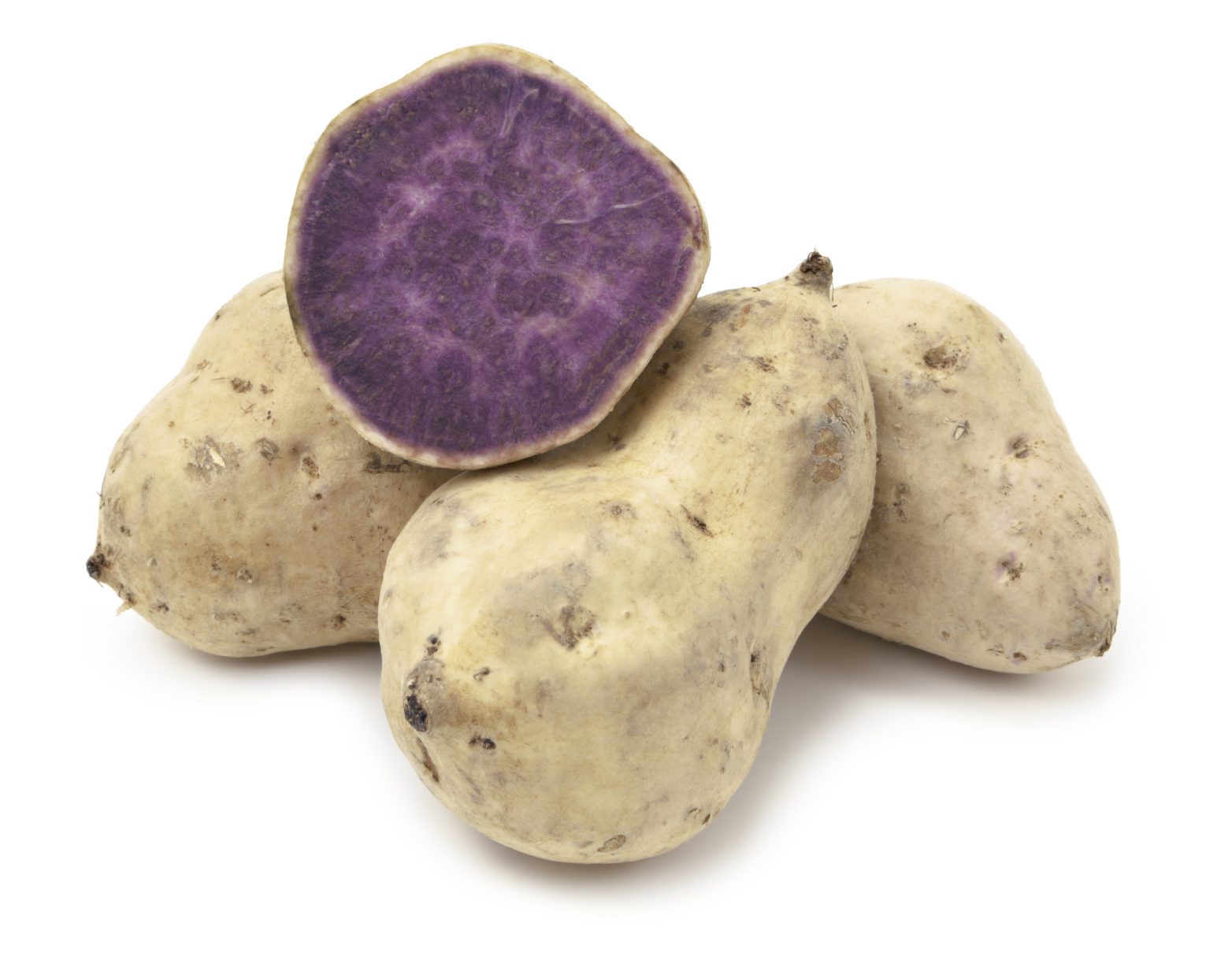 Beige on the outside and lavender-purple on the inside, these purple sweet potatoes are grown in Hawaii for the U.S. market. Blue-ish purple once cooked, they have a delicate, slightly sweet taste and a creamy texture that is on the starchy side.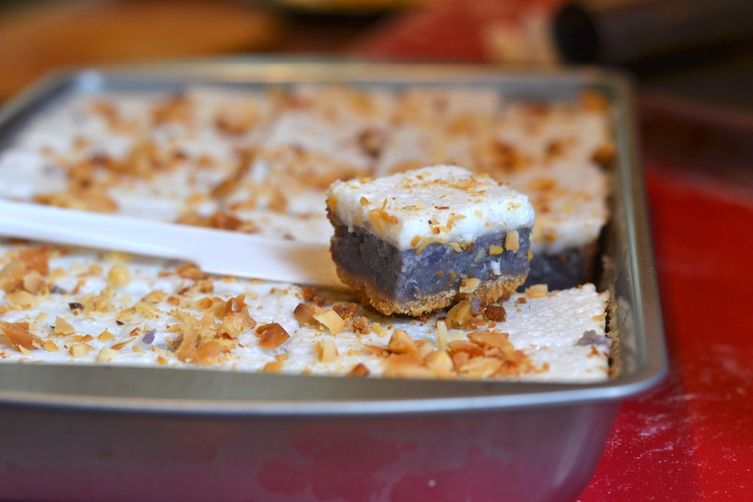 Because Okinawan sweet potatoes originated from Japan, they're often confused with Japanese sweet potato (also known as Murasaki sweet potato). It doesn't help matters that the Japanese sweet potato variety has reddish-purple skin too, but the flesh is actually off-white to cream-colored. You know that reddish-purple potato emoji on your phone? ? This is a Japanese sweet potato!
Instagrammer @MackAnneCheese captures Stokes Purple® and Japanese/Murasaki side-by-side here.

Ube (Purple Yam)
Ube is having a moment right now as dark purple donuts (made famous by Manila Social Club in New York City) and purple ice cream pop up everywhere. Also known as a purple yam, ube is a staple of the Filipino kitchen and is well loved all over Asia as a dessert ingredient for its sweet and nutty flavor.
With all the attention on ube comes the confusion about this elusive yam. (Yes, a true yam!)
First of all, ube is rarely available fresh in the U.S. Many people would say that they indeed have bought some "ube," but photographic proof usually shows they've bought either Stokes Purple® or Okinawan sweet potatoes, or sometimes even taro root.
This, folks, is a fresh ube.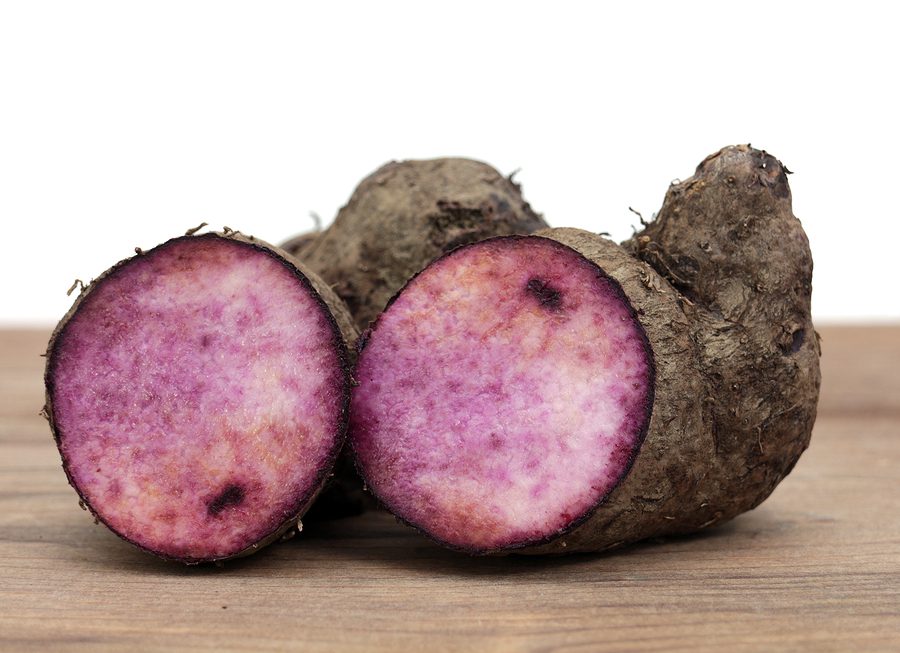 Blame it on the over-eager Internet! Search for an image of ube yourself and you'll understand the conundrum. Only when you search for ube's botanical name of Dioscorea alata will you find ube's true form: a tuber with brown, bark-like skin and flesh that ranges from white with purple specks to lilac.
Now, the ube that is used widely comes as a jam (Ube Halaya) or in a powder, extract, or frozen form. It turns out that preparing these true yams is labor intensive and that is why they're commonly available in processed form.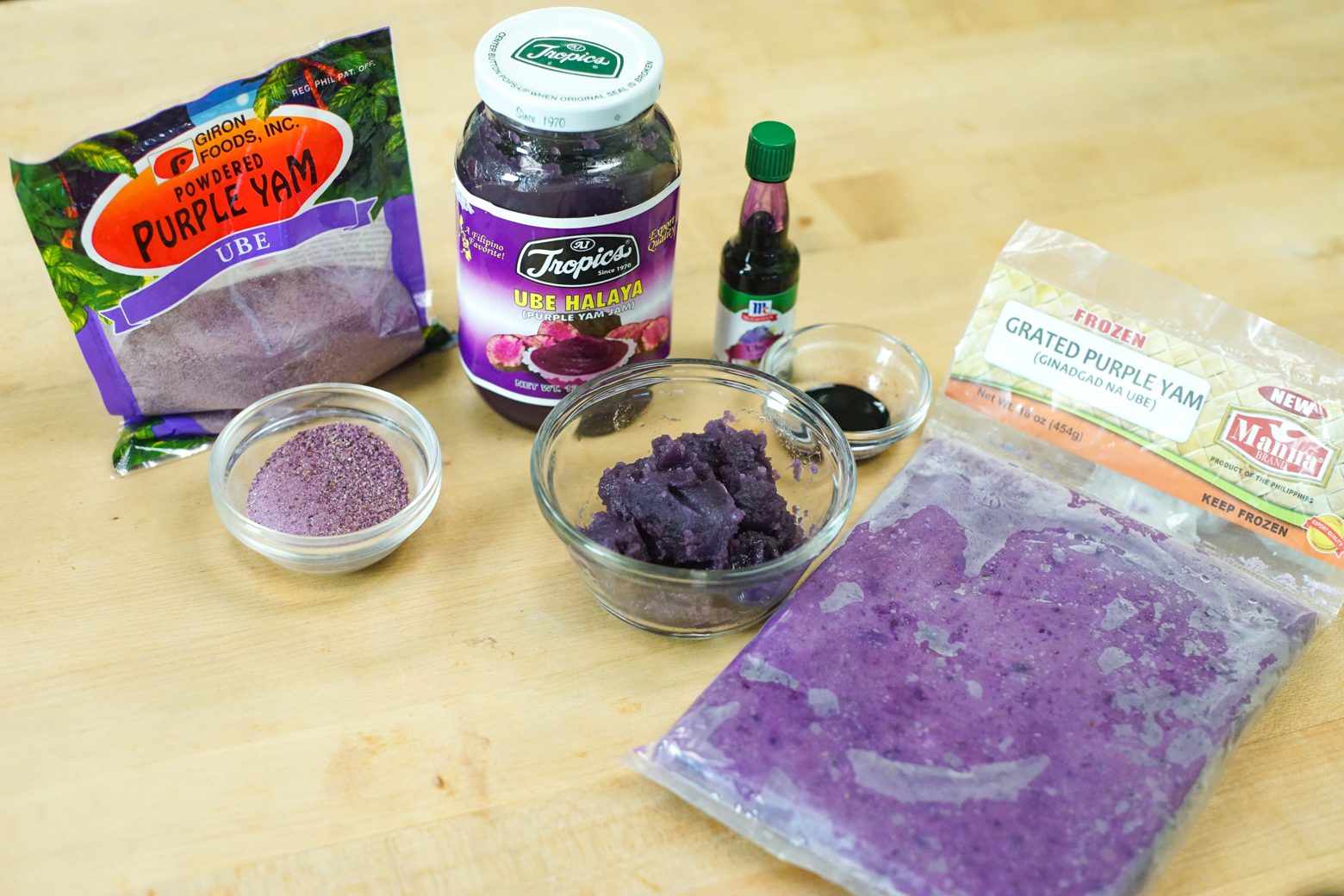 Let's recap what we've learned so far.
And remember, Murasaki or Japanese sweet potatoes ? are only purple ON THE OUTSIDE!
Now, go forth and explore all the majesty of purple sweet potatoes!
Save
Save
Save
Save
Save
Save
Save
Save
Save
Save
Save
Save
Save
Save
Ahh. The warm scent of cloves, allspice and cinnamon. Cooking with these spices fills up a room with a lovely, comforting aroma that always reminds me of the holidays. There's no better time to brew up some hot mulled cider!
To make mulled cider or mulled wine, you can use any blend of spices you like, but typically, mulling spices include cloves, allspice, cinnamon and orange peel. Frieda's mulling spices made it easy for you and pack all of the spices into a 3-ounce bag, ready to go.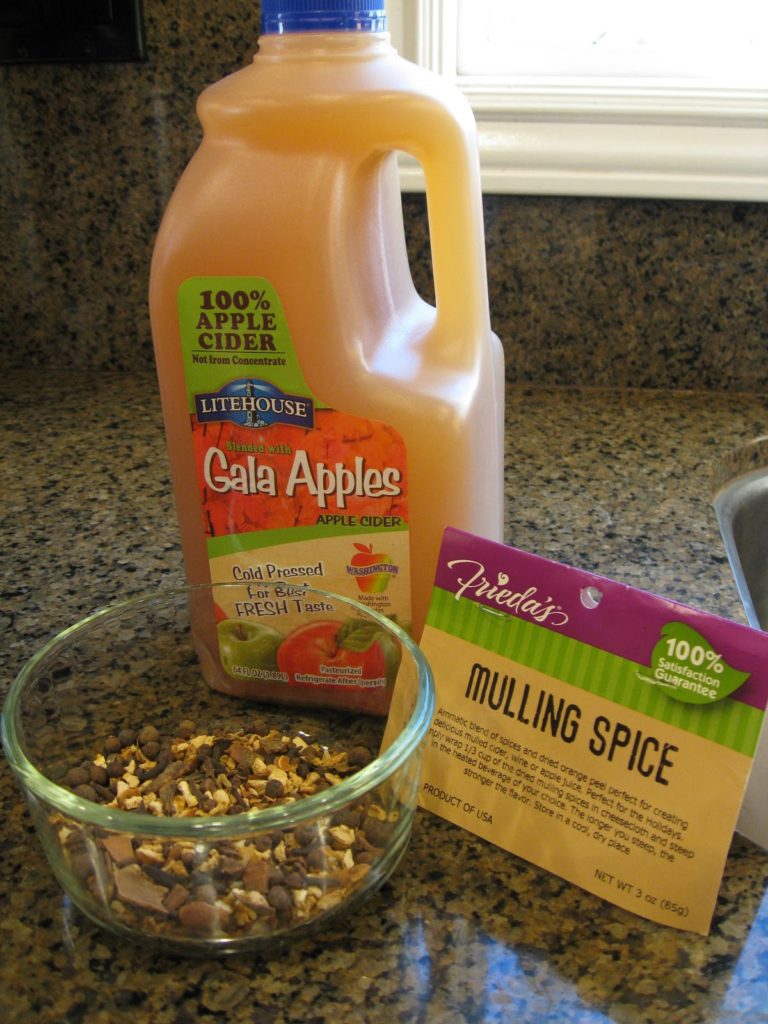 The ratio of spice to juice is about 1/4 to 1/3 cup of spice to a half-gallon of juice. I didn't have cheesecloth handy to make a spice sachet, so I just put the loose spices right into the pot with the juice.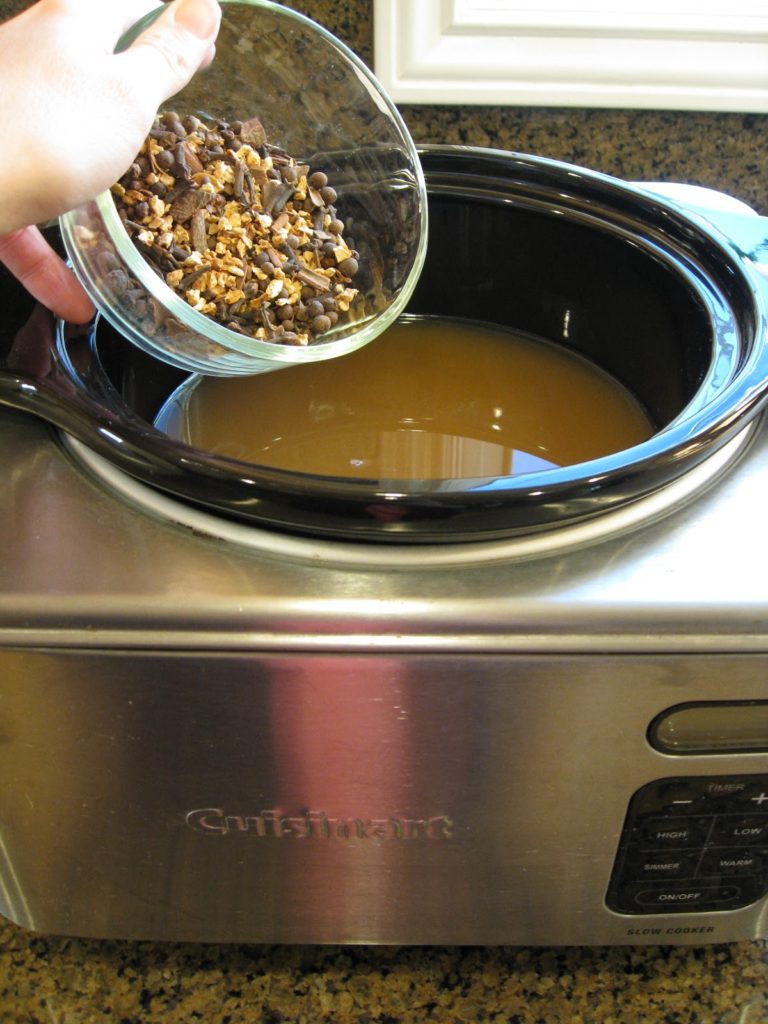 I heated the cider in my slow cooker for 2 hours on low. The house smelled fabulous!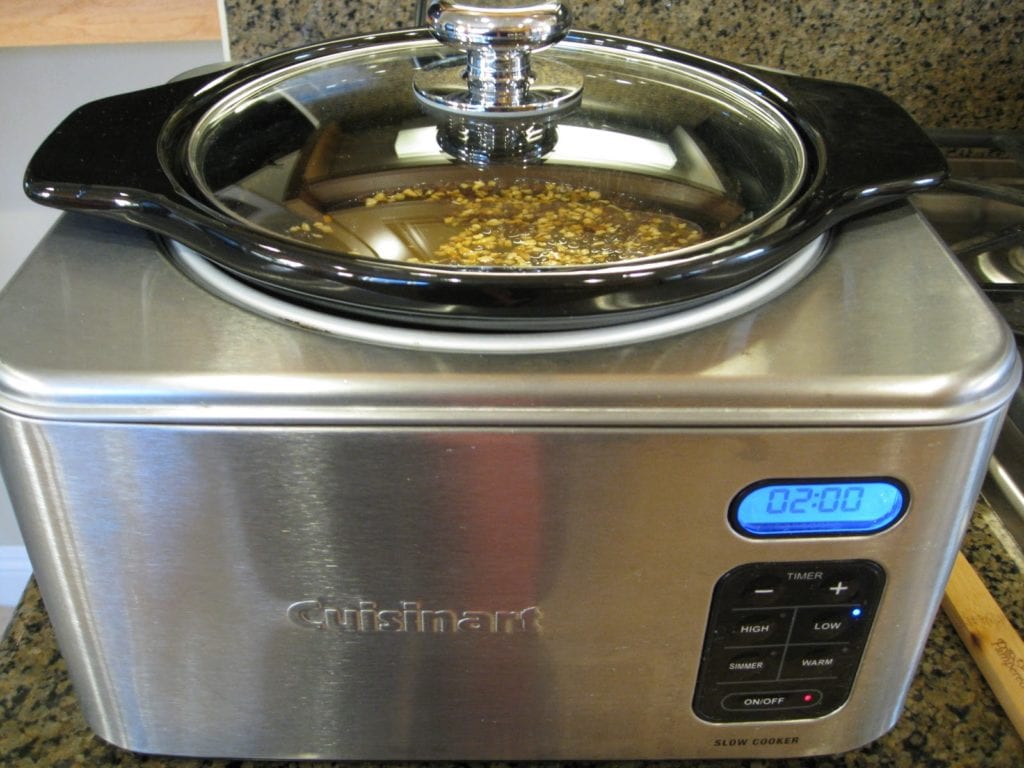 I just strained the juice to serve. I also strained the remaining cider and refrigerated it for later enjoyment.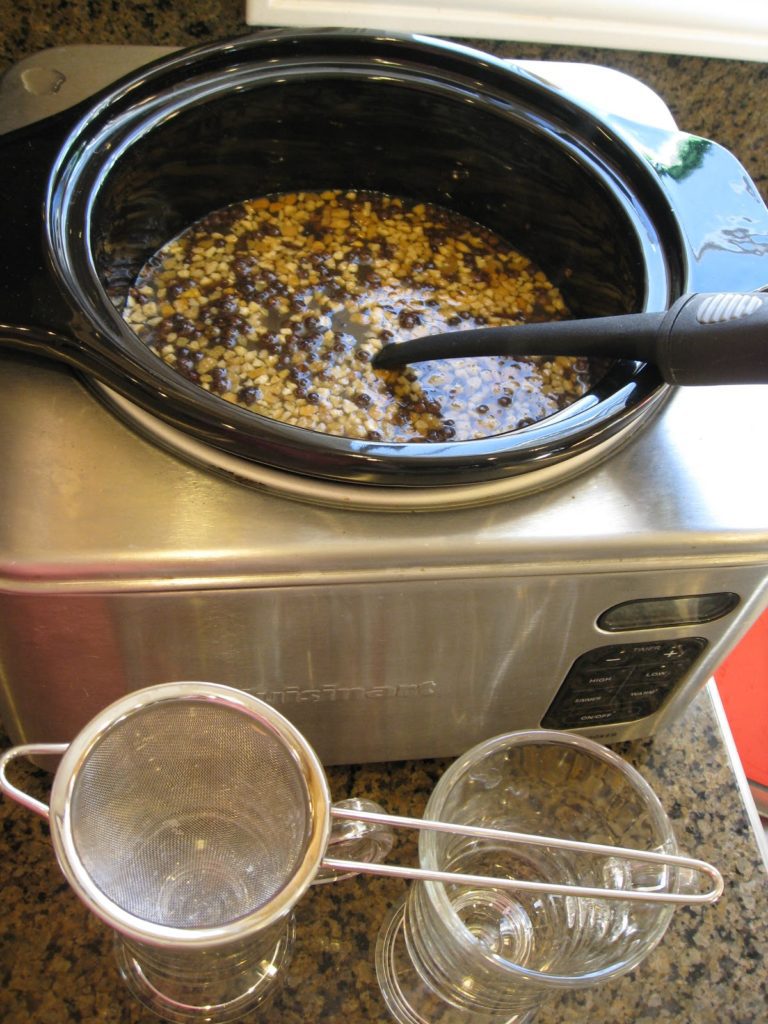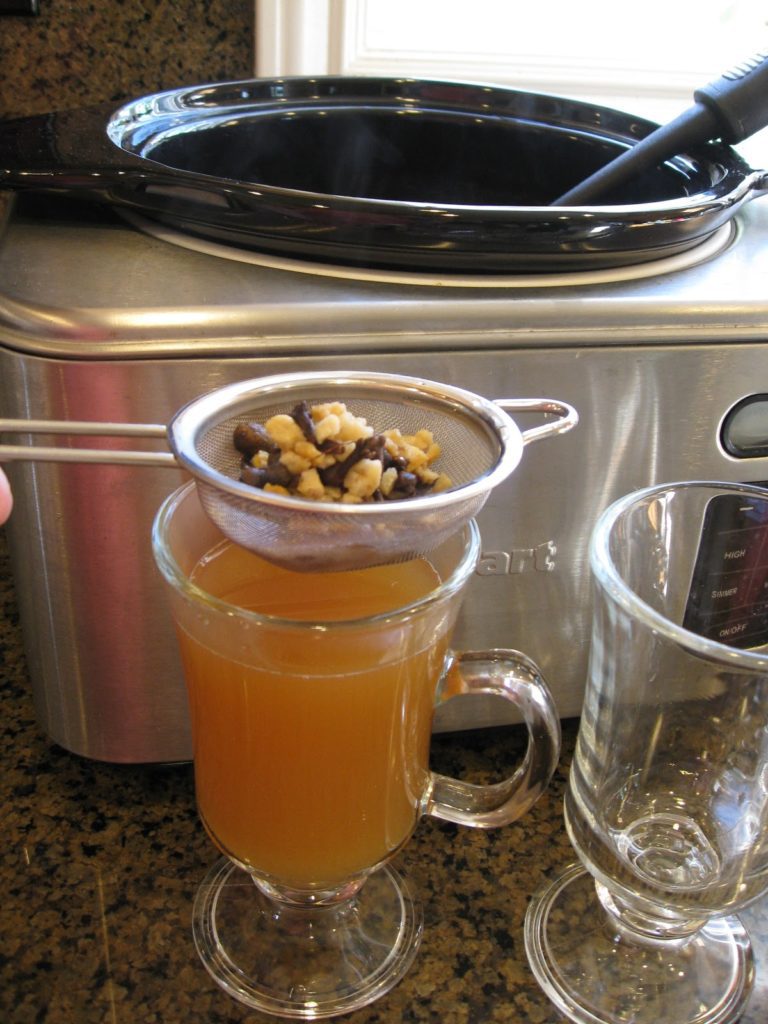 Yum! If I had cinnamon sticks handy, they would have been perfect in these glasses with a wedge of orange or lemon. The perfect warming winter drink! (If you are feeling more naughty than nice, you can always add a splash of brandy to your mulled cider for a little extra warmth…)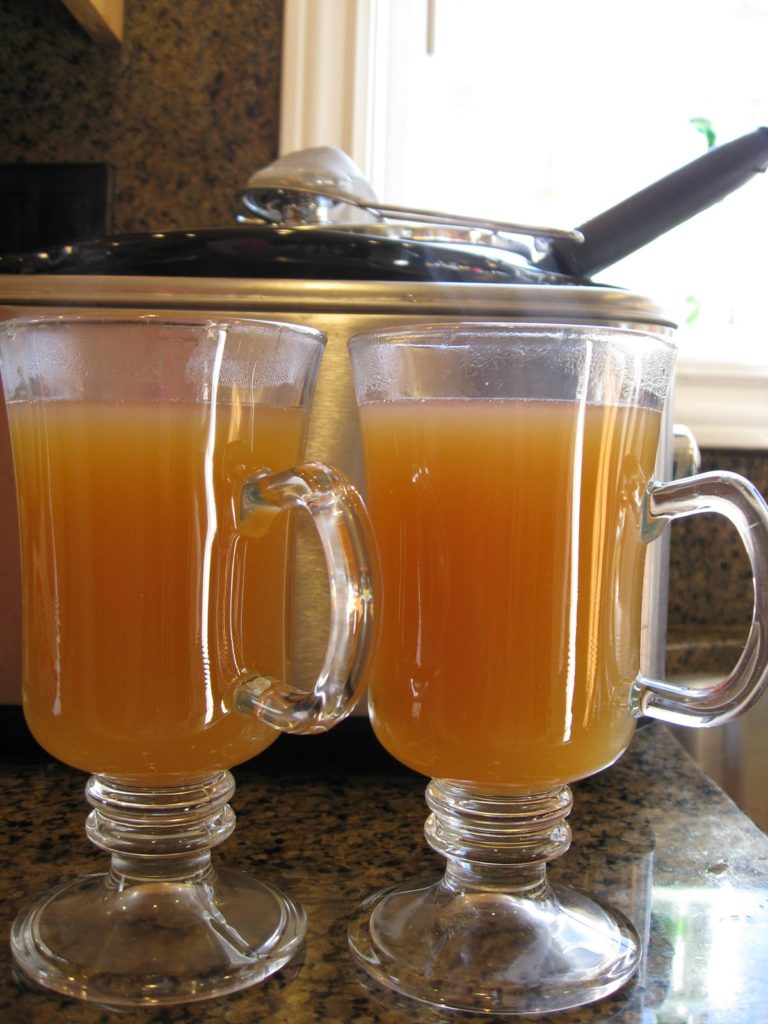 Cheers!
– Hazel
Save
Save
You've probably passed by this item thousands of times in your supermarket's produce department or baking aisle. Crystallized ginger – dried slices of natural ginger root, cured and coated in sugar. It sure sounds nice, but what do you use it for? Here we have 10 great ideas for putting this sweet, spicy and comforting ingredient to work in your kitchen:
1. Chop and add to batter for cookies, such as ginger snaps, or quick breads like gingerbread, orange bread or banana bread.
2. Chop and add to at pan with butter, fresh lemon juice and sliced green onions in a saucepan. Heat until melted and spoon over hot rice and serve with chicken or fish.
3. Finely chop and use as a finishing touch on apple pie a la mode or a whipped cream-topped brownie.
4. Chop and combine with nuts, brown sugar and spices for a baked apple or pear filling.
5. Roughly chop and add to a stir-fry for a sweet and spicy bite.
6. Dip pieces in melted chocolate. Let cool and serve as a special after dinner treat.
7. Roughly chop and add to water and sugar mixture to make ginger-infused simple syrup. Strain before adding to drinks, such as iced tea.
8. Finely chop and sprinkle into fruit salad for a spicy, zesty flavor lift.
9. Finely chop and add to a homemade cranberry sauce with orange zest.
10. Just snack on this sweet treat right out of the package. Crystallized ginger is especially helpful for calming the stomach while traveling.
Can't have enough? Here are some more simple recipes:
Save
Wow your friends and family with these unique and delicious holiday potluck dishes
Having friends over for Thanksgiving dinner instead of visiting family for the holiday is not a new idea. "Friendsgiving" is a usually potluck dinner with friends (aka "the family you choose") which could be in addition to or instead of the traditional Thanksgiving feast with family.
That Thanksgiving potluck your office is having? That's technically is a Friendsgiving too!
In the sea of sameness of traditional holiday dishes, why not bring a creative and adventurous dish so you'll be remembered?
And because you'll be using fresh ingredients that are bit off the beaten path, you won't have to fight anyone at the grocery store for that last Russet potato or orange sweet potato.
We've gathered some great recipes for you here. You're welcome. #GobbleGobble
Honey Roasted Cipolline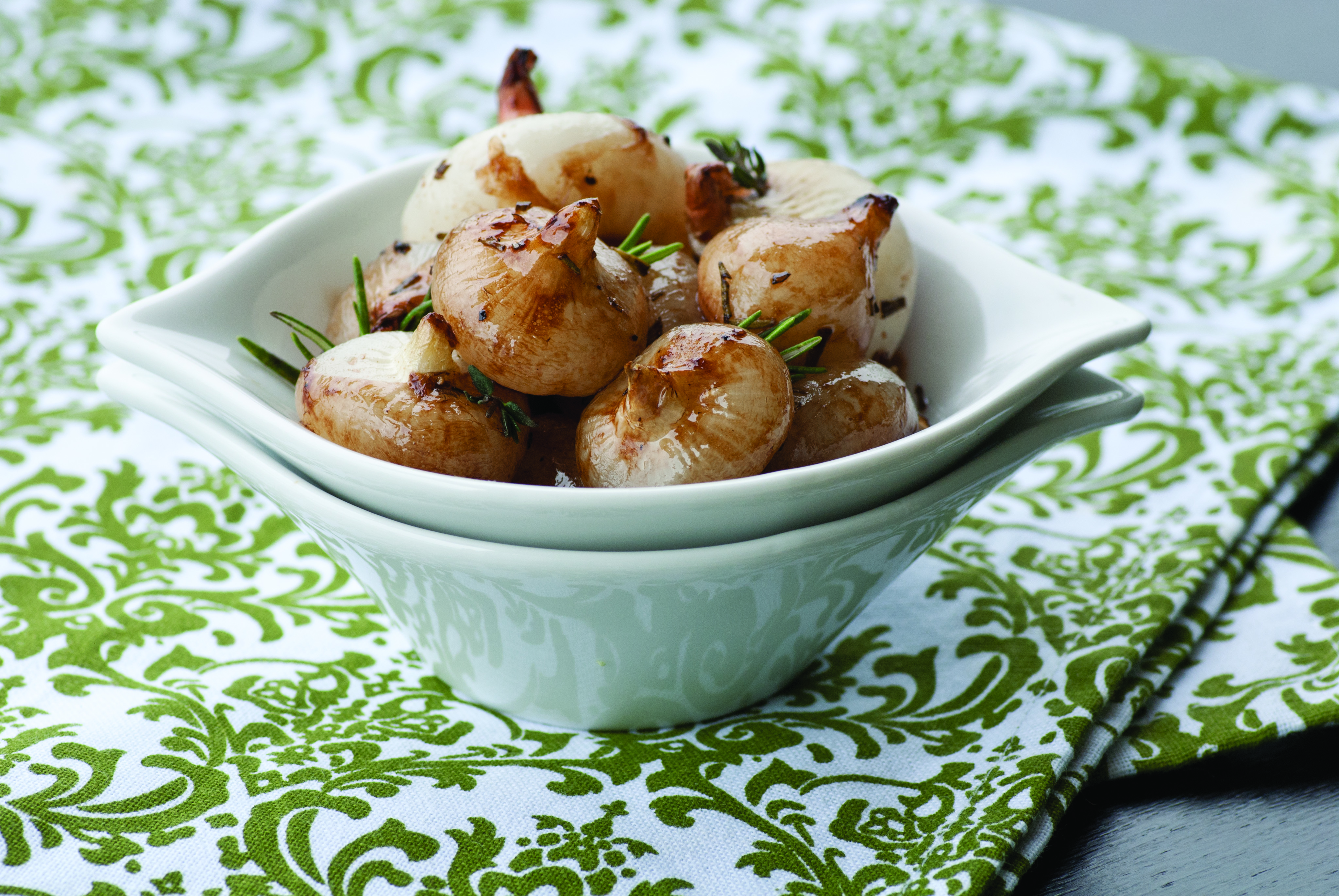 Sweet and savory, and looks impressive. Nothing at all like your grandma's creamed onion! Recipe here.
Celery Root and Cauliflower Puree
[youtube=https://youtu.be/cwZO5-bSYAg]
Set those paleo, gluten-free, and/or low carb friends at ease with this delicious "mash." Recipe here.
Heirloom Tomato Pudding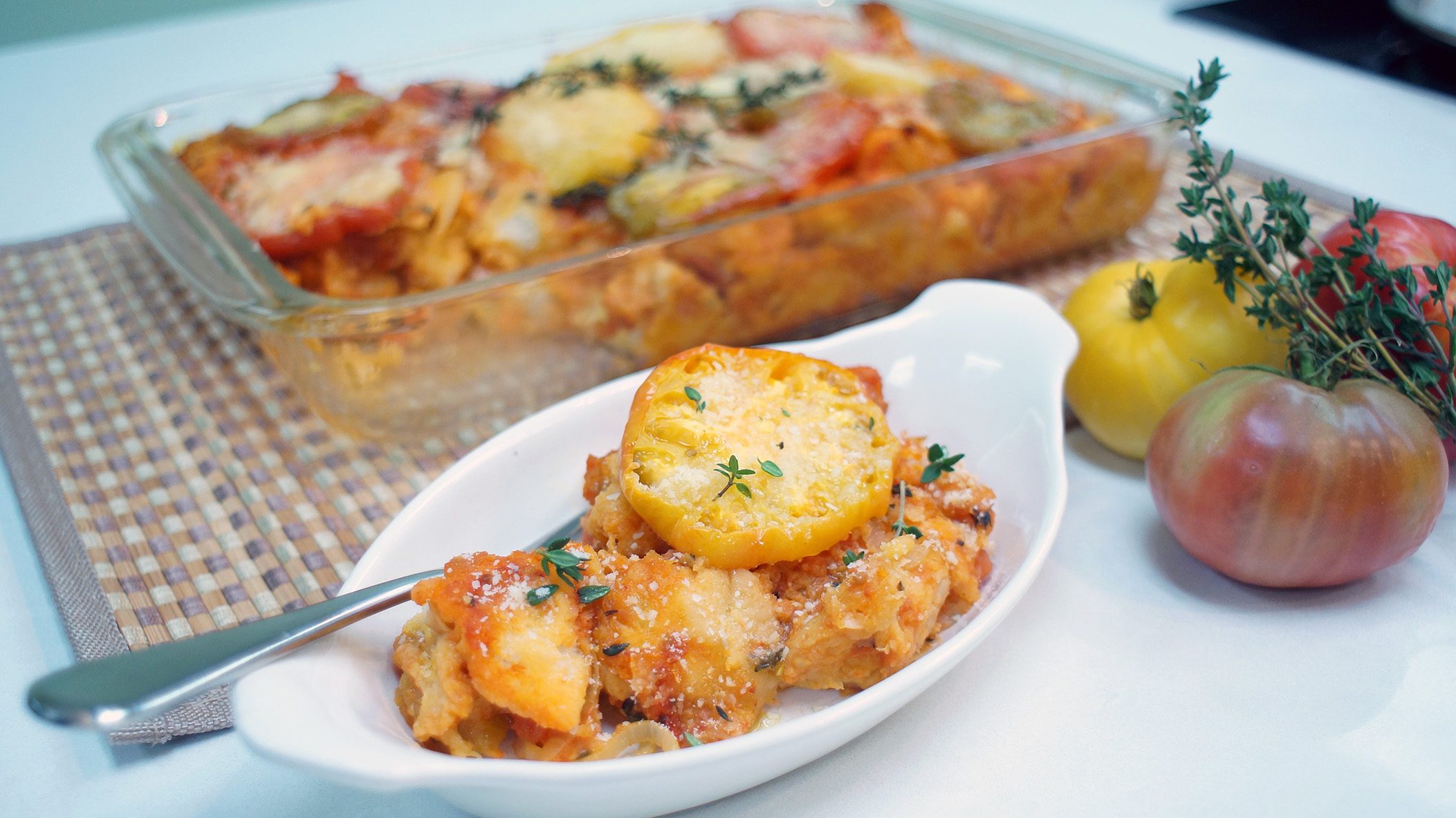 A cross of stuffing and a pasta dish. Flavorful and definitely a showstopper. Recipe here.
Whole Roasted Purple Cauliflower
[youtube=https://youtu.be/F4Db2i_GJ4Q]
Actually pretty easy to make. You just need a little time! Recipe here.
Pear and Ginger Pie with Struesel Topping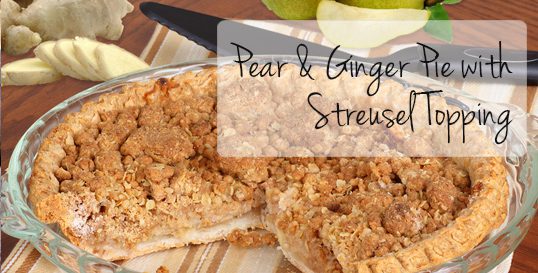 Warm your heart and soul with this fragrant and a little spicy departure from the usual apple pie. Recipe here.
Purple Sweet Potato Pie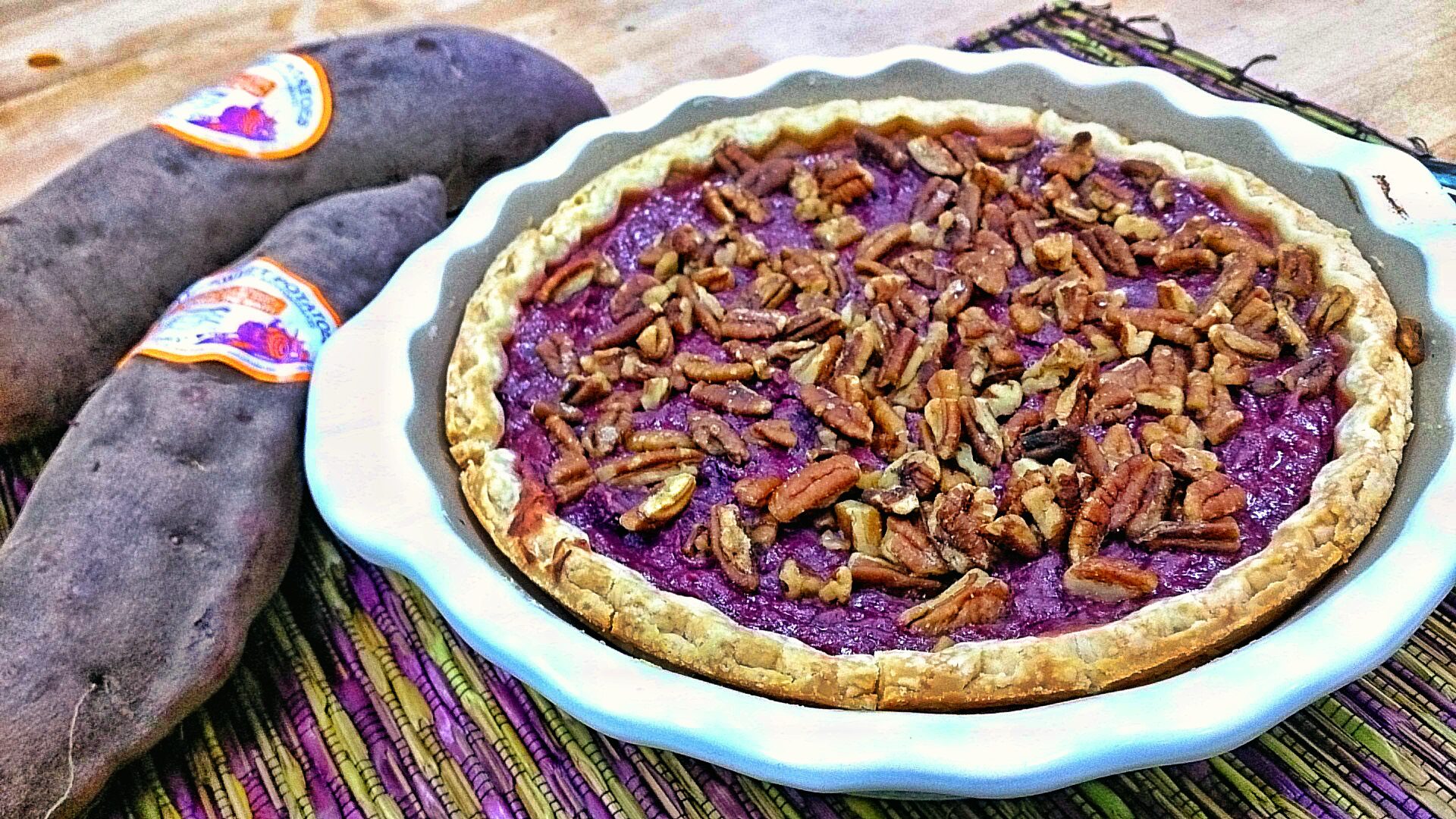 Turn the whole season upside down by adding a purple pie to the table! Recipe here.
Don't eat a jackfruit alone–call your friends and host a jackfruit party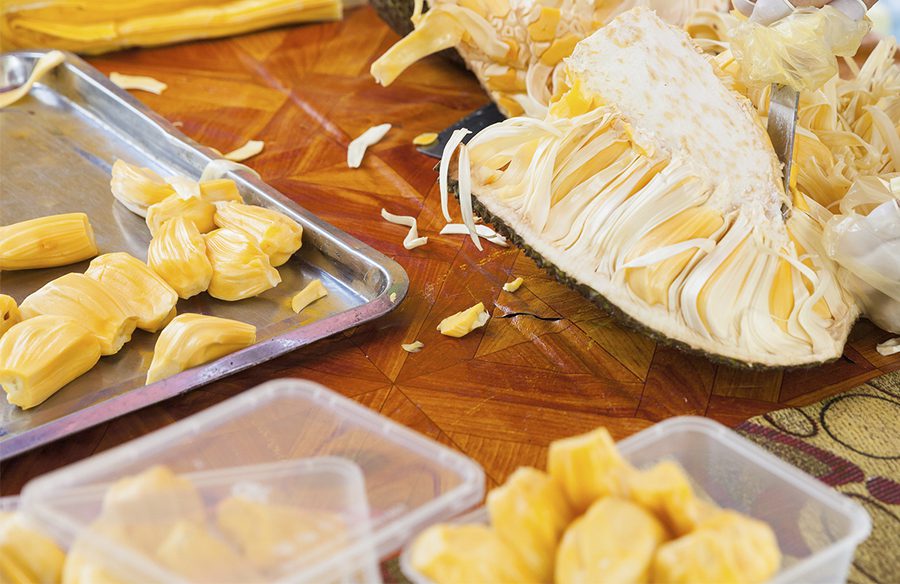 So, you've always wanted to try fresh jackfruit, and your local supermarket finally stocks them. Upon seeing the fruit in real life, the sheer size of it scares you—weighing in anywhere from 10 to 20 lbs. What are you going to do with all that fruit?
You call your friends and family over for a jackfruit party, that's what you're going to do.
The jackfruit is truly a community fruit, a fruit worth sharing. The largest tree fruit in the world, jackfruit could grow to be 100 pounds. In Asia, the bounty of the fruit is usually shared among friends and family members. Seriously, fruits from one tree could feed a village!
Here in the U.S., you can still call up your "village" and share the jackfruit experience. Set up a jackfruit station where you can show your friends how to cut into the jackfruit. Hand everyone a quarter of the fruit, then have each person divvy up the sweet yellow pods so everyone can take some home. (The seeds are also edible once cooked.)
You can even build a luau or tiki party around a jackfruit. Forget the pig roast. Haul in a 20-pound jackfruit and use that as the showpiece! Make vegan Hawaiian kalua "pork" with jackfruit for dinner and serve up the fresh cut jackfruit for dessert.
If you can't get a party together, lucky for you, jackfruit pods are also great for freezing. Lay those yellow pods on a baking sheet, freeze whole, then put them in zip-top bags for storage. You can even refrigerate a whole slice of jackfruit—skin and all—to process later too if you can't do it all at once.
For fresh jackfruit pods, choose fruit that is fragrant with a golden brown skin that yields to pressure. Softer fruit means it'll be easier to process, and the pods will be fragrant and  sweet too. If you need jackfruit for cooking like pork, you would want an under-ripe, green and firm fruit.
Watch this video below and follow our handy guide to processing jackfruit like a pro. You'll master this giant fruit in no time.
[youtube=https://youtu.be/GCxBQCYrDH4]
To open a jackfruit, you will need:
Newspaper or butcher paper, or plastic bag or disposable tablecloth to cover work area.
Plastic wrap to protect your cutting board. You can also use butcher paper.
Large, sharp knife
Sharp parking knife
Cooking spray, or a small bowl of vegetable oil and pastry brush
Food handling gloves
Lined trash can nearby
Bowls to collect pods and seeds
Spray cooking spray or brush vegetable oil onto the knife to prevent sticking. Wipe down and re-oil the knife often so you don't get stuck with all the sap at the end.
Quarter the fruit by first cutting crosswise, then lengthwise into quarters.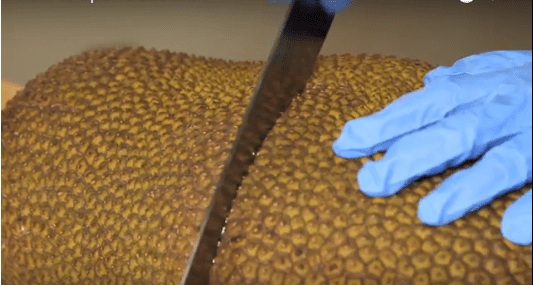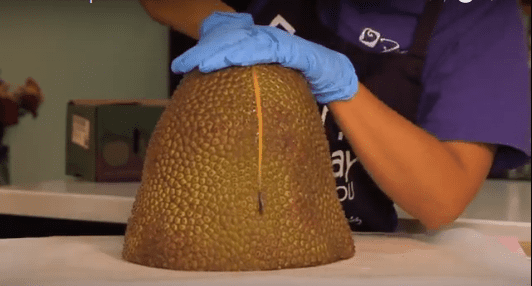 Cut out the core from each piece. You should be able to get to the pods more easily now.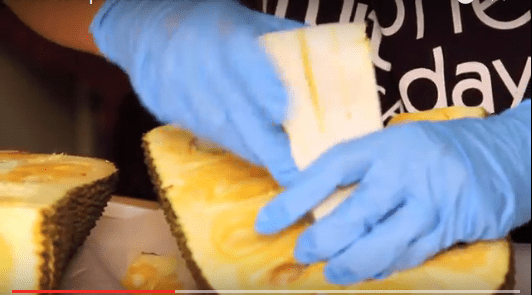 Using your hands or a paring knife, extract the yellow pods from the filaments and remove the seed from each pod. Reserve seeds if using, or discard.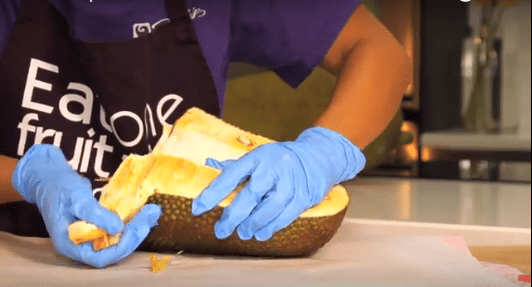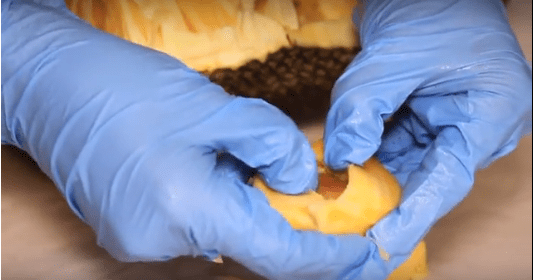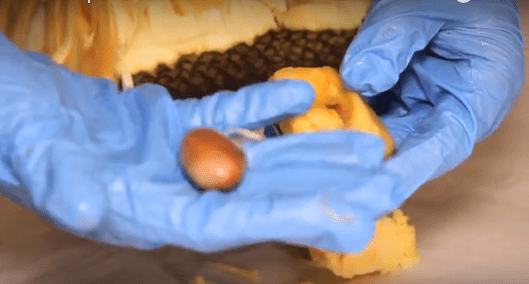 Rinse the pods in water, and they're ready to eat. Pods can be wrapped/covered and refrigerated overnight or frozen whole. Wrap any uncut chunk(s) of the fruit in plastic wrap and refrigerate or freeze.
If the jackfruit leaves behind any gooey, sticky sap, clean up by rubbing the spots with cooking oil, and then hit it again with soap and water.
Have fun at your party!
Save
Save
Save
Fresh turmeric root is a fantastic ingredient, however it stains just about everything—skin, clothing, cutting boards, and even your plastic containers and food processor bowl!
Of the many ways to remove stains, some are more successful than others. We've listed a few that we have tried from the wonder powder that is baking soda to the stain removal nuclear weapon that is bleach.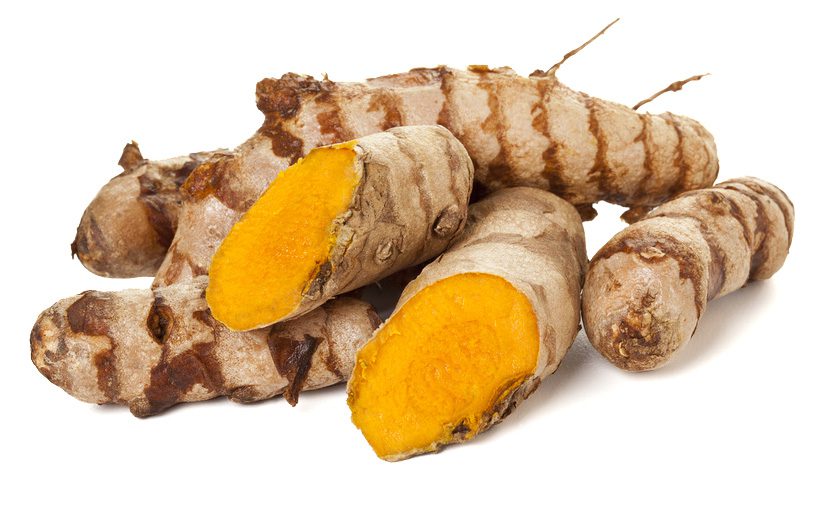 Surfaces
Baking soda: Make a paste with baking soda and a few drops of water, apply generously around stained area. Let sit 15 minutes before scrubbing, then rinse thoroughly.
Distilled vinegar or bleach solution: Combine 1/2 tablespoon bleach or distilled vinegar with 1 cup water. Soak container in solution 30 minutes, then rinse thoroughly.
Clothing

Five helpful—and hopeful—steps to save your turmeric-tinted garments:
Gently dab or scoop off spill. Do not rub out stain with water! It will just spread the stain more.
Pour on baking soda to absorb additional stain. Let sit for 15 minutes, then shake off.
Soak area in vinegar solution—1 tablespoon vinegar to 1 cup water—then dab dry.
Wash immediately. If bleach-safe, use bleach.
Hang to dry in sun to break down more of the pigment.
Skin

Mix a few tablespoons of granulated sugar with a few drops of olive oil to make a scrub. Scrub away stain, then rinse.
Good luck!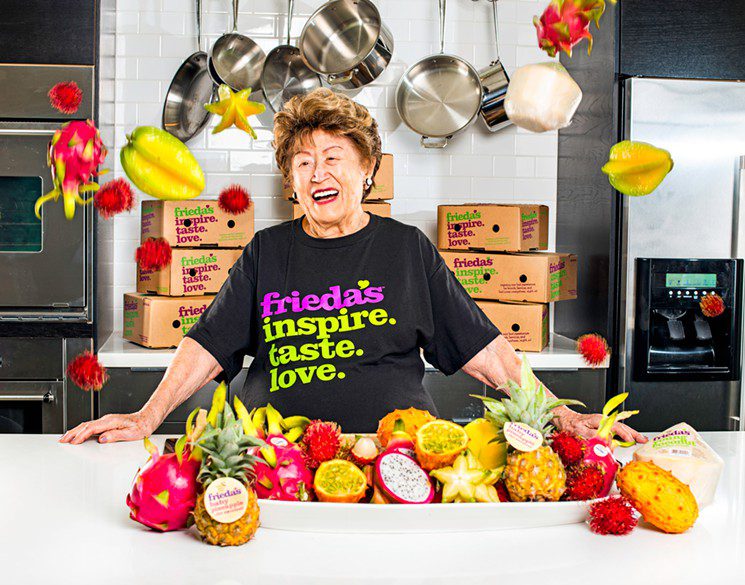 Our 92-year-old founder, Dr. Frieda Rapoport Caplan, was surprised and delighted when OC Weekly's Gustavo Arellano came calling for an interview for the March 2016 "People" issue.
"Frieda Caplan Taught America How to Fear No Fruit," says the headline.
Knowing what we're going to want to eat years before we know it: That's the Frieda's way. She called the move toward organic and fair-trade decades before anyone else and thinks we're undergoing a fundamental change in our diet, one Caplan's company is ready to capitalize on.

"Americans are eating less meat than ever before," Caplan says with a hearty laugh. "Isn't it wonderful?"
Yes, it is, Dr. Frieda. Yes, it is.
Save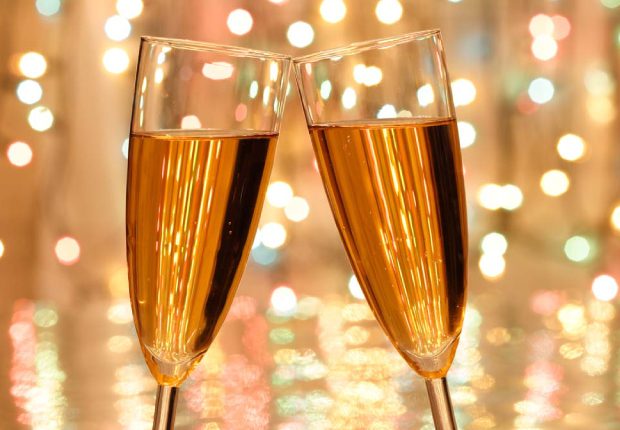 Keys to a great New Year celebration are preventing a hangover from happening, while also preparing to "cure" it after the fact. Many of the well-known and well-tested methods can be found right in your produce department. All of these "cures" can be prepared a few days before—or even on—New Year's Eve, so you don't have to stumble around the kitchen too much on New Year's Day.
Young Coconut
Staying hydrated is the number one hangover prevention and "cure." Coconut water is a great alternative to water to keep you hydrated before and after New Year's Eve celebrations. Since ideally you'll hydrate pre-party with one or two, I highly recommend also opening two or more for after the party. Cover them with plastic wrap and store in the refrigerator for easy access in the morning. I don't know about you, but I wouldn't attempt to crack open a young coconut with bleary eyes and a pounding headache.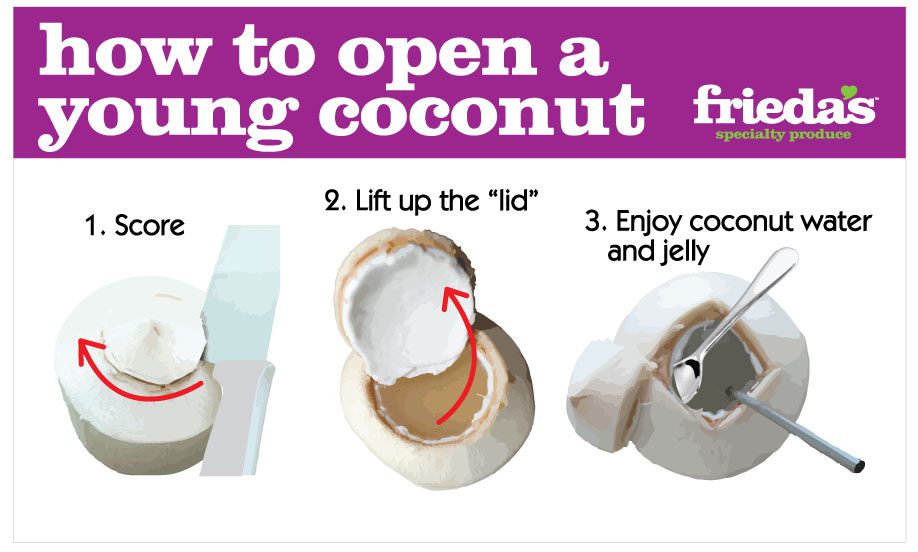 Ginger and Turmeric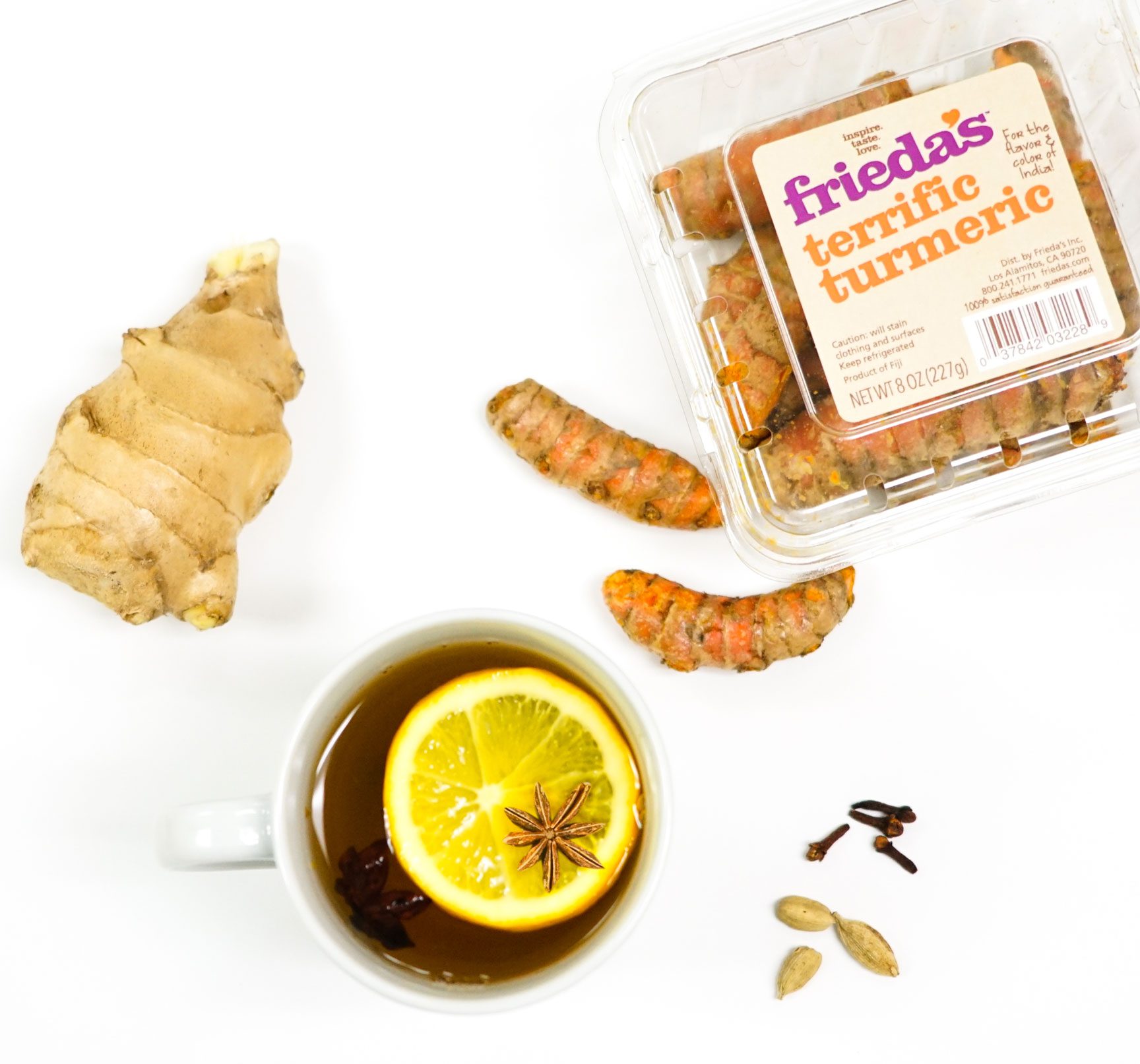 Ginger has been used for centuries to aid indigestion and settle nausea. Turmeric, the "It" spice of 2016, is known for its anti-inflammatory properties. Fortunately, both of them taste wonderful together in a tea that will sooth your stomach while helping you hydrate like this recipe here, or simply steep slices of both roots in boiling water, then add a bit of brown sugar or honey to taste. This "magic" elixir can be made ahead and kept in the fridge so you can just nuke it on New Year's morning.
Stokes Purple® Sweet Potatoes

Any starch can help alleviate nausea and general queasiness. Stokes Purple® Sweet Potatoes are a source of complex carbs and fiber that will help keep your stomach calm. They also have the added benefits of vitamin C to help you bounce back faster. Bake a few sweet potatoes on New Year's Eve and leave them in the fridge. They can be eaten hot or cold, hashed with eggs, or even mashed and added to pancake batter (with bacon).
As a testament, yours truly had once rolled off the couch the morning after overindulging, nibbled on some purple sweet potatoes on the way to a 5K race, and completed the run without any, um, incident. So, there you go.
Enjoy your celebration responsibly, and we'll see you in 2016!
Save
You have your tickets. You have your plans. But do you have the perfectly themed snacks to celebrate Star Wars: The Force Awakens with? You don't have to be the best cook in the universe to serve up intergalactic snacks. Just look in your produce aisle!
1. Starfruit
Obvious choice, isn't it? Slice Starfruit crosswise and serve fresh, make starfruit upside down cake, or play up the Dark Side and the Light by dipping the slices in dark and white chocolate.
2. Kiwano®
This horned melon is the golden cousin of Darth Maul. See?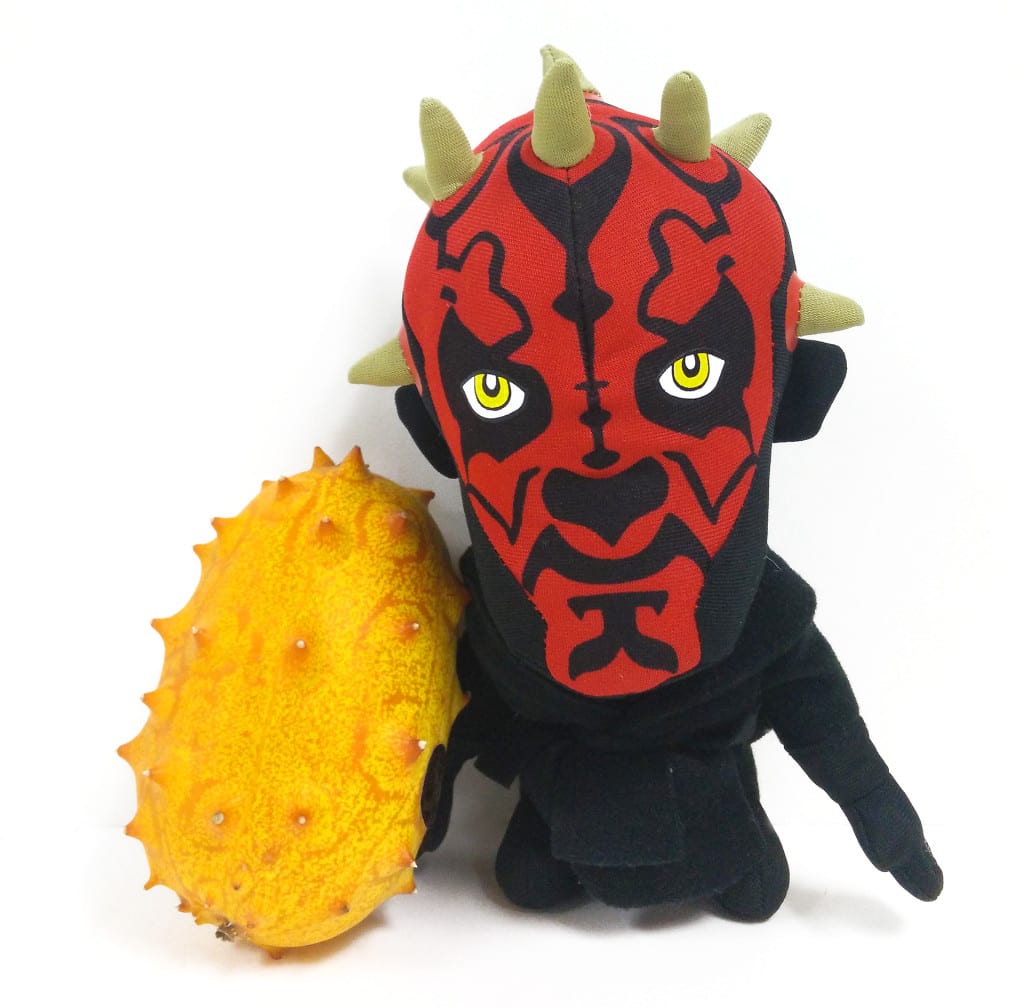 Relations or not, the Kiwano is alien-looking enough to serve up at your party. Did you know that you can eat the Kiwano whole–skin and all? Use a vegetable peeler to trim off the spikes, slice into rounds (or cut down the middle like Darth Maul!) and serve with a sprinkle of sea salt. A squeeze of Meyer Lemon also brings out a completely different flavor profile for this odd fruit.
And of course, the Kiwano's electric green pulp also makes great Mos Eisley-esque cocktails like Toxic Sludge Margarita or a Rum Martini served in the shell.
ETA 12/21/15: Kiwano melons were actually spotted in The Force Awakens along with some Romanesco! Did you see them? (We'll tell you where in January. No spoiler here!)
3. Icicle Radish
Recreate the Wampa cave scene with these spicy, pure white radishes. Nestle your Hoth Luke action figure or a mini Lightsaber on the platter, and serve with a snowy white dip or whipped butter.
4. Black Garlic and Elephant Garlic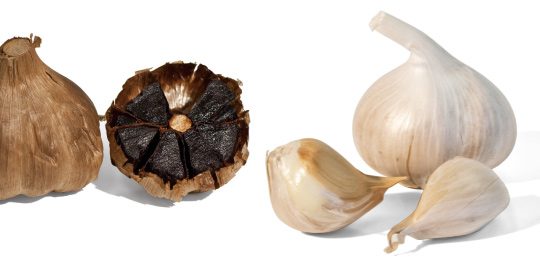 Which side will you choose: the Dark with umami-tastic Black Garlic Spread or the Light with sweet Roasted Elephant Garlic? Split the platter down the middle with crostini or crackers and let your guests choose their own tasty side of the Force.
Enjoy your snacks and see you at the movies!
– Oakley
Fresh Fruit Portal stopped by Frieda's booth to chat with our president and CEO Karen Caplan at Produce Marketing Association Fresh Summit in Atlanta this October.
It seems everyone is rebranding these days. With a new logo here, a packaging twist there, new product lines and social media endeavors, these exercises can respond to changes within a company or its customers. In the case of Frieda's Specialty Produce's new "inspire.taste.love.,' it's the latter, appealing to a younger demographic.

"We want to be playful, fun, and engaging," said CEO Karen Caplan, who certainly fits the bill.
Karen fits the bill alright.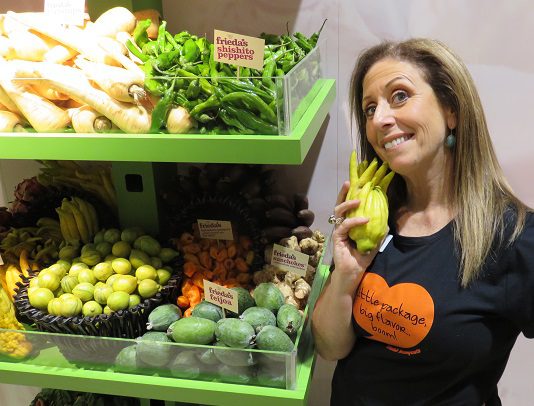 Read the complete interview here.
Update holiday classic recipes with fresh, new ingredients
One of the hottest trends in home cooking is putting a modern twist on traditional recipes by using new ingredients. We recommend these nine vegetables for those retro-chic recipes. (And get our recipes below!)
Pearl & Boiler Onions
Traditional creamed white pearl or boiler onions get a modern treatment with a variety of red or gold pearl/boiler onions, or even a healthier twist with a simple glaze.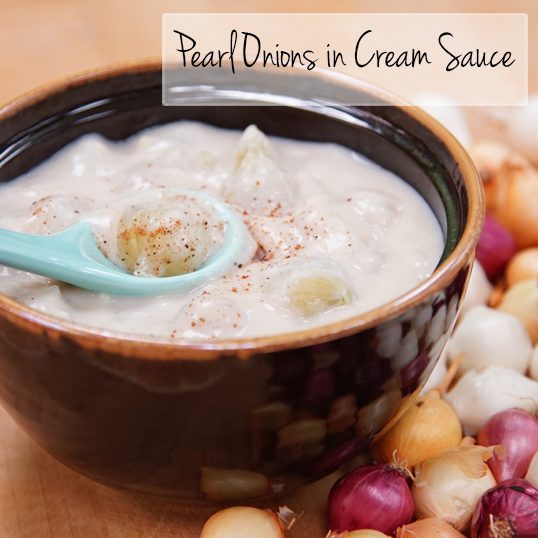 Cipolline Onions
Nothing says comfort like roasted vegetables. Substitute chunks of onion with sweet, whole Cipolline Onions for that savory-sweet flavor profile.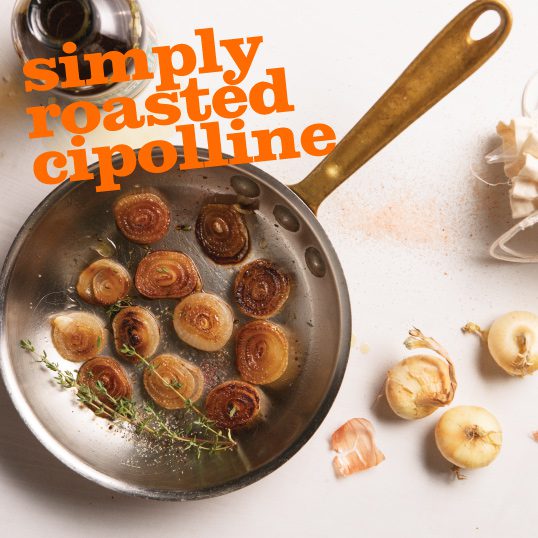 Shallots
Remember that classic green bean casserole? Instead of reaching for the canned fried onions, go fresh all the way with crispy fried Shallots.
Stokes Purple® Sweet Potatoes
Sweet potatoes are a must-have for the holidays, but don't settle for just the orange ones.  Wow your dinner guests with a new sweet potato dish that is vibrantly purple–or even an orange-purple mix!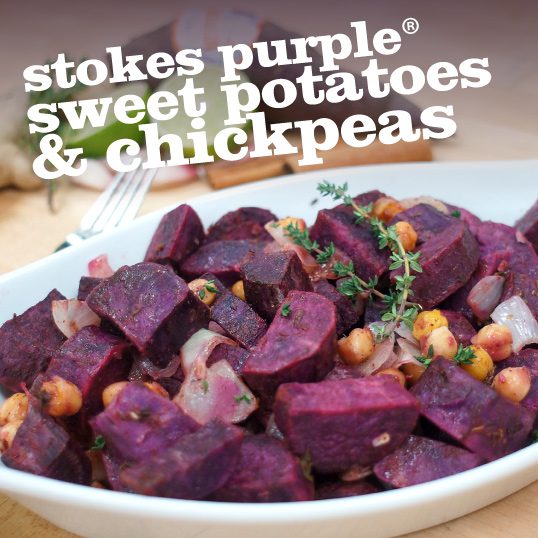 Colored Baby Carrots
Beautiful heirloom root vegetables add more than just orange to your holiday table. Pair these Colored Baby Carrots with Parsnips for a brilliant side of roasted vegetables.
Parsnips
This root vegetable is made for roasting, which brings out a sweet flavor profile that complements any holiday side dish…especially with carrots!
Baby Potatoes
Nobody's knocking mashed potatoes, but whole-roasted baby spuds are where it's at for holiday cooks…and nobody minds a little bacon, right? (Limited market area: Try Butter Babies!)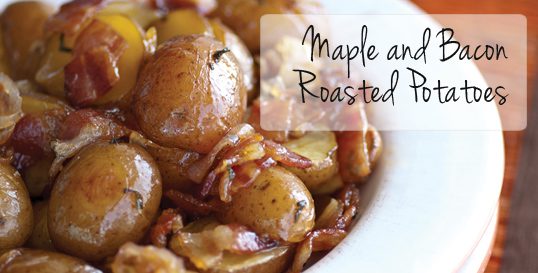 Colored Cauliflower
The "new kale" is a must-have at the dinner table. Now available in purple, orange, and green, cauliflower is perfect for roasting whole or in florets!
Sunchokes®
Sunchoke purée used to be something you'd only see on a restaurant menu. Now you, too, can impress your guests with these knobby little roots.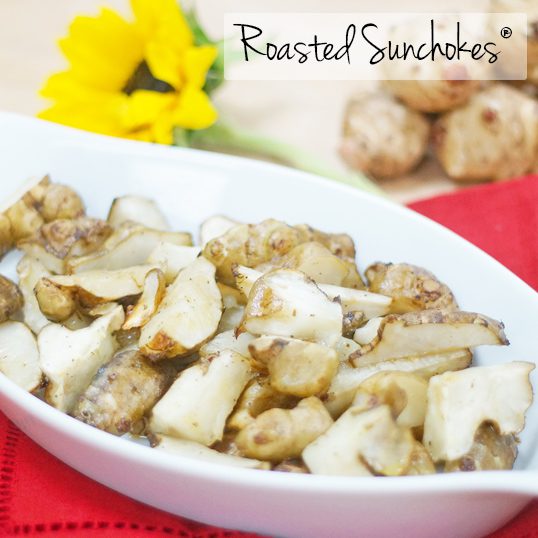 Have a flavorful holiday!
Get the Recipes:
Discover the authentic taste of Hatch Green Chiles from New Mexico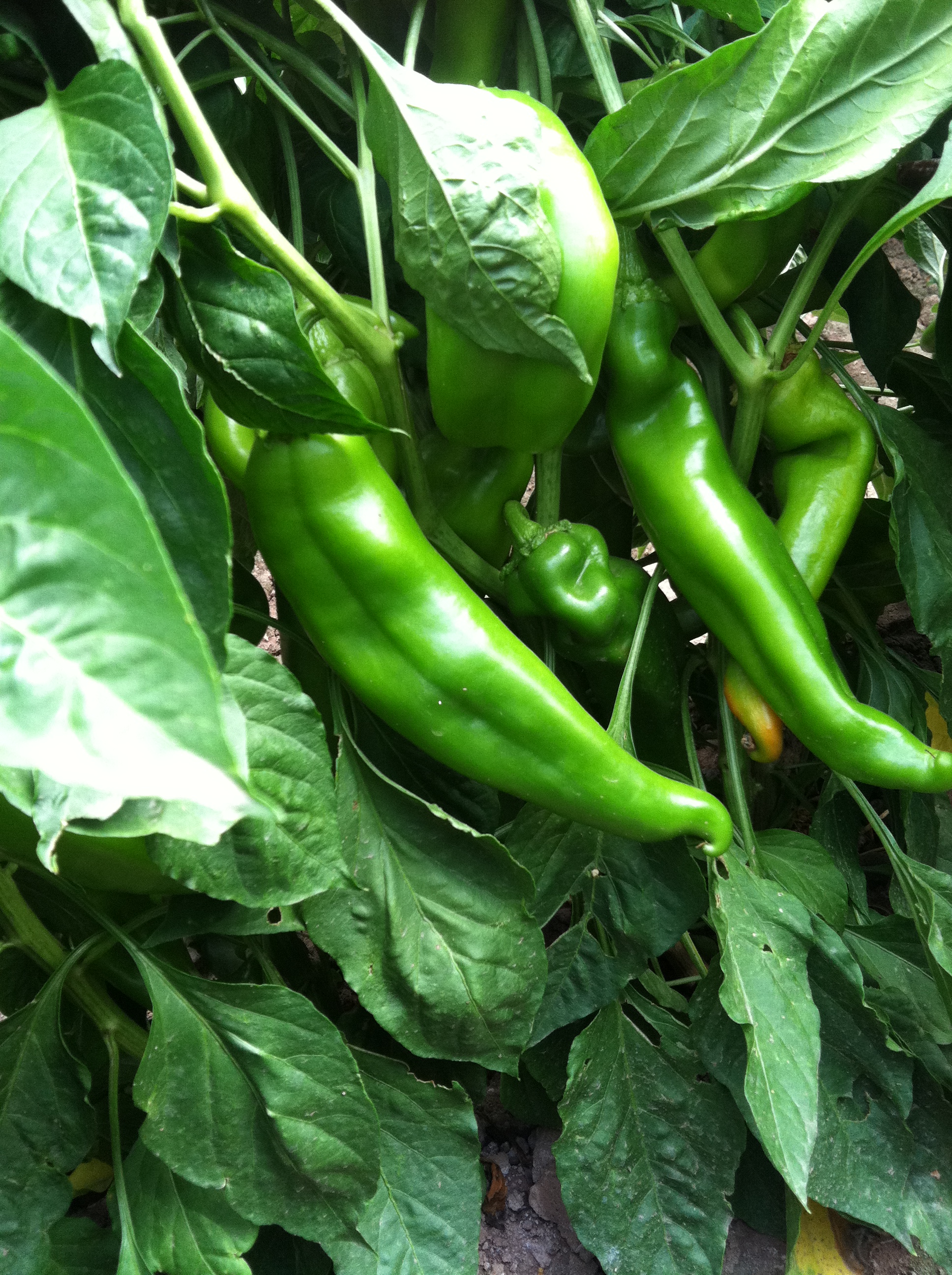 You may have heard the buzz about these famous green chile peppers. Why are Hatch Chiles so special? To be called a "Hatch" pepper, it must be grown in the Mesilla Valley of New Mexico. There's just something about the climate and soil of this growing area that produces a distinctly zesty, bold flavor. Chile aficionados—also known as "Chile Heads"—know that nothing enhances that awesome flavor like roasting their Hatch Chiles over an open flame.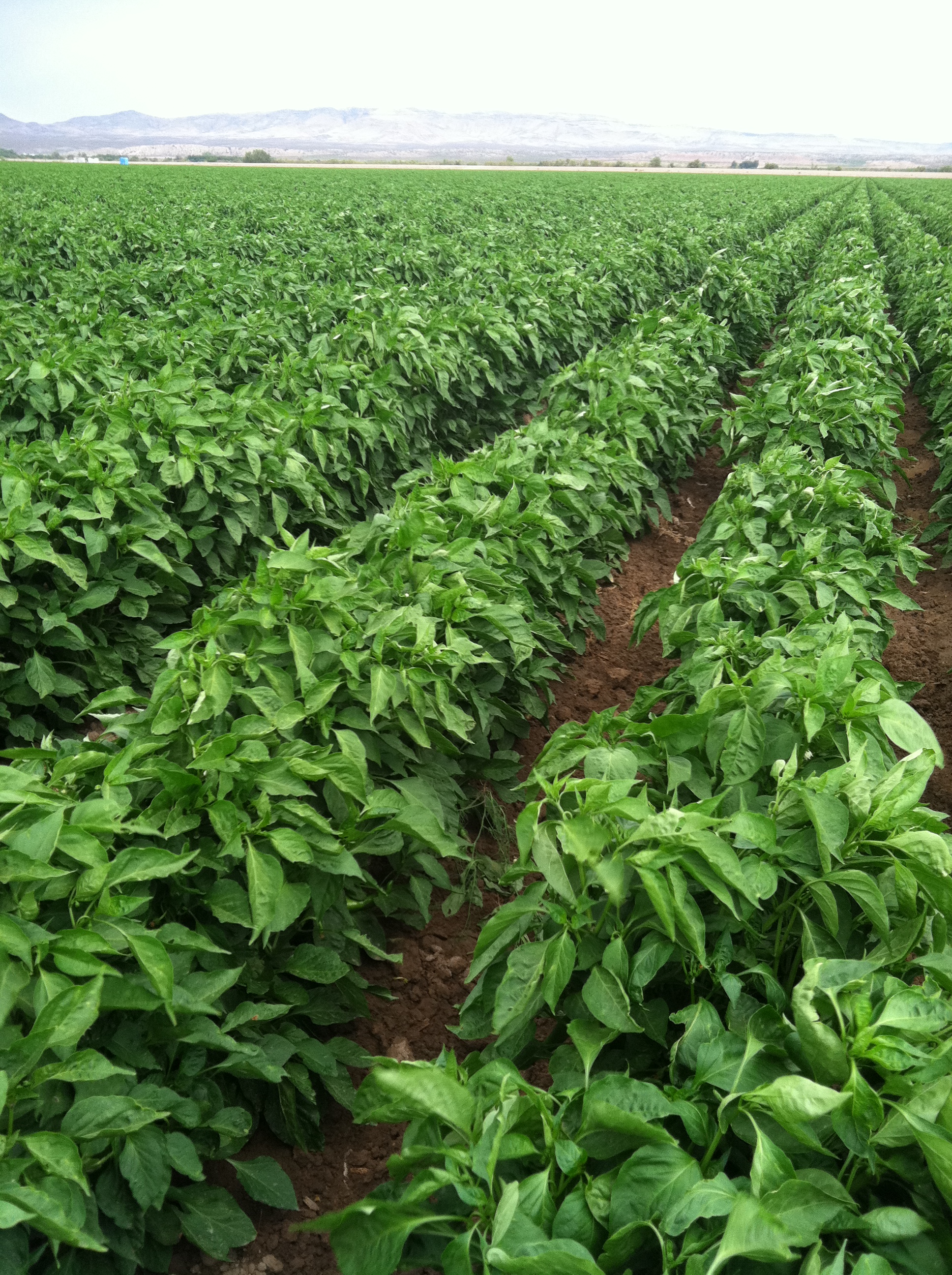 You can roast chiles on your grill or even in your oven, but if you can find a store that will roast them for you in bulk, it's a deliciously festive way to kick off the Hatch Chile season! Frieda's works with select supermarkets around the country to create Hatch roasting events.

The beauty of the Hatch Chile is that you can still enjoy that delicious green pepper flavor without blowing your head off from the chile heat factor. Hatch Chiles can be found in mild, medium, or hot degrees of heat, although they generally end up in the medium-hot range.
Green chiles like Hatch are perfect for enchiladas, chile rellenos, and other south-of-the-border classics. Or, try them in a creative twist on apple cobbler, deviled eggs, even a margarita!
If you are able to get your hands on some of these limited-edition chiles this summer and fall, buy them in bulk and freeze them for extended use over the winter. By the time next season comes around, you will be craving that authentic Hatch Chile flavor!
WANT TO LEARN MORE? WATCH:
Five tips to great fruit and vegetable grilling
Recent studies show that 87 percent of American households have outdoor barbecues, and they believe grilling more often is a healthier way to prepare meals. Grilling also brings out the flavors of fruits and vegetables like no other cooking method can! As our eating habits are changing to include more fruits and vegetables, so are our grilling preferences. Put more vegetables—and even fruits—on your grill this summer. Follow these five easy tricks and tips to make grilling produce a breeze.
Well-oiled Grate
Vegetables and fruits tend to stick to the grate more because of the caramelizing sugars. Brush some oil (or spray) on the grate before adding your produce to the grill.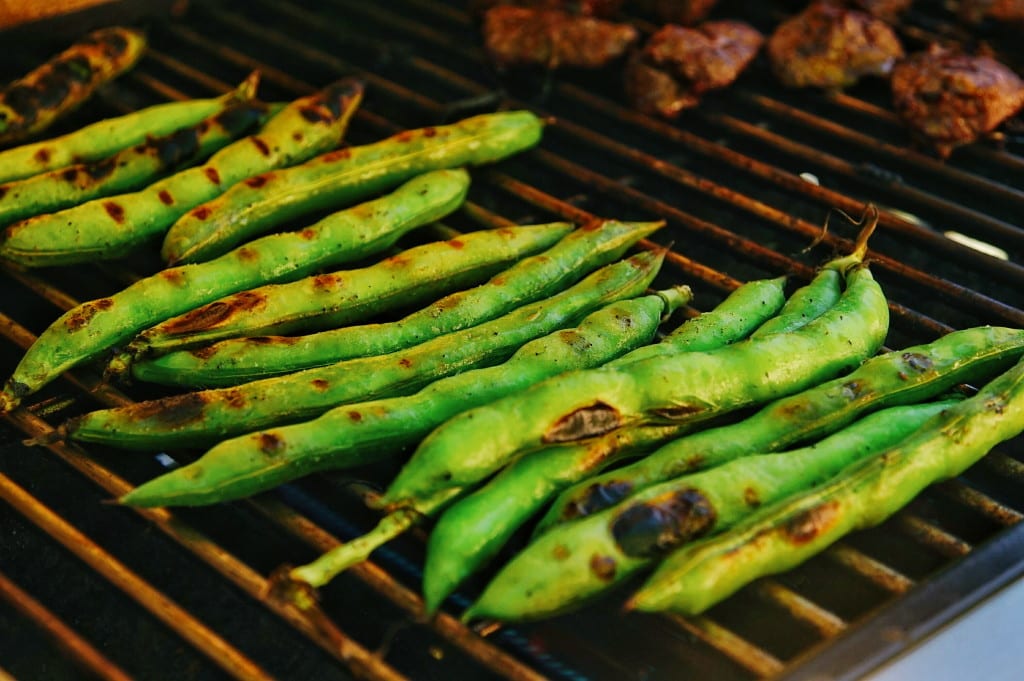 Cooling Rack as Veggie Grill
Tired of losing your vegetable slices to the fire? Put a metal cooling rack on the grill grate as a secondary, smaller grate grill surface so nothing falls through. And you can still get the beautiful grill marks. (We picked up this tip from Alton Brown!)
Aluminum Foil Is Your Best Friend
Cleanup is a breeze when you cook your fruits and veggies in aluminum foil packets! Add your favorite vegetables onto a piece of aluminum foil, drizzle with some olive oil, and season with salt, pepper, and fresh herbs. Fold up the packet and seal the edges well. Set the packets on the grill and let the vegetables steam themselves. You can do the same with fruits, sugar or honey, and a drizzle of orange or almond liqueur, then serve over vanilla ice cream.
Hooray for Skewers
Wooden or metal skewers make grilling fruits and vegetables easy AND fun! The key is to make sure all the pieces are about the same thickness so they cook evenly. Shishito Peppers, Mini Sweet Peppers, thick slices of sweet Maui Onion, and whole Elephant Garlic cloves are wonderful when charred on skewers. Finish off parboiled Fingerling Potatoes, Pearl Onions, or Baby Sunburst Squash on the grill for great smoky flavor and beautiful grill marks. Zululand Queen Baby Pineapple, Yellow Seedless Watermelon, and other melon cubes are all delicious when lightly caramelized.
Try Something Unexpected
You can put more on the grill than onions, peppers, carrots, and zucchini! Did you know that you can grill leafy vegetables like Belgian Endive, Radicchio, Baby Bok Choy, and even romaine lettuce? They actually get sweeter when a little charred. You can also grill Fava Beans in the pods and eat them whole, pods and all. Try avocado halves, grilled right in the skin. As for fruits, have you ever had grilled Dragon Fruit? Cube them and add to skewers with other fruits for fun fruit kebabs!
Have a great grilling season!
Save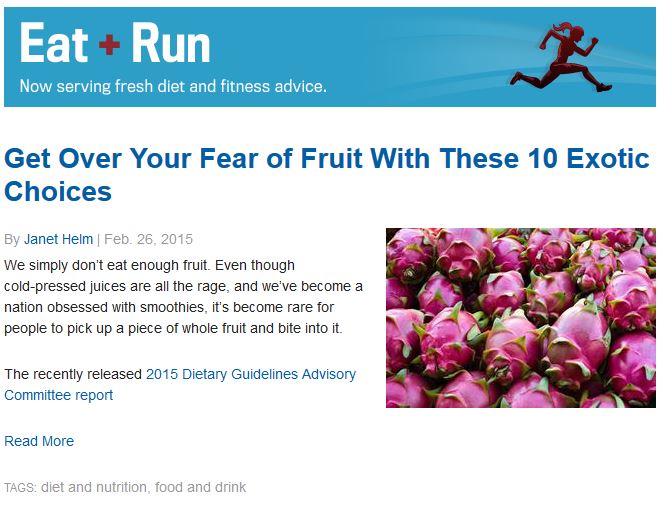 Janet Helm, MS, RDN, registered dietitian/nutritionist and author, wrote about our "Eat One Fruit a Day the Scares You" campaign in her recent post on the US News & World Report "Eat + Run" blog.
In "Get Over Your Fear of Fruit With These 10 Exotic Choices," Janet encourages people to be brave and eat more fruit: "We shouldn't fear fruit. We should look for ways to add more fruit to our plate – and not just in our glass."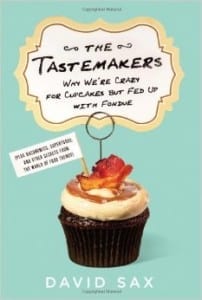 "Agriculture's tastemakers are arguably the most potent trendsetters in the world," said James Beard Award-winning author David Sax in his new book "The Tastemakers: Why We're Crazy for Cupcakes But Fed Up with Fondue," released in June. One of those trendsetters mentioned in his book is our founder, Frieda Rapoport Caplan.
Sax is also the author of "Save the Deli: In Search of Perfect Pastrami, Crusty Rye, and the Heart of Jewish Delicatessen" and has won a James Beard Award for writing and literature. He is a freelance writer specializing in business and food. His writing appears regularly in the New York Times, Bloomberg Businessweek, and Saveur.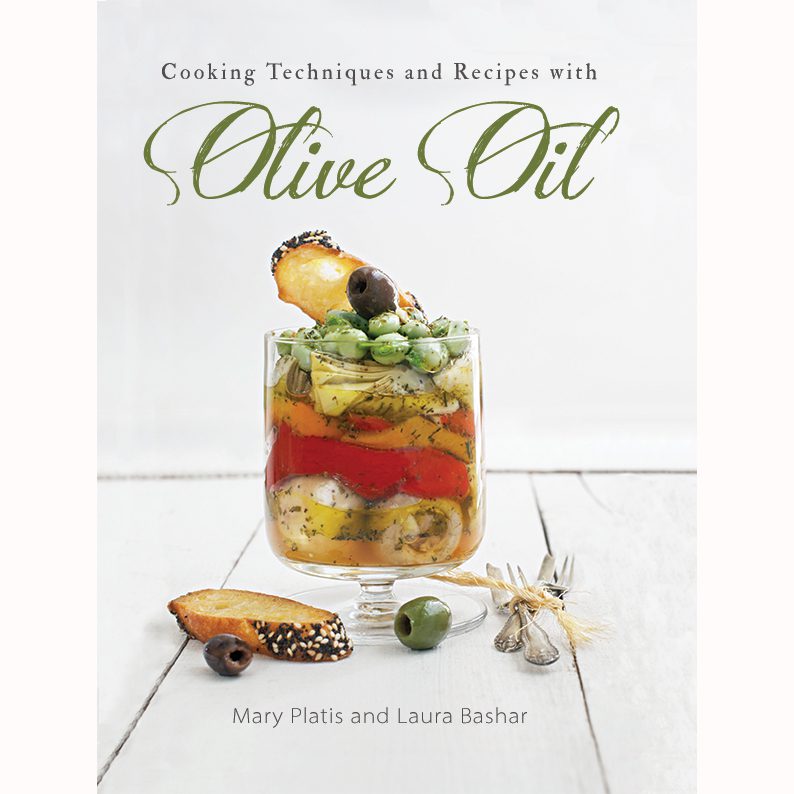 We were also featured in "Cooking Techniques and Recipes with Olive Oil" written by our friends Mary Platis and Laura Bashar. Our products were used in many recipes in the book, including Organic Finger Limes Kamikaze Shots with Mint and Olive Oil.
In the May 2014 issue of Every Day with Rachael Ray Magazine, celebrity chef Aarón Sanchez chooses our Dried New Mexico Chiles as one of his top supermarket picks to create south-of-the-border flavors.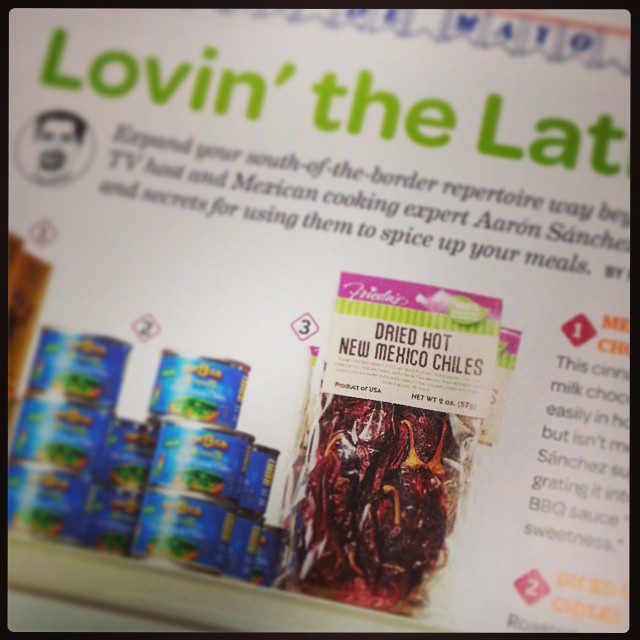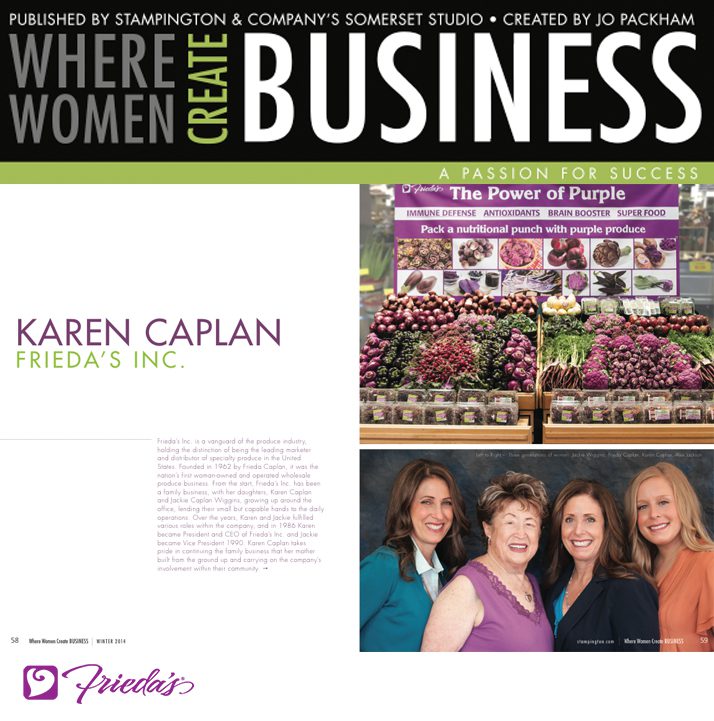 Our President and CEO Karen Caplan is featured in the Winter 2014 issue of Where Women Create BUSINESS.
"Karen Caplan takes pride in continuing the family business that her mother [Frieda Caplan] built from the ground up and carrying on the company's involvement within their community."
Well deserved, Karen!
"Now it seems that purple-hued vegetables are hotter than ever. Frieda's Specialty Produce has declared 2013 The Year of Purple.  So why the sudden fame?  Purple vegetables have a lot to boast about. The same compounds that put blueberries on the map as a superfood are what make purple vegetables potential disease fighters, too. The dark pigments responsible for the purplish tones are called anthocyanins, a type of phytonutrient that is gaining attention from scientists worldwide.  Studies suggest that anthocyanins may help reduce the risk of cancer, cardiovascular disease, and diabetes. Some evidence indicates these purple pigments might also protect our brains as we age."
Read the full article: Nutrition Unplugged.
We were on the front page of the Orange County Register business section!  (Subscription only. Day pass and 7-day free trial available.)
The article profiles our company history and the three generations of women behind it: founder Frieda Caplan, president and CEO Karen Caplan, COO Jackie Wiggins, and Promotions Manager Alex Jackson, Karen's daughter.
Columnist Jan Norman writes:
"For 51 years, Frieda Caplan has created a reputation for selling exotic fruits and vegetables, such as Stokes Purple® sweet potatoes, kiwifruit and spaghetti squash.  It's a reputation her daughters have built on at Frieda's in Los Alamitos, and now a third generation is coming into the company."
Read more about our history here.